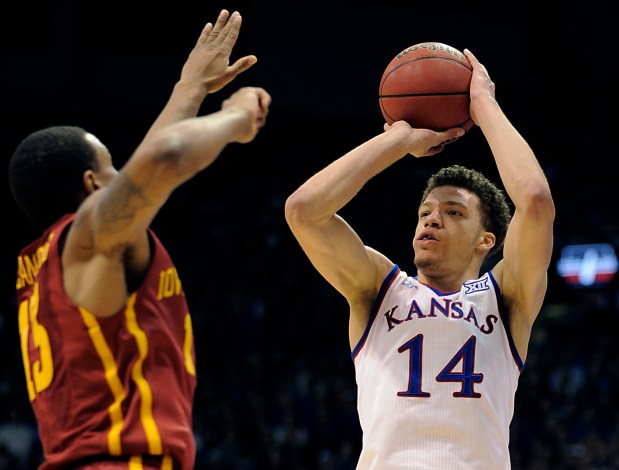 Kansas slowed down Iowa State's offense and shot the ball well from the perimeter behind a balanced effort as the No. 8 Jayhawks cruised to an 89-76 Big 12 win on Monday night in Lawrence.
Despite going six minutes early in the the first half without a field goal, Kansas quickly found its rhythm on offense and held a comfortable lead over the No. 11 Cyclones for much of the game. The Jayhawks shot 47 percent from 3-point range (10-for-21) as sophomore Wayne Selden Jr. played one of his better games of the season.
The guard has been inconsistent this season, but when he's on, the Jayhawks are a completely different team. Selden finished with 20 points and five 3-pointers and looked as confident shooting the ball as he has all season. When you put a confident and productive Selden on the floor with an attacking Kelly Oubre Jr., the Kansas offense can be incredibly dangerous.
Oubre led the Jayhawks with 10 first-half points and finished with 16 on the night as the duo of Selden and Oubre was too much for Iowa State's defense to deal with. Forward Perry Ellis also added 17 points, six rebounds and four assists and with three consistent scoring threats, point guard Frank Mason III (12 points, eight assists) was able to focus on distributing and hunting his own looks when necessary. Off-the-bench, Brannen Greene continued his scorching 3-point shooting during Big 12 play by adding 11 points on 2-for-3 shooting from 3-point range.
Kansas (19-3, 8-1) finished the game shooting 50 percent from the field (32-for-63) to earn its 20th consecutive win at Allen Fieldhouse.
The balanced offense for Kansas was a major positive, but the transition defense from the Jayhawks was a huge reason they were able to beat the Cyclones the second time around.
In the first meeting between these two teams on Jan. 17, Iowa State won 86-81 as they dictated tempo and were able to get out and run like they want to in an uptempo game. That wasn't the case on Monday. Bill Self had his defense typically pressure the ball with at least 3/4-court pressure and the Jayhawks also did a nice job getting back on defense. It also doesn't hurt your transition defense when you're making shots at a high level.
By making it mostly a halfcourt game, Kansas was able to impose their will on the tempo and slowly pick apart the Iowa State halfcourt defense. The Cyclones finished with 12 fast-break points, but many of those came in the second half with the game nearly out of reach.
Forward Georges Niang had 24 points, six rebounds and five assists for the Cyclones, but a lot of those numbers came when Iowa State was already behind and struggling to stay in the game. Bryce Dejean-Jones also added 14 points and nine rebounds for Iowa State but shot only 4-for-13 from the field.
If Kansas can get consistent scoring from Selden and Oubre, they're going to be a really dangerous team late in the season because it frees up Mason to be a complimentary piece like he needs to be and Ellis gets more room to operate on the interior.
And think of how good Kansas could be if they get more in the interior from Cliff Alexander or Jamari Traylor? While Alexander showed bursts of strong play on Monday, he needs to embrace his role as a relentless energy guy and hope that the wings continue to hit shots to space the floor around him so he can hunt lobs.
Iowa State (16-4, 6-2) continues to be plagued by road woes, an issue they've had during much of Fred Hoiberg's tenure. The Cyclones have dropped three straight away from Hilton Coliseum and need to figure things out if they want to be a serious contender in the Big 12.