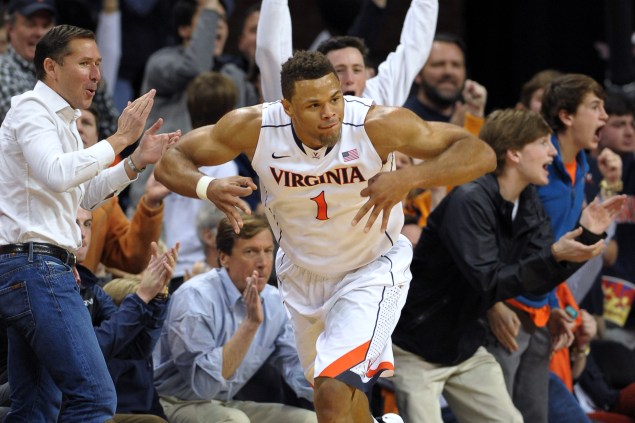 1. Kentucky (21-0, LW: No. 1): The Wildcats continued to roll through their regular season, as they knocked off Missouri and Alabama — for the second time, each — to improve to 21-0 on the year.
2. Virginia (19-1, LW: No. 2): If you drop Virginia because the No. 6 team in the country — one that has won at Wisconsin and at Louisville — pulled off an incredible comeback in the final five minutes on Saturday night, than you're foolish. The Cavaliers are just as good as they were entering Saturday, and while they may now have a loss on their record, they're still just as likely to end up being a national champion. If anything, the run that Duke put on the Cavs on Saturday night says a hell of a lot more about how dangerous the Blue Devils are than anything about just how good Virginia is. They've won at Maryland, they've won at VCU, they've won at Notre Dame. They're still the second-best team in the country, and I think that's inarguable.
3. Gonzaga (22-1, LW: No. 3): The Zags continue to roll through the WCC. If they enter the NCAA tournament with their only loss being in overtime at Arizona, will they be destined for another No. 1 seed?
4. Wisconsin (19-2, LW: No. 4): The Badgers landed an 11-point road win over Iowa on Saturday, one where the Hawkeyes never really appeared to have a chance.
5. Arizona (20-2, LW: No. 5): The Wildcats easily handled the Oregon schools this week, beating the Duck by 34 and allowing just 34 points to the Beavers. Sean Miller's club has been on a roll since losing at Oregon State three weeks ago.
6. Duke (18-3, LW: No. 6): It's weird how perception can change. Down by 11 to Virginia with 10 minutes left, it seemed like Duke's season was at risk of collapse. But thanks to a thrilling, unexpected comeback, the Blue Devils now own wins at Wisconsin, at Louisville and at Virginia. And if it wasn't for four missed free throws and a lucky bounce for Notre Dame, they would have won in South Bend as well.
7. Kansas (18-3, LW: No. 7): The win at TCU was not pretty. The win over Kansas State at home was emphatic. With Texas falling off the map and Oklahoma's early struggles, the Jayhawks can open up a two-game lead in the Big 12 by beating Iowa State in the Phog on Monday night.
8. Villanova (19-2, LW: No. 8): The Wildcats have won two straight since the beatdown they took at the hands of Georgetown. They'll get a chance for revenge against the Hoyas on Saturday.
9. Louisville (18-3, LW: No. 11): Louisville erased an 18-point second half deficit to knock off North Carolina in overtime at the Yum! Center. It was revenge for the 13 point lead that UNC erased when the Cards lost in Chapel Hill.
10. Notre Dame (20-3, LW: No. 10): The Irish needed Duke to miss four free throws down the stretch and a loose ball to fall right into the hands of Jerian Grant to hold on to beat the Blue Devils in South Bend. They would have knocked off Pitt at the Peterson Events Center on Saturday had Steve Vasturia hit an open three in the final seconds.
11. North Carolina (17-5, LW: No. 11)
12. Utah (16-4, LW: No. 9)
13. Iowa State (16-4, LW: No. 14)
14. Maryland (18-4, LW: No. 13)
15. West Virginia (18-3, LW: No. 17)
16. Northern Iowa (20-2, LW: No. 20)
17. Wichita State (19-3, LW: No. 15)
18. Baylor (16-5, LW: No. 19)
19. Oklahoma (14-7, LW: No. 21)
20. Ohio State (17-5, Lw: No. 24)
21. Indiana (16-6, LW: No. 18)
22. Georgetown (15-6, LW: No. 23)
23. VCU (17-4, LW: No. 16)
24. Butler (16-6, LW: UR)
25. SMU (18-4, LW: UR)
Dropped Out: No. 22 Texas, No. 25 Miami