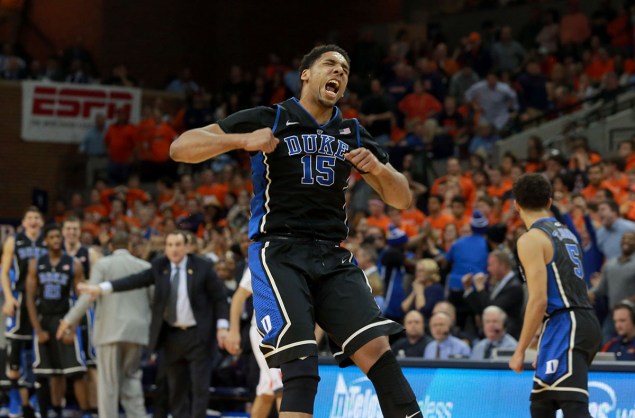 It's now Sunday morning, just a few hours removed from the start of the Super Bowl, and I've had some time to reflect on what happened in No. 4 Duke's 69-63 win over No. 2 Virginia on Saturday night.
And I cannot think of one game where the outcome has surprised me more than what happened in Charlottesville on Gameday.
That's not to say that it's a shock Duke could beat the Cavaliers. They won at Wisconsin. They won at Louisville. They came three missed Jahlil Okafor free throws and an incredibly lucky bounce for Jerian Grant away from winning at Notre Dame. The Blue Devils aren't phased by playing on the road.
What was so surprising about Saturday's win is that it played out exactly how we all expected it to.
Virginia forced Okafor from catching cleanly on the low block, using big-to-big doubles and effortless defensive rotations to limit his effectiveness when he did catch the ball near the paint. They slowly wore down Duke's man-to-man defense until they forced the Blue Devils to go zone, which they proceeded to shred. They pulled away from Duke in a manner that wasn't exciting or all that noteworthy beyond the fact that Tony Bennett's club is simply as fundamentally sound and as efficient on both ends of the floor as any team that you'll come across.
They were up by as much as 11 in the second half and looked like they were going to easily cover the 5.5 points they were giving the Blue Devils. The Cavaliers don't blow leads. Up 11 with 10 minutes left — up by nine with five minutes left — felt insurmountable.
And that's when Duke caught fire.
They scored more points in the final 9:39 than they did in the first 30:21. They scored 35 points in the final 15 possessions, Virginia — arguably the best defensive team in the country — getting just a single stop during that stretch. Those 35 points were more than Virginia has given up to three opponents in an entire game this season.
This is why going undefeated is so hard, why we should truly appreciate what Wichita State did last season and what Kentucky is trying to do this year.
Virginia did everything they were supposed to do on Saturday night, executing their game-plan to perfection with the exception of a few fast breaks early in the first half.
And they lost because Duke went crazy for five minutes.
I still can't believe that's the way that it played out.
But hey, this is why we watch sports, right?