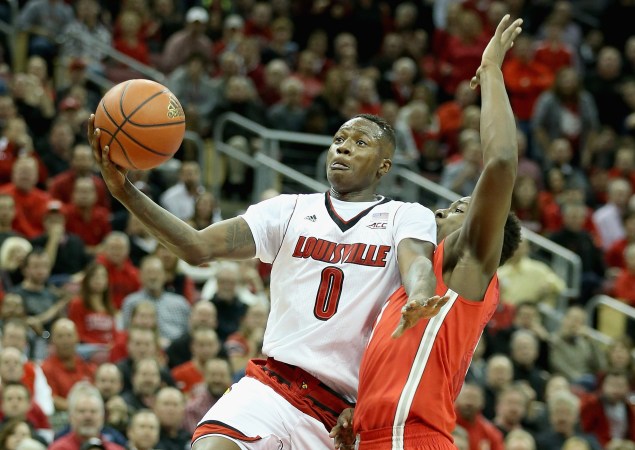 Louisville head coach Rick Pitino has seen his fair share of NBA players over the years as both a college head coach of future pros and the former head coach of the New York Knicks and Boston Celtics.
So it's rather interesting that Pitino would speak glowingly of the NBA stock of one of his current players in the middle of the season as he did on Friday. According to a story from Mike Rutherford of SB Nation, Pitino believes that sophomore guard Terry Rozier is as good as gone for the NBA after the 2014-15 season.
"Terry just has all the things the pros like. I can't tell you how many times people tell me, 'if we can just get Terry to come back.' He's not coming back. You need to start looking at the future recruits. He's not coming back. And they keep saying, "do you think there's a chance?" And I just keep saying I told you last week, he's not coming back," Pitino said to reporters on Friday.
Rozier is averaging an ACC-best 20.8 points per game over his last 13 games dating back to Dec. 9. The 6-foot-1 sophomore has been even better on the road, as he's averaging 24.8 points per game away from home.
With his athleticism and ability to get in the paint and make plays, Rozier is becoming a player that more-and-more NBA people are talking about in regards to the 2015 NBA Draft.
For his part, Rozier said he's not paying attention to anything other than his current sophomore season at Louisville.
"We haven't talked about that. Like I've been saying the whole year, it's something that me and him talked about, but we said that I was going to focus on being the best college basketball player I can be as of right now. I'd be selfish to be thinking about the pros right now," Rozier said. "I mean I'm not going to lie and say I'm not thinking about it, it's something that's on my mind, but for me to be thinking about the draft and me leaving without taking care of business here first would be selfish of me. So that's what I'm thinking about. We have a goal to win a national championship, so that's what I'm thinking about."
I find it interesting that Pitino would essentially dismiss that Rozier could come back to Louisville next season. But it also makes Pitino and Louisville look good in recruiting circles for blue-chip players if the head coach is willing to openly speak about the NBA while also praising his players.
Top-100 prospects want to play in the NBA someday and if Pitino shows a willingness to help them get there as quickly as possible, then he's just doing what he can to compete for top recruits in the current "one-and-done" era.
As for Rozier, it's important to note that although he's only a sophomore, he also did a postgrad year of prep school at Hargrave Military Academy, so his age lines up more with current college juniors. As of this writing, Draft Express currently has Rozier as the No. 34 overall pick in the draft.