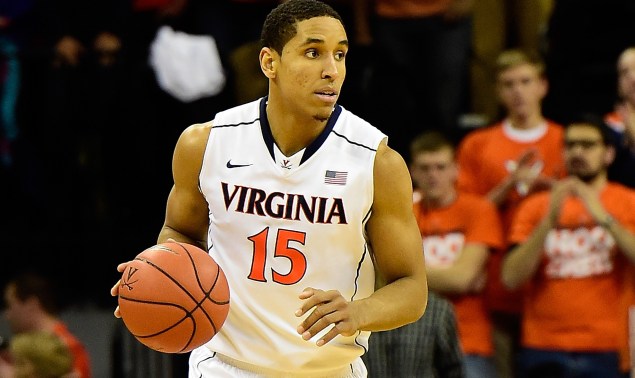 GAME OF THE DAY: No. 4 Duke at No. 2 Virginia, Sat. 7:00 p.m.
From Rob Dauster's Weekend Preview:
Does it really get better than seeing a pair of top five teams square off? Duke has had their issues this season, losing three of their last six games and falling at Notre Dame on Wednesday, but this is still a team with the nation's most dominating interior presence and more than enough fire power around their perimeter. What will be fascinating is to see how Virginia tries to slow down Okafor. The Cavs love to bring a big-to-big double immediately on the catch, but Okafor is one of the best passers out of the post that you will see at this age.
There will be plenty of storylines heading into this game as well. Virginia will be entering the most difficult stretch of their schedule this season — after Duke, they play at North Carolina, get Louisville at home and head to N.C. State — while Duke will be playing their first game in the post-Rasheed Sulaimon era.
THE OTHER GAME OF THE DAY: No. 12 Wichita State at No. 18 Northern Iowa, Sat. 4:00 p.m.
It's off the radar a little bit but the Shockers have their first legitimate challenger in the Missouri Valley Conference since Creighton left for bigger and better things in the Big East. Northern Iowa is a well-coached, tough team that has some shooters, will get physical defensively and has a MVC Player of the Year candidate in Seth Tuttle. The Shockers are not the same team without Cleanthony Early, but they were also one of the best teams in the country last season. Both Wichita State and UNI are top 20ish teams that are good enough to make a run at the second weekend of the NCAA tournament. This game will go a long way towards determining who is going to win the league's regular season title.
For the record, big conference showdowns in the Missouri Valley are always must-see TV for any college hoops fan. This will be worth the two hours.
UPSET WATCH: No. 25 Butler at Marquette, 2:00 p.m.:
Since the addition of Indiana transfer Luke Fischer, Marquette is putting up a fight on a nightly basis in Milwaukee. When Matt Carlino and Duane Wilson get it going offensively, they can play with anyone in their building. If Butler struggles on the offensive end and isn't crashing the offensive glass, they're susceptible to an upset.
FIVE THINGS TO WATCH FOR: 
OTHER TOP 25 GAMES
Alabama at No. 1 Kentucky, 7:00 p.m.
No. 7 Villanova at DePaul, 2:00 p.m.
No. 8 Notre Dame at Pitt, 12:00 p.m.
Kansas State at No. 9 Kansas, 2:00 p.m.
Richmond at No. 14 VCU, 2:00 p.m.
TCU at No. 15 Iowa State, 2:00 p.m.
Texas Tech at No. 17 West Virginia, 12:00 p.m.
No. 21 Georgetown at Creighton, 2:00 p.m.
Rutgers at No. 22 Indiana, 3:15 p.m.
OTHER GAMES TO WATCH
Tulane at Temple, 12:00 p.m.
N.C. State at Georgia Tech, 12:00 p.m.
Boston College at Clemson, 12:00 p.m.
Providence at St. John's, 12:00 p.m.
Xavier at Seton Hall, 12:00 p.m.
Davidson at Saint Joseph's, 12:00 p.m.
Auburn at Tennessee, 12:00 p.m.
Penn State at Illinois, 1:00 p.m.
Arkansas at Florida, 1:00 p.m.
LSU at Mississippi State, 2:00 p.m.
Ole Miss at Missouri, 4:00 p.m.
George Washington at Rhode Island, 4:00 p.m.
Vanderbilt at Texas A&M, 4:30 p.m.
Nebraska at Minnesota, 6:00 p.m.
UCF at SMU, 8:00 p.m.
Utah State at San Diego State, 8:00 p.m.
Stanford at Washington State, 8:30 p.m.
Colorado at UCLA, 10:30 p.m.