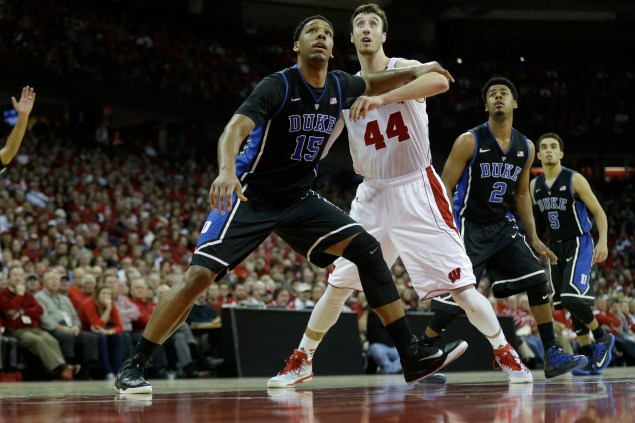 1. Jahlil Okafor, Duke
2. Frank Kaminsky, Wisconsin: The Player of the Year race is, as it has essentially been all season long, a two-man race at this point. And, quite frankly, I'm not sure how much more I can say about these two beyond "I hope we get a rematch in March".
3. Jerian Grant, Notre Dame: Grant is one of the best point guards in the country in pick-and-roll situations and he plays in an offensive that is almost entirely built around spreading the floor with shooters and letting him, and to a lesser extent Demetrius Jackson, use ball-screen actions. Should I mention that the Irish are first in adjusted offensive efficiency, and that Grant's ability on that end of the floor is the reason that Notre Dame has overcome a defense that ranks outside the top 150 to be 19-2 and ranked in the top ten? Yeah, I probably should.
4. Delon Wright, Utah: Wright is embracing the role that Utah needs him to play this season. He doesn't have to be a dominant scorer or an elite shooter, he needs to be an aggressive penetrator that creates open looks for his teammates. He's had at least five assists in every game since December 23rd and has missed just three free throws during that span. He's protecting the ball — the Arizona loss was the only game he's had more than two turnovers December 10th — and, most importantly, he's shooting 40 percent from three the last four games.
5. D'angelo Russell, Ohio State: My biggest concern with D'angelo Russell early on this season was that the majority of his damage was coming against mediocre competition. When he was squaring off against high-major opponents, he was getting tuned up. Of late, that's not true whatsoever. In his last three games, he's averaging 27.3 points, 9.0 boards and 6.0 assists. On the season, his numbers are ridiculous: 19.4 points, 5.2 boards, 5.1 assists, 1.8 steals, 47.7 FG%, 44.4 3PT%.
You can look at a box score and realize just how productive Russell is. You can see is insane, cross-court bounce passes and his ability to beat people off the dribble to realize how skilled he is. But what impresses me more is how well he seems to understand the game. Two examples stand out from the Ohio State win over Indiana. In the first, you can see Russell create a switch and a mismatch in the post for Marc Loving with a back-screen and immediately call for the Sam Thompson to swing the ball and create a chance for a high-low entry pass:
In the second, Russell throws a pass to Jae'Sean Tate in the middle of Indiana's zone while Tate is pointing for the ball to be passed to someone else. In other words, Russell knows you're open before you know you're open:
6. Melo Trimble, Maryland: Trimble did not have his best game of the season on Tuesday of last week, when the Terps got trucked by Indiana in Assembly Hall, but he followed that up with 27 points as Maryland came from behind to knock off Northwestern at home.
7. Georges Niang, Iowa State: I'm torn on how I should rank Niang here. His versatility is such an integral part of what makes Iowa State good. He's a point guard in a power forward's body, which allows the Cyclones to invert their offense; there are only three players that average 14.0 points, 5.0 boards and 3.5 assists, and Niang is one of them. But he's also a question mark on defense, which is part of the reason that Iowa State has a ceiling when it comes to their chances of winning the Big 12.
8. Justin Anderson, Virginia: Sound the alarms: after going three for his last 11 from three, Anderson's three-point percentage has dropped to just 51.9 percent on the season. All kidding aside, he's a major reason that no one has broken 56 points against Virginia since that double-overtime game against Miami.
9. Stanley Johnson, Arizona: Johnson's last four games: 20.0 points, 8.3 boards and dominant second halves in wins over Utah at home and at Stanford, the two other teams that look like they might have a shot of making some noise in the Pac-12 race. He's turning into the go-to guy offensively Arizona needs. T.J. McConnell may be more valuable to this team, but Johnson is Sean Miller's best player right now.
10. Willie Cauley-Stein, Kentucky: I still think Cauley-Stein is the engine that makes this Kentucky defense run, but it would be nice to see him have another dominating performance or two. He has 17 points, 19 boards, four blocks and five steals in his last three games.
OTHERS THAT WERE CONSIDERED: Ron Baker (Wichita State), Ryan Boatright (UConn), Rakeem Christmas (Syracuse), Kyle Collinsworth (BYU), Tyler Haws (BYU), Montrezl Harrell (Louisville), D'angelo Harrison (St. John's), LaDontae Henton (Providence), Buddy Hield (Oklahoma), Jonathan Holmes (Texas), Jarell Martin (LSU), Jordan Mickey (LSU), Larry Nance Jr. (Wyoming), Kevin Pangos (Gonzaga), Bobby Portis (Arkansas), Juwan Staten (West Virginia), Brad Waldow (St. Mary's), Ty Wallace (Cal), Nigel Williams-Goss (Washington), Kyle Wiltjer (Gonzaga), Joseph Young (Oregon)