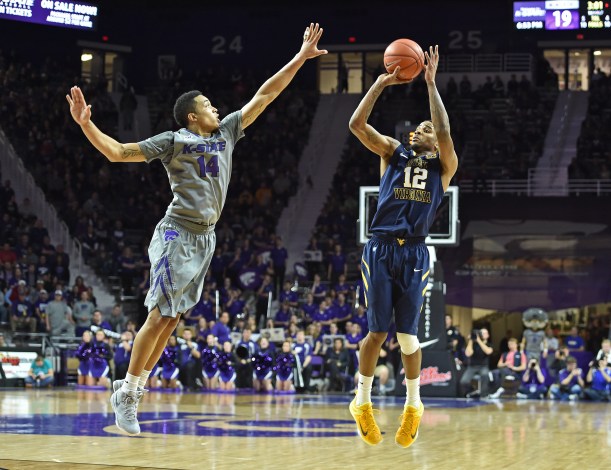 GAME OF THE NIGHT: Florida 52, Alabama 50
Florida has been struggling to stay consistent this season and the Gators almost let a 13-point halftime lead slip away on the road at Alabama. But Dorian Finney-Smith picked a great time to score his only bucket of the game, as his thunderous poster dunk on Michael Kessens lifted Florida to a huge SEC road win. Eli Carter paced the Gators with 13 points while Chris Walker gave a nice lift inside with 12 points.
IMPORTANT OUTCOMES
1. Xavier 66, No. 21 Georgetown 53
Chris Mack's ballclub has struggled away from the Cintas Center — and also been inconsistent on the defensive end — but the Musketeers held the Hoyas to 16 first-half points and never looked back in a solid Big East road win. Myles Davis used a big first-half to finish with 19 points for Xavier while the Musketeer defense slowed down Georgetown guard D'Vauntes Smith-Rivera (13 points, 5-for-14 shooting) and limited his teammates. The Hoyas shot 6-for-22 from 3-point range and Joshua Smith (10 points) was the only other Hoya with more than seven points.
2. Oklahoma State 64, No. 20 Baylor 53
After a good home win over Oklahoma over the weekend, the Bears came out completely flat on the road at Oklahoma State on Tuesday. The Cowboys jumped out to a nine-point lead at halftime and held a comfortable lead for much of the game. The guard play for Oklahoma State stepped up as Phil Forte had 16 points and Anthony Hickey had a solid floor game with eight points and 10 assists. This season's Big 12 feels a lot like last season's Big 12 where every team beats up on each other and we can't really tell how good these teams actually are.
3. No. 17 West Virginia 65, Kansas State 59
This game was as ugly as it gets, with the two teams combining for 54 fouls and 45 turnovers as the Mountaineers escaped with a good Big 12 road win. Despite foul trouble with Juwan Staten and Jonathan Holton, West Virginia had a balanced scoring effort and kept the defensive intensity up throughout the game. Tarik Phillip had a team-high 12 points for the Mountaineers off the bench while Staten made some tough buckets in the final frame to finish with 11 points.
4. No. 14 VCU 72, George Washington 48
An A-10 battle that many thought would be closer, the Rams held the Colonials to 26 percent shooting (14-for-52) and five percent 3-point shooting (1-for-17) and ran away in the second half. VCU's defense also forced 16 George Washington turnovers as freshman Terry Larrier led the Rams with 15 points. Ten different players scored for VCU in the blowout home win.
Mo Alie-Cox also had this earth-shaking dunk:
STARRED
After nearly beating in-state rival Virginia on Sunday, the Hokies bounced back with their first ACC win with an overtime win over Pitt. Smith made the game-tying 3-pointer to force overtime with two seconds left in regulation and then made the game-winning 3-pointer with five seconds left in overtime with the game tied. The guard finished with 26 points and six 3-pointers in the win.
The game-tying three from Smith in regulation was from waaay out there:
https://twitter.com/ChadWillis/status/560262325903822852/photo/1
2. Buffalo's Justin Moss
Moss had a great outing in a win over Western Michigan as he had 23 points and 10 rebounds in the MAC win for the Bulls. The junior was also 11-for-18 from the field and had two blocks and two steals.
Moss also put down one of Tuesday night's best dunks:
3. Texas A&M's Danuel House
The former Houston transfer was dialed in from distance as the wing was 6-for-7 from 3-point range in a Texas A&M road win at Auburn. House finished with 22 points for the game as the Aggies have now won five straight SEC games after an 0-2 start.
STRUGGLED
1. Nebraska's Terran Petteway
The Huskers needed Petteway to step up and make shots with Michigan going zone and the junior failed to do so, going 1-for-11 from the field and 1-for-7 from 3-point range. Petteway also added three turnovers and only got to the free-throw line four times.
2. Baylor's Kenny Chery
It was a tough night for the senior guard as he had as many points as turnovers (six) in a loss at Oklahoma State. Chery was 3-for-13 from the field and couldn't get it going.
NOTABLES
Michigan defeated Nebraska without sophomore point guard Derrick Walton Jr., who sat out the game with a lingering sprained toe. Zak Irvin stepped up with 14 points and 12 rebounds in the Wolverine win.
Tulsa moved to 8-0 in the American with a road win at Tulane. Shaquille Harrison finished with 16 points and seven rebounds.
Arkansas slid past Tennessee in the SEC as Bobby Portis and Michael Qualls each finished with 17 points.
San Diego State outlasted Fresno State in the Mountain West as Aqeel Quinn led the way with 16 points.
Utah State earned a nice win over Wyoming as David Collette finished with 16 points. The Cowboys did at least have a solid highlight when guard Riley Grabau nailed a 3/4 court buzzer-beater to end the first half.
Nice Valley win for Evansville as D.J. Balentine had 18 points and six assists in a win over Indiana State.
Playing in the second-annual "Purple Out" Akron beat visiting Ball State as Pat Forsythe finished with 17 points and eight rebounds.
Eastern Michigan won easily over Ohio as Raven Lee paced the Eagles with 19 points.
In an Atlantic 10 battle, La Salle bested Saint Joseph's as Jerrell Wright had a double-double with 19 points and 10 rebounds.
Great balance from Georgia in a home SEC win over Vanderbilt. Nobody took more than nine field-goal attempts for the Bulldogs as Nemanja Djurisic led four starters in double figures with 15 points.
Richaun Holmes had 18 points and seven rebounds as Bowling Green took down Northern Illinois in the MAC.
Staying in the MAC, Toledo bested Miami (OH) as guard Jonathan Williams had 18 points and 10 rebounds.