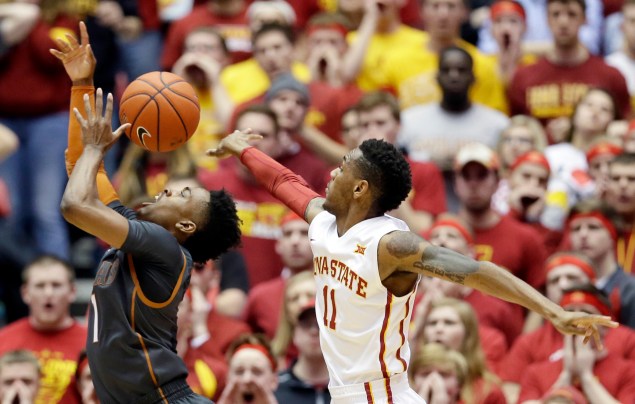 Iowa State has had some sluggish starts this season and it's come back to bite them on a few of its losses like this past weekend against Texas Tech. But the No. 15 Cyclones started the game on a 10-2 run and had a comfortable lead for much of the game as they held on for a 89-86 win over No. 19 Texas.
By moving the ball incredibly well as a team and limiting turnovers for much of the game, Iowa State won its sixth straight home game over a ranked opponent as its offense did seemingly whatever it wanted against the Longhorns. The Cyclones had 20 assists to only six turnovers on Monday as all five starters had at least two helpers.
Texas made a late-game 10-2 run to cut Iowa State's lead to six with 2:04 left and cut it to a one-possession game at 87-84 with 21 seconds left.  The Cyclones, however, made just enough free throws to close the game out after leading by as many as 21 points.
Georges Niang led five Iowa State players in double figures with 19 points on 7-for-13 shooting as the Cyclones used a nice high-low passing game to negate the Longhorn size advantage inside. The Cyclones (15-4, 5-2) shot 54 percent from the field (29-for-53) and had numerous easy looks by using their speed advantage both in the open floor and the half court.
This is another concerning Big 12 performance from Texas (14-6, 3-4). When the Longhorns have trailed at the half in Big 12 play, they haven't won this season. They've looked sluggish at the beginning of important recent games against Kansas, and now Iowa State, and this isn't a good trend to continue for a team with conference title aspirations.
Guard Javan Felix had a nice game off the bench, going 7-for-8 from the field for 20 points. It helped offset a slow night from point guard Isaiah Taylor and forward Jonathan Holmes (17 points each) as they combined to shoot 12-for-31 from the field. Taylor had only two points at the half and didn't really get going until late in the second half. Texas was 0-for-7 from the 3-point line in the first half but got back into the game by going 10-for-15 from distance in the second half.
The Longhorns are still trying to find themselves after Taylor missed 10 games with a wrist injury, but they need to fix their early-game issues quickly because the Big 12 doesn't have nights off this season. Texas experimented with numerous different lineups on Monday — including a mega lineup that featured big men Cameron Ridley, Myles Turner, Connor Lammert and Holmes on the floor at the same time — and they are clearly trying to find a group of five who is consistent together for long stretches of time.