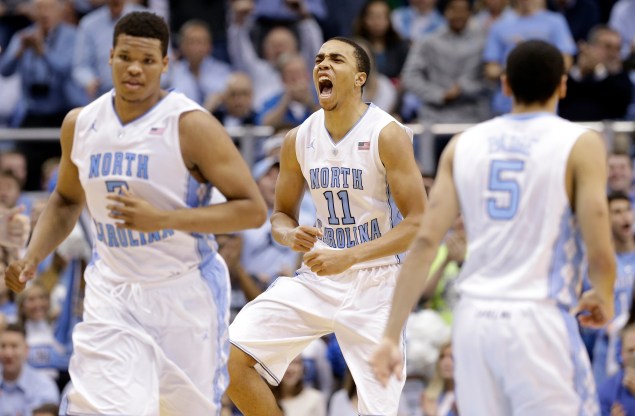 IMPORTANT OUTCOMES
1. No. 13 North Carolina 93, Syracuse 83
Despite turning the ball over on a quarter of their possessions (20 times), the Tar Heels rallied in the second half and outlasted the Orange for an ACC home win. Marcus Paige finished with a team-high 22 points to go along with eight assists while Brice Johnson added a double-double with 17 points and 10 rebounds. Syracuse had minimal bench help and seemed to run out of gas towards the end of the game. Trevor Cooney finished with a game-high 28 points while senior center Rakeem Christmas continued his stellar season with 22 points and 12 rebounds.
2. No. 15 Iowa State 89, No. 19 Texas 86
Texas had another slow start and couldn't find reliable shooting early in a Big 12 road loss at Iowa State. The Cyclones moved the ball well and limited turnovers. Five Iowa State players finished in double figures as the Cyclones earned their sixth straight win over a ranked opponent in Hilton Coliseum. The Longhorns have had mediocre starts against Kansas and Iowa State and didn't match the intensity of either team for 40 minutes in two losses.
3. Alabama State 63, Southern 59, OT
It was a battle between the top two teams in the SWAC as the Hornets needed extra time to outlast the Jaguars. Alabama State only had one field goal in the final 4:11 of regulation as Adrian Rodgers hit the game-tying 3-pointer for Southern with under a minute left to send the game to overtime. But the Hornets took control with the added time and moved to 7-0 in the SWAC with the victory.
STARRED
1. North Carolina's Marcus Paige
The Tar Heels committed 20 turnovers on Monday night, but not a single one came from the junior point guard. Paige also had a team-high 22 points and added eight assists, six rebounds and four steals. He was also efficient, going 6-for-10 from the field, 4-for-7 from distance and a perfect 6-for-6 in the free-throw line.
2. Army's Tanner Plomb
In a Patriot League comeback win over American, the 6-foot-7 junior went 6-for-9 from 3-point range and hit the game-tying triple with 1:14 left. Plomb finished with 26 points and added seven rebounds on the night.
3. Howard's James Carlton
Although the Bison only managed 45 points in a win over Bethune-Cookman on Monday, Carlton had 27 of those points and went a perfect 7-for-7 from the free-throw line in a game that came down to trips at the line.
4. North Carolina Central's Anthony McDonald
It looked like the MEAC leaders might finally lose in league play but McDonald scored 23 points and nailed the go-ahead 3-pointer with 26 seconds left for a win over Delaware State. The senior guard also played all 40 minutes to help the Eagles to their 10th straight win.
STRUGGLED
1. Detroit's Juwan Howard Jr.
The senior went 2-for-10 for only four points in a loss to Wright State. Howard Jr. is averaging 18.2 points per game on the season. The 6-foot-5 wing only had one other single-digit scoring game this season before Monday night.
2. Syracuse's Ron Patterson
Desperately seeking some production from its bench, the Orange turned to Patterson and received zero points on 0-for-5 shooting in 18 minutes of play. The sophomore also had four fouls and a turnover.
NOTABLES
Oakland held off Cleveland State for a Horizon League home win as guard Kahlil Felder made the go-ahead bucket and the game-icing free throws to seal the win. Felder led the Golden Grizzlies with 16 points and six assists.
High Point improved to 16-5 and 7-2 in the Big South with a win over Presbyterian. Three starters finished in double figures for the Panthers, led by Lorenzo Cugini's 15 points.
Valparaiso raced out to a 30-5 lead on Milwaukee and never looked back for a Horizon League win. Sophomore forward Alec Peters had 24 points as the Crusaders improved to 19-4 and 6-2 in league play.
The win streak for Stephen F. Austin is now at 13 as the Lumberjacks cruised past Lamar. Forward Jacob Parker led the way with 20 points, 12 rebounds and four steals.
After falling to Stephen F. Austin in Southland play over the weekend, second-place Sam Houston State kept pace with the Lumberjacks with a conference win over Abilene Christian. Kaheem Ransom led five Bearkats in double figures with 13 points.
Texas A&M-CC also stayed a game behind in the Southland with a road win over SE Louisiana. Rashawn Thomas led the way with 22 points and seven rebounds.
Florida A&M and Central Arkansas will need at least another game to get their first wins this season. Both winless teams lost conference games on Monday night.