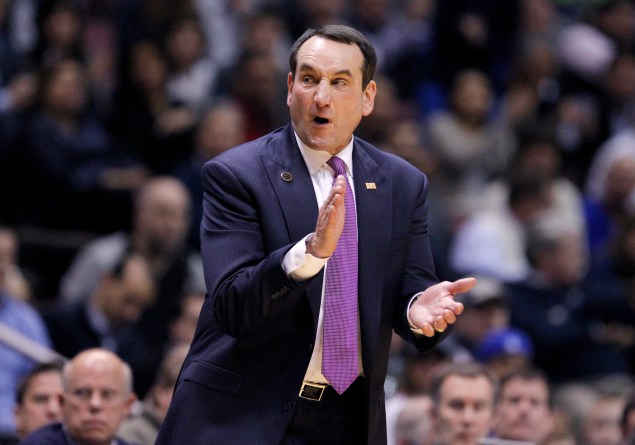 GAME OF THE DAY: No. 5 Duke at St. John's, 2:00 p.m.
Coach K will be going for his 1,000th win on Sunday at the most famous arena in the world. What else do you need for a storyline? Well, the game itself should be pretty intriguing. Jahlil Okafor gets to face an elite shot blocker in St. John's big man Chris Obekpa and Duke has to try and stop St. John's talented guards, including senior D'Angelo Harrison. Harrison is the kind of experienced, high-scoring guard that could give the Blue Devils a lot of trouble. But the Red Storm also lack depth and Duke could wear them down with their bench and additional interior bodies.
MORE: Top ten players Coach K had at Duke | A list of every one of Coach K's wins 
THE OTHER GAME OF THE DAY: No. 23 Indiana at Ohio State, 1:30 p.m.
From Rob Dauster's weekend preview:
This one will be fun. Indiana is one of the most entertaining teams in the country now that they are spreading the floor and running as often as they do. They shoot a lot of threes and score a lot of points and don't worry much about the shot clock. Ohio State won't be backing down from them, however. The Buckeyes are a little bit bigger on the interior, but they will be able to matchup with them on the perimeter. Sam Thompson vs. Troy Williams will be almost as much fun as watching D'Angelo Russell going at Indiana's guards.
UPSET WATCH: No. 8 Notre Dame at N.C. State, 6:30 p.m:
The Irish will be making the trip to Raleigh to face off with a Wolfpack team that has already beaten Duke in this building. Notre Dame is unbeaten in the ACC entering this one but N.C. State will be a really tough out at home with a rowdy crowd. The Pack's interior talent with Kyle Washington, Beejay Anya and Abdul-Malik Abu could give Notre Dame problems on the glass with its lack of frontline players. But does N.C. State get enough perimeter firepower to match the Irish's high-powered offense? Trevor Lacey and Ralston Turner's perimeter shooting helped sink Duke, so it's certainly possible they can match the Notre Dame offense with another solid shooting performance.
FIVE THINGS TO WATCH FOR: 
Unbeaten watch: No. 2 Virginia travels to Virginia Tech for an in-state rivalry that shouldn't be much of a game. The Cavaliers have been suffocating opponents on defense and the Hokies have yet to win an ACC game.
Butler hosting No. 24 Seton Hall is a nice Big East tilt to keep an eye on Sunday afternoon. The Big East is completely unpredictable right now and both of these teams have three conference losses entering this one. Let's see if Seton Hall can shake off a home loss to DePaul with a better offensive performance.
No. 10 Louisville treks to Pitt for an ACC clash. The Cardinals need to figure out their offensive capabilities after some recent struggles while the Panthers could really use a win as this game begins a treacherous nine-game stretch that includes two against Louisville, two against Syracuse and games against North Carolina and Virginia.
Both of the Valley's ranked teams are in action Sunday as No. 14 Wichita State hosts Drake and No. 20 Northern Iowa travels to Illinois State. Keep an eye on that second game in particular. The Redbirds gave VCU a tough game at home and also own decent wins over Old Dominion and DePaul.
To end Sunday, Washington takes on No. 12 Utah in what could be an entertaining Pac-12 contest. The Huskies had a big game-winner from Andrew Andrews earlier this week while the Utes will look to stay near the top of the conference race. Nigel Williams-Goss battling Delon Wright will be a lot of fun to track.
THE TOP 25
Creighton at No. 4 Villanova, 7:00 p.m.
Northwestern at No. 13 Maryland, 8:30 p.m.
OTHER GAMES TO WATCH
South Florida at UConn, 12:00 p.m.
Boston College at Georgia Tech, 1:00 p.m.
Cincinnati at UCF, 2:00 p.m.
St. Bonaventure at Rhode Island, 2:00 p.m.