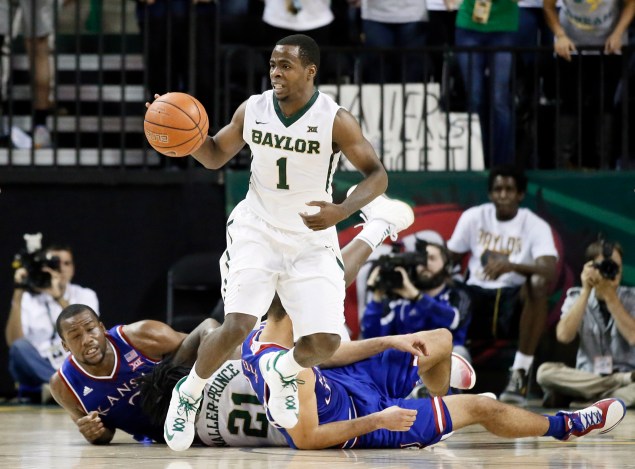 GAME OF THE DAY: No. 11 Kansas at No. 17 Texas, 2:00 p.m.
From Rob Dauster's weekend preview:
Prior to the season, these two teams looked like they would be the two best teams in the Big 12. They still might be the two best teams in the league, which is what makes this game so important. If Texas wants to have a real shot of winning the conference title this season, they have to be able to pick off the Jayhawks at home, the same building where West Virginia just lost by 27 points. But Kansas is finally starting to get some good play out of Cliff Alexander and Kelly Oubre, which means that they might just be peaking at the right time.
THE OTHER GAME OF THE DAY: No. 19 Oklahoma at No. 21 Baylor, 6:00 p.m.
I'm still not ready to fully buy-in on the Bears. While I think they're an NCAA tournament team, I'm not convinced they're much more than that; Oklahoma as a shot to win one of the two league titles and make a run to the Final Four. I'm not sure Baylor can do that. But for the Sooners, they're not going to be winning much of anything if they don't start playing better outside of Norman.
UPSET WATCH: No. 25 Iowa at Purdue, 12:00 p.m.
Iowa needs to rally from a pathetic display earlier this week in a 32-point road loss at Wisconsin. The Hawkeyes looked like they didn't want anything to do with a tough Big Ten game on the road and Purdue's fans aren't going to make it any easier on Iowa on Saturday. Purdue, meanwhile, could also use a bounce-back performance after a flat performance against Illinois.
MID-MAJOR GAME OF THE DAY: Stephen F. Austin at Sam Houston State, 5:30 p.m.
This is one of the better games of the weekend, let alone the mid-major ranks. Both teams are unbeaten in the Southland and Stephen F. Austin is riding a 14-game winning streak while Sam Houston State owns a nine-game win streak. The Lumberjacks went perfect in the conference last season and are looking to stay on top of the league, but Sam Houston has stayed right with them so far in 2014-15 and could make it tough for Stephen F. Austin to repeat. We might even be talking about the Southland as a potential two-bid league if both of these teams continue to win and play each other three times this season.
FIVE THINGS TO WATCH FOR: 
No. 1 Kentucky goes on the road to face South Carolina and this could be a tough one for the Wildcats. The Gamecocks got the best of them last season at home and Kentucky has faced some stiff tests in the SEC so far. South Carolina's talented guards could give the Wildcats a game here.
West Virginia has been a pain to deal with on the defensive end but they've faltered a bit recently in Big 12 play. The No. 18 Mountaineers will look for a season sweep of TCU at home to avoid three losses in their last four games.
Three top-ten teams — No. 9 Iowa State, No. 7 Arizona, No. 6 Wisconsin — have conference road games against bottom-feeders — Texas Tech, Cal and Michigan — on Saturday. These are the types of games that become upsets seemingly out of nowhere. It wouldn't be surprising to see one or more of these games go down to the wire.
North Carolina has played well recently with two big wins in the ACC, but they're banged up going into today's home clash with Florida State. Freshman guard Theo Pinson is out with a broken bone in his left foot, while reserve guards Nate Britt (lacerated lip) and Joel Berry II (groin) are also not healthy and might not play. Let's see how the Tar Heels respond with a shorter rotation.
A really intriguing ACC battle as Miami travels to Syracuse. The Orange are 5-1 in conference play but haven't faced many of the conference's better teams yet. This should be a nice test to see where Syracuse stands, as Miami has tested themselves with a tough non-conference schedule while already winning at Duke and playing N.C. State.
THE TOP 25
Pacific at No. 3 Gonzaga, 8:00 p.m.
Richmond at No. 22 Dayton, 7:00 p.m.
OTHER GAMES TO WATCH
DePaul at Xavier, 12:00 p.m.
Oklahoma State at Kansas State, 12:00 p.m.
Tulsa at East Carolina, 12:00 p.m.
Wake Forest at Clemson, 12:00 p.m.
Rutgers at Penn State, 12:00 p.m.
Texas A&M at Tennessee, 1:00 p.m.
Arkansas at Missouri, 2:00 p.m.
Illinois at Minnesota, 2:15 p.m.
Georgetown at Marquette, 2:30 p.m.
Georgia at Mississippi State, 3:00 p.m.
New Mexico at Wyoming, 4:00 p.m.
UCLA at Oregon, 4:00 p.m.
Michigan State at Nebraska, 4:00 p.m.
Houston at SMU, 6:00 p.m.
USC at Oregon State, 6:00 p.m.
LSU at Vanderbilt, 6:00 p.m.
Florida at Ole Miss, 6:00 p.m.
Memphis at Tulane, 8:00 p.m.
Washington State at Colorado, 8:00 p.m.
Auburn at Alabama, 8:30 p.m.
San Diego State at Colorado State, 10:00 p.m.
Arizona State at Stanford, 12:00 a.m.