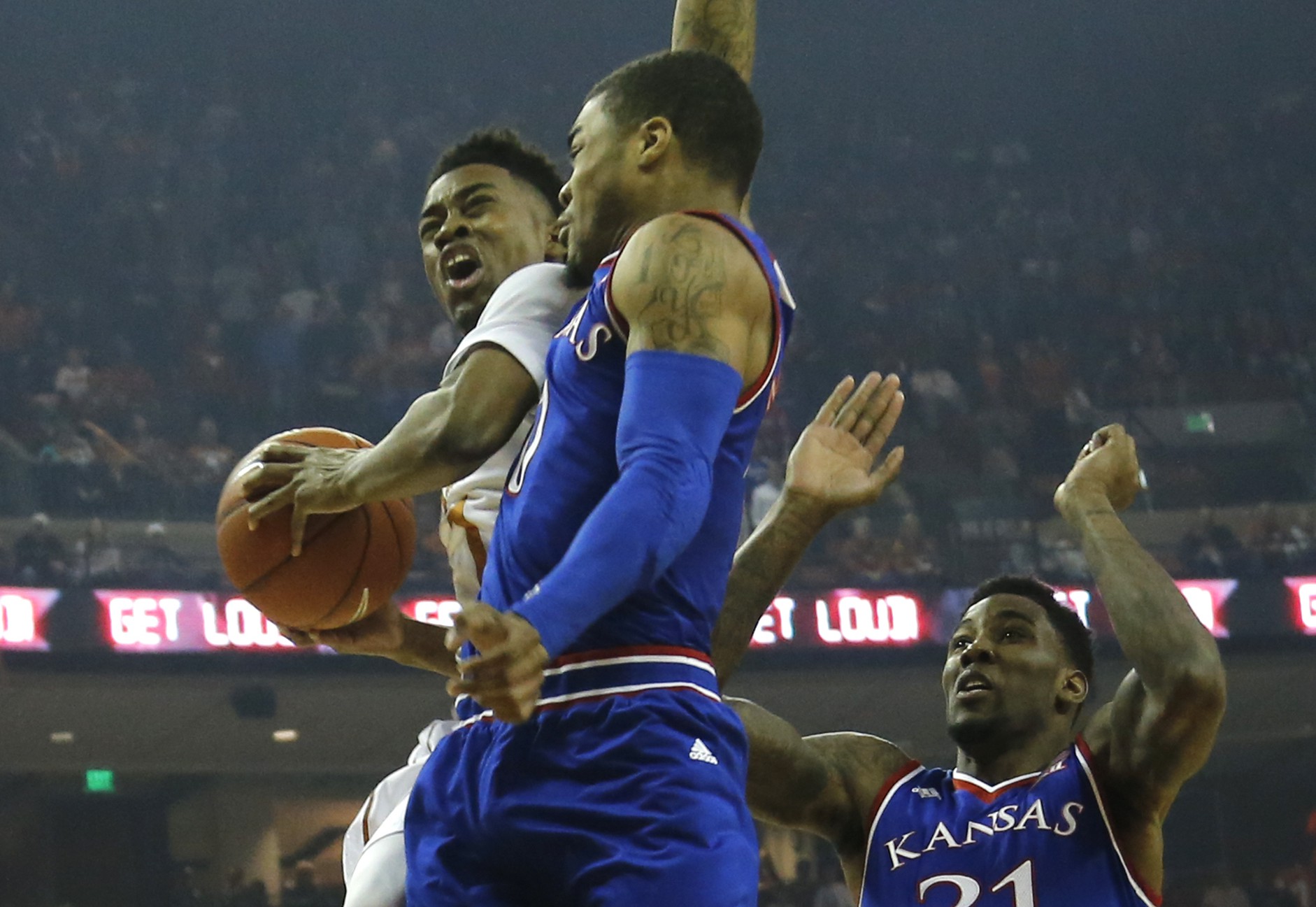 One of these days, someone other than Kansas is going to win the Big 12 outright.
That happening this season is looking less and less likely, however, as the No. 11 Jayhawks put together a statement win at No. 17 Texas on Saturday afternoon, completely outplaying the Longhorns in the second half of a 75-62 win. Cliff Alexander led the way with 15 points, nine boards — five offensive — and two assists while both Perry Ellis and Brannen Greene chipped in with 14 points.
The Jayhawks are now 6-1 in league play, having beaten both Oklahoma and Texas in their last two games. On Saturday, playing against one of the biggest front lines in the country, Kansas grabbed 13 offensive rebounds as both Ellis and Alexander played as well as they have all season long.
And should I mention that the biggest question mark for Kansas entering the season, the point guard spot, has become their most reliable position? On Saturday, Frank Mason and Devonte' Graham combined for seven assists and no turnovers.
For all the issues that Kansas has had this season, they appear to finally be peaking.
The opposite can be said for Rick Barnes' club, who drops to 14-5 overall and 3-3 in the conference with the loss. Texas played well in the first 20 minutes, but Isaiah Taylor was mostly ineffective and that big, burly front line got outplayed as Kansas pulled away in second half.
And frankly, I've gotten to the point where I'm not convinced that Texas can turn this thing around, that they're a top ten-caliber team.
The Longhorns have a ton of size along their front line, enough big bodies to go inch-for-inch with Kentucky. But those bigs can't take over games in the paint quite like Kentucky's can. They're not quite good enough to physically overwhelm anyone in their path.
But they're also not quite skilled enough to be able to invert their offense. Myles Turner can hit some threes, but his lack of quickness and mobility on the perimeter makes it difficult for him to really take advantage of those skills against opposing power forwards. Jonathan Holmes might be their most important player, but they don't go to him in the post nearly enough, which is where he has the biggest advantage when being guarded by small forwards, because Cameron Ridley and Prince Ibeh are ineffective farther than five feet from the rim.
The other issue is the Texas back court. DeMarcus Holland is one of the nation's best defenders, but he's not a great shooter nor is he big enough to post up opposing two-guards. Isaiah Taylor is a lightning quick point guard that can make plays in the paint, but he's an inconsistent shooter and all of 5-foot-11.
Long story short, I don't love the way that the Texas roster fits together, and that "fit" is one of the most important things when it comes roster makeup in college basketball.