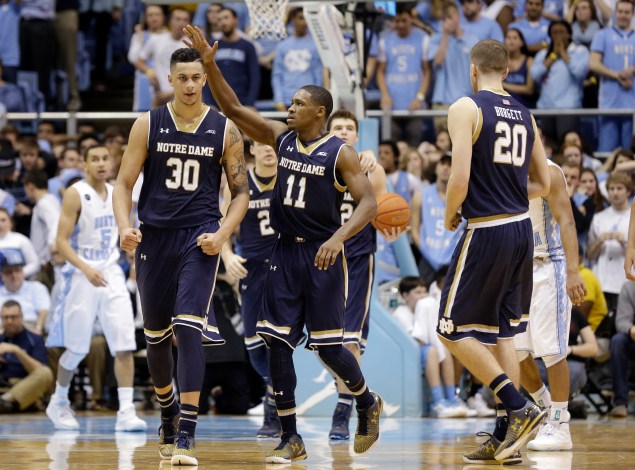 If you're a fan of sports, you've likely been sucked in for a season or two of HBO's acclaimed football series "Hard Knocks." With it's candid interviews and all-access look at the inner-workings of a NFL team during training camp, "Hard Knocks" has become a yearly must-watch show for sports fans because of its unique documentary-style approach.
It appears that same type of show is hitting college basketball as Paul Suellentrop of the Wichita Eagle is reporting that Wichita State, Maryland, Notre Dame and Oklahoma will be apart of a new five-episode series for Showtime. The one-hour weekly show, titled "The Road to March Madness," will begin on Feb. 17 and run on Tuesdays until after Selection Sunday. The final episode of the show will air on the Monday night after Selection Sunday.
Wichita State associate athletic director John Brewer told Suellentrop that the access given to the production people for the show will be extensive.
"They kind of took it beyond following one team," Brewer said to Suellentrop. "They wanted to do four teams. They'll follow us around on the road, practices, team meals. They may follow student-athletes to their dorms and apartments and classes."
This sounds like a potentially fun show for college basketball fans to keep track of this season. What makes this show sound even better than "Hard Knocks" is that it comes during the stretch run of an actual season, and not during training camp when everyone is still overly optimistic. We'll also get to see some heated conference games across four different leagues and it should be a unique look at how major college basketball works during this insane time of year.
Big Ten Network has a similar show with "The Journey," — which I recommend if you haven't seen it — but I'm hoping that with Showtime producing this, instead of a conference like the Big Ten, that it's a little more intrusive and shows some of the rawer elements of being apart of a big-time college basketball program.
Wouldn't it be interesting to see one of these coaches really get in the face of a player who isn't playing very hard?
One thing to be concerned with, however, is that some schools might have final cut over the show. Brewer told Suellentrop that Wichita State will have final editing control over content before it is presented.
"We want to make sure that we're promoting, and what we're showing, is accurate, but also make sure it's not taken out of context," Brewer said to Suellentrop. "We want to protect our brand."
The "protect our brand" comment is particularly discouraging because it leads me to believe that we won't see some of those intimate moments when things are going wrong. Brewer insists that the show isn't scripted but it's hard to take that statement seriously if the school has final cut over everything. How accurate can this show really be if the schools are only going to allow positive footage to be shown?
Hopefully each of these schools will show the good, the bad and the ugly side of a stretch run in college basketball. It would be great to see some dramatic footage of four NCAA Tournament hopefuls.
Which of these four programs are you looking forward to watching the most on this show?