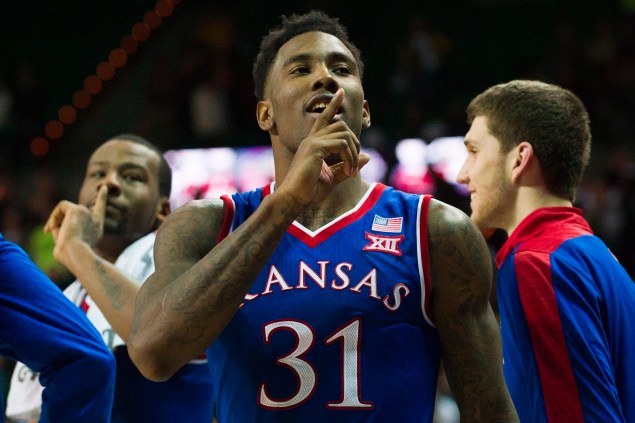 GAME OF THE WEEKEND: No. 11 Kansas at No. 17 Texas, Sat. 2:00 p.m.
Prior to the season, these two teams looked like they would be the two best teams in the Big 12. They still might be the two best teams in the league, which is what makes this game so important. If Texas wants to have a real shot of winning the conference title this season, they have to be able to pick off the Jayhawks at home, the same building where West Virginia just lost by 27 points. But Kansas is finally starting to get some good play out of Cliff Alexander and Kelly Oubre, which means that they might just be peaking at the right time.
THE OTHER GAME OF THE WEEKEND: No. 19 Oklahoma at No. 21 Baylor, Sat. 6:00 p.m.
I'm still not ready to fully buy-in on the Bears. While I think they're an NCAA tournament team, I'm not convinced they're much more than that; Oklahoma as a shot to win one of the two league titles and make a run to the Final Four. I'm not sure Baylor can do that. But for the Sooners, they're not going to be winning much of anything if they don't start playing better outside of Norman.
FIVE MORE GAMES TO WATCH
No. 5 Duke at St. John's, Sun 2:00 p.m.: Coach K will be going for his 1,000th win on Sunday. I'm sure it won't get talked about at all.
No. 8 Notre Dame at N.C. State, Sun. 6:30 p.m: The Irish will be making the trip to Raleigh to face off with a Wolfpack team that has already beaten Duke in this building.
No. 24 Seton Hall at Butler, Sun. 3:00 p.m.: Seton Hall has done some impressive things this season, including beating Villanova at home. Let's see them develop some consistency on the road.
San Diego State at Colorado State, Sat. 10:00 p.m.: For my money, SDSU is currently the best team in the Mountain West. The Rams can play, however, and if they're going to win the MWC title, they must defend their home court on Saturday.
Oklahoma State at Kansas State, Sat. 12:00 p.m.: These are the seventh and eighth best teams in the Big 12 this season. They both could end up in the NCAA tournament.
WHO'S GETTING UPSET?: No. 23 Indiana at Ohio State, Sun. 1:30 p.m.
This one will be fun. Indiana is one of the most entertaining teams in the country now that they are spreading the floor and running as often as they do. They shoot a lot of threes and score a lot of points and don't worry much about the shot clock. Ohio State won't be backing down from them, however. The Buckeyes are a little bit bigger on the interior, but they will be able to matchup with them on the perimeter. Sam Thompson vs. Troy Williams will be almost as much fun as watching D'angelo Russell going at Indiana's guards.
UPSET WATCH
No. 16 VCU at Saint Louis, Fri. 7:00 p.m.: Saint Louis may be in a bit of a rebuilding year, but that's never an easy road trip to make, particularly for a rival like VCU.
No. 25 Iowa at Purdue, Sat. 12:00 p.m.: Iowa has been as up-and-down as any team in the Big Ten. Playing a Purdue team with a pair of quality seven-footers won't be an easy task.
No. 1 Kentucky at South Carolina, Sat. 12:00 p.m.: When SEC play started, this was the game that I picked Kentucky to struggle with the most. They lost there last season and South Carolina's got a trio of tough guards on their roster.
No. 20 Northern Iowa at Illinois State, Sun. 4:00 p.m.: The road is a tough place at every level of college basketball, but the Missouri Valley has always seemed to be one of the toughest place for favorites to consistently win. The Panthers will be tested on Sunday.
No. 10 Louisville at Pitt, Sun. 4:00 p.m.: A good old-fashioned Big East rivalry game breaking out in the middle of ACC play. Get used to it.
FIVE STORY LINES TO WATCH
1. Four top ten teams are on the road against some of the teams at the bottom of their respective leagues. I bet one of these four will lose this weekend:
No. 2 Virginia at Virginia Tech, Sun. 1:00 p.m.
No. 6 Wisconsin at Michigan, Sat. 7:00 p.m.
No. 7 Arizona at Cal, Sat. 10:30 p.m.
No. 9 Iowa State at Texas Tech, Sat. 4:00 p.m.
2. Miami (FL) at Syracuse, Sat. 4:00 p.m.: If Syracuse is going to make the NCAA tournament this season, they cannot afford to lose games like this anymore.
3. Florida at Ole Miss, Sat. 6:00 p.m.: Ditto for Florida, although the Gators are in a tougher spot than the Orange at this point.
4. New Mexico at Wyoming, Sat. 4:00 p.m.: Are the Lobos really Mountain West title contenders this season after everything they've lost? Get a win in Laramie and I'll believe it.
5. Creighton at No. 4 Villanova, Sun. 7:00 p.m.: Last year, the two times that Creighton played Villanova, they completely embarrassed them. Time for some Wildcats revenge?