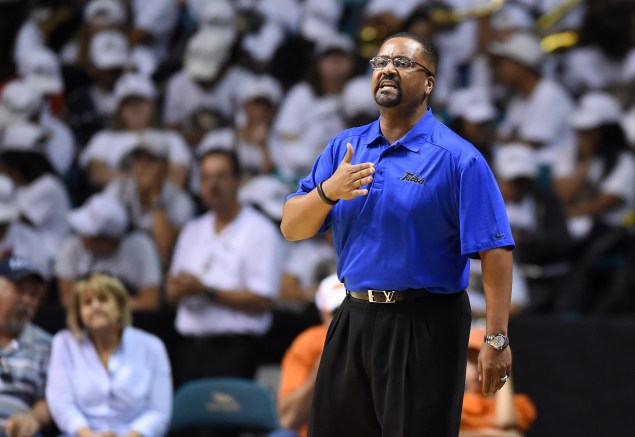 Saturday was supposed to be a celebration for Tulsa head coach Frank Haith and his family.
Born in Queens, Haith moved to North Carolina when he was five. That's where he says he's from, where he calls home and where most of his family still resides. On Saturday, he'll bring his Golden Hurricane team — one of the hottest and most surprising teams in the country, but I'll get to that in a minute — on a trip to East Carolina for an American road game.
That's the game those friends and family members — he is one of 11 siblings — from Burlington are going to make the two-and-a-half hour trip to Greenville to see him try and coach his boys to 7-0 in the league, their first in the American. The traveling party will not be intact, however, as Haith's sister, Laura, is still in the hospital after suffering a brain aneurysm six weeks ago.
"She's still in the ICU," he said. "She's still not awake."
Laura suffered the aneurysm back in early December, and Frank flew home to be with his family after Tulsa's win over Arkansas-Little Rock on Dec. 7th. He flew back to Tulsa for their Dec. 10th game against Southeastern Oklahoma State, a Division II school, having missed two days' worth of practice. He got back into town just a couple of hours before tip-off, and the result was one of the most embarrassing of his professional career.
The Golden Hurricane lost to Southeastern, setting off a flurry of the typical, played-out Frank-Haith-Can't-Coach jokes from spiteful Missouri and Miami fans as well as your standard-issue snark from those that write about the sport.
Imagine that.
His sister, who has two sons of her own, was in a coma and the team he left an SEC program to coach — the one that returned quite a bit of talent from a team that made last year's NCAA tournament — was sitting at 5-4 with losses to crosstown rivals Oral Roberts and a Division II school.
"It was tough," Haith said.
Three days later, Tulsa would get smacked around by Oklahoma.
————————————————————————
Regardless of how much talent there is on a basketball team, when a new coach is taking over a program, there is always going to be a period of transition. The new coaching staff needs to learn their players. What are their strengths and weaknesses, both individually and from a roster standpoint? Who needs to be pushed and who shuts down if they get yelled at? Who can take on a leadership role? Who picks up offense quickly and who doesn't understand defensive positioning?
The same goes for the players. They're not only learning a new system, new plays and new defenses, they're trying to figure out just what this coaching staff expects from each of them and what their role looks like moving forward.
And, quite often, this happens in a situation where the two sides have, at best, a limited relationship to begin with.
It's not an easy thing to do, and for this Tulsa team, Haith says, the slow start to the season was all a part of their learning curve.
"Everything was new," Haith said. "They played a different way last year. Did things different. Different terminology."
"They used to be three-out, two-in, now we're four-out, one-in," he said of the system Tulsa ran under former coach Danny Manning, who is now at Wake Forest. "We're spread pick-and-roll, they were high-low. We had to figure that all how to put Shaquille Harrison and Jordan Woodard in a position where they could be the most successful. You want to put those guys where they can be comfortable and productive."
Simply put, the players and the coaches were still feeling each other out.
But that loss to Oklahoma, on December 13th, was the last loss that the Golden Hurricane suffered. They've now won eight straight games, six of which came in American play with three of those league wins coming on the road. That's an impressive way to announce one's self to a conference, and Haith gives the credit to the timing of the school's winter break: right after the loss to Oklahoma.
Everyone in the program — from Haith to star guards Woodard and Harrison to the managers giving players water during timeouts — realized they had to do something to turn their season around. So they took the time where they didn't have to worry themselves with classes or homework and, as Haith put it, "just got better."
Practices were more focused, players were getting individual workouts in on their own, film sessions went longer. They got to know each other better just by being in such close quarters.
"That's the good thing about us," Haith said. "There was no panic. In anybody."
"That's where we were at. It's not like we're that team [that can win just by showing up]. I've gotta give them credit because we really grew a lot over that break."
Tulsa still has a long way to go this season. They've beaten Memphis and UConn at home, but still have to make return trips as well as play SMU twice and host Cincinnati. They're a half-game up on the Mustangs and two games up on both the Bearcats and the Huskies, but it's probably still too early to call them favorites in the league; they're about two-thirds of the way through the easy part of their conference schedule.
But if Haith has proven anything, it's that he has a team that is going to contend for the American title this season, Southeastern Oklahoma State be damned.
————————————————————————
Blowing out a program like Memphis in a primetime game on ESPN to move to 6-0 in one of the top seven leagues in a country has a way of making people forget about a random loss in the middle of the Fantasy Football playoffs.
So yes, professionally, Haith is in a good spot right now.
His sister, however, is not, at least not yet.
"We just don't know what's next right now," Haith said. "We're just taking it day-by-day."
The family will try to rally as they can this weekend, to celebrate the success that Haith is having this season. It's a welcome distraction, something to look forward to in order to keep your mind off of a family member that's in a coma.
But it won't be the same without Laura there.
"This East Carolina game is a tough one for me because this is the game that she was making plans to come to," Haith said. "She's the one that was on top of everything.
"It's been tough. It's been real tough. She's got two boys and we're taking care of them, but it's been hard."