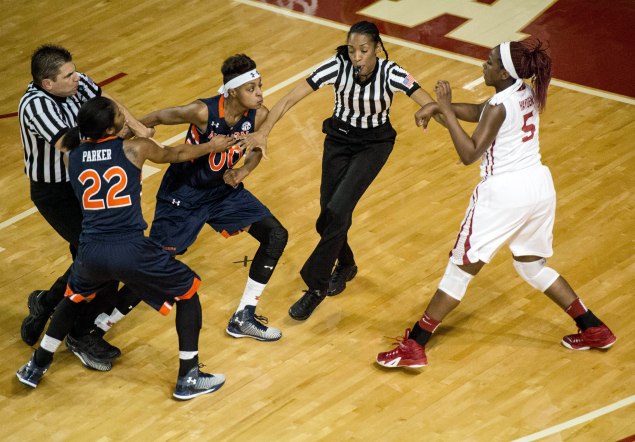 While the football game gets the lion's share of the attention (and that's understandable), the rivalry between Auburn and Alabama is an intense one regardless of the sport being played. Thursday night in the women's basketball teams' first meeting of the season, things got too intense during the first half of a game the Crimson Tide ultimately won by the final score of 51-50.
With just over a minute remaining in the first half, Alabama's Breanna Hayden and Auburn's Hasina Muhammad got tangled up following a free throw attempt by Auburn's Tra'Cee Tanner. Both Hayden and Muhammad threw punches, ultimately winding up in the Alabama bench area, and both were ejected along with Auburn's Meoshonti Knight.
Per NCAA rules an ejection for fighting results in a one-game suspension, and participation in a second fight would result in the player being suspended for the remainder of the season. Both Hayden and Muhammad received an extra game from their respective schools, meaning that they've received two-game suspensions.
Video credit: FOX Sports