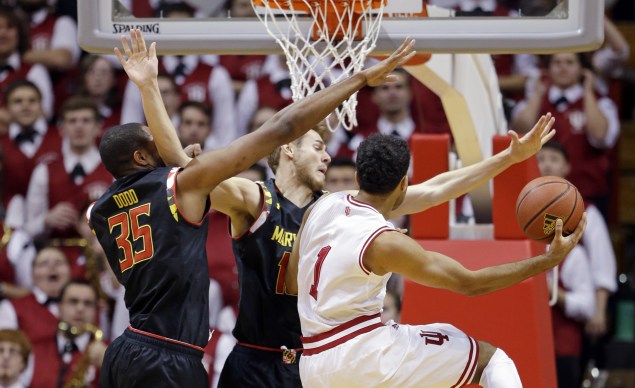 I love this Indiana team.
Love them.
And, unless your rooting allegiances lie in Kentucky or some other Big Ten college town, I find it very hard to believe that you won't feel the same way if you watch the Hoosiers play. Here's what they do: they push the ball, they spread the floor offensively, they let their quartet of talented perimeter weapons make plays and they fire up threes at will.
When those threes are going down, you'll have nights like Thursday night, where the No. 23 Hoosiers went 15-for-22 from three, hit 60.0 percent of their field goals and blew out No. 13 Maryland on a night where the Terps shot better than 50 percent from the field and hit 10-for-20 from deep.
In a season where everyone is complaining about how unwatchable college basketball is, the Hoosiers are the collegiate version of the Golden State Warriors. They're not quite as dominant — Yogi Ferrell is a stud, but Steph Curry he ain't — but they are now 15-4 overall and 5-1 in the Big Ten, which is tied for first in the conference with Wisconsin.
And here's the scary thing: they may have just found a way to get better. Hanner Mosquera-Perea, one of just two true big men on Indiana's roster and their starting center, got injured after their blowout loss at Michigan State. That was thought to be a major blow to the Indiana season, but what it's done is make them even more difficult to guard. Now, instead of having a center that wasn't all that good of a shot-blocker or a rebounder letting defenses clog up the lane, the Hoosiers are using Colin Hartman — a 6-foot-8 flamethrower — to open things up even more.
It might be for the best. Yeah, Indiana will take a hit on the defensive end of the floor, but they weren't stopping anyone anyway. They entered Thursday night ranked 197th in defensive efficiency, according to Kenpom. If you're going to be a bad defensive team, one that needs to score a ton of points to beat good teams, you might as well have your most unguardable team on the floor at all times. Since Perea got hurt, Indiana has gone 35-for-68 from three. That's 51.4 percent.
Indiana is going to have some off-nights, but when they're on, they're going to be able to play with anyone in the country.