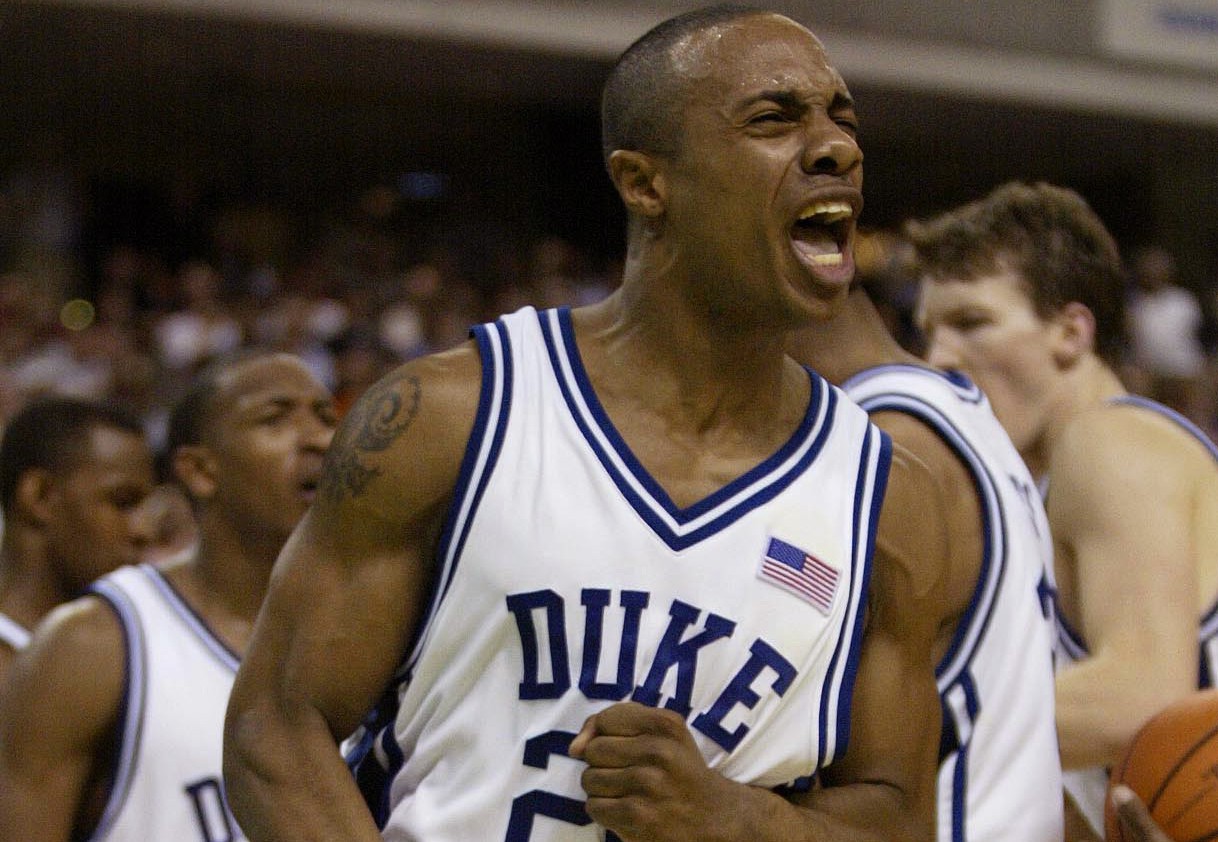 1. Jay Williams: I'd make the argument that J-Will — who was still Jason back then — is the best basketball player that's ever worn a Duke uniform. Maybe this is me being naive, as I was all of seven years old when Laettner finished up his Duke career, but he's got the college resume to back it up. He won the 2001 national title, National Player of the Year in 2002 and was the No. 2 overall pick that year. If he didn't destroy his leg in a motorcycles accident, I firmly believe this wouldn't be a discussion.
2. Christian Laettner: Laettner finished his college career with 2,000 points and 1,000 rebounds, was a two-time All-American, the 1992 National Player of the Year and the No. 3 pick in the NBA Draft in 1992. But that's not the whole story: He not only won national titles in both 1991 and 1992, he's the only player in college basketball history to start in four straight Final Fours. Oh, and the 6-foot-11 center shot 48.5 percent from three in his career.
3. Johnny Dawkins: There's an argument to be made that Dawkins is as important to the growth of the Duke program as anyone, including Coach K. He was a two-time All-American point guard that led the school to the 1986 national title game — they lost to Louisville — and a then-record 37 wins in a season. He was the National Player of the Year in 1986 and left the program as the school's all-time leading scorer. That 1986 season sparked a stretch where Duke made the Final Four in seven of nine seasons, including five straight years and back-to-back national titles.
4. Grant Hill: Hill was on the Duke team that won the 1991 and 1992, but he didn't come into his own as a player until 1994, when he was named ACC Player of the Year while leading the Blue Devils to the title game. He was the first player in ACC history to collect 1,900 points, 700 rebounds, 400 assists, 200 steals and 100 blocked shots, but ankle issues plagued him throughout his time in the NBA.
5. Shane Battier: Battier was a three-time Defensive Player of the Year that led Duke to two Final Fours, including the 2001 National Title, and was also named the 2001 National Player of the Year.
6. J.J. Redick: Redick surpassed Dawkins as Duke's all-time leading scorer in 2006, a season where he and Adam Morrison went head-to-head in one of the most memorable National Player of the Year races in college basketball history.
7. Bobby Hurley: Hurley played in three Final Fours, was the starting point guard for the 1991 and 1992 national titles and is still the NCAA's all-time assists leader. He was the No. 7 pick in the 1993 draft, but a near-fatal car accident during his rookie season derailed a promising career.
8. Elton Brand: Brand was the consensus National Player of the Year in 1999 playing for a Duke team that included Trajan Langdon, William Avery, Shane Battier, Corey Maggette, Nate James and Chris Carrawell.
9. Danny Ferry: Ferry picked up where Dawkins left off, helping carry Duke to Final Fours in 1986, 1988 and 1989. He was a two-time all-american and eventually taken as the No. 2 pick in the 1989 draft.
10. Jahlil Okafor: I know he's only midway through his collegiate career and, with the number of incredible college players that don't get mentioned here — Shelden Williams, Trajan Langdon, Kyle Singler, Mike Dunleavy, Jabari Parker. I can go on and on. — it might seem silly to have Okafor this high. That said, I think Okafor has a shot to be the best player to ever come out of the Duke program. Ever. He's the centerpiece on a top 10 team this season and the favorite to win the National Player of the Year award and go No. 1 overall in the 2015 draft. In ten years we may look back and be shocked at how low he is.
943. Todd Zafirovski: The 6-foot-11 walk-on played in 20 games in his collegiate career.
944. Jay Bilas: Someone has to be Duke's Mr. Irrelevant.