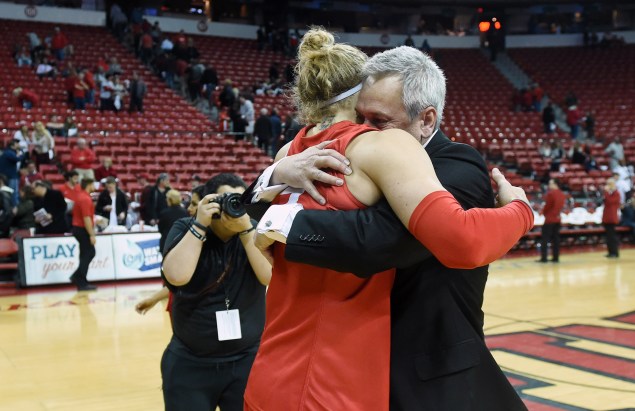 I'm going to preface this post by saying that there really are some truly depraved people out there and, if you spend enough time on the internet, you're going to run into them eventually.
Hugh Greenwood plays for New Mexico. He's a senior guard, and while he's probably made more of a name for himself for his hair than for his game, he's still a starter and a key piece on a New Mexico team that is currently sitting at 5-2 in the Mountain West.
There's a reason the native Australian has grown his blonde hair out to look like he's an extra from Point Break: His mother had been in remission from breast cancer for four years before it returned over the summer, and he's grown out his hair to raise awareness to help fundraise for cancer research. Head coach Craig Neal and his son, Greenwood's teammate Cullen Neal, both grew their hair out and cut it to support the cause.
Anyway, Greenwood had 22 points, hit six threes and dunked for the first time in a game since his freshman season as the Lobos went into Vegas and beat UNLV. Here was his interview on CBS Sports Network after the win:
I'm not going to identify the twitter user — I'm not going to call him or her a fan — but if you really want to see the awful things that were said, it will probably take you about 10 seconds to find it.
Instead, I'm going to show you an example of what real fans are like. The UNLV student section, known as The Rebellion, left a note for Greenwood on his seat on the bench prior to the game:
@HGreenwood3 @KjierstenStraub we left this on the bench for you. Didn't know when we'd have a chance to hand-deliver. pic.twitter.com/jvIvwvQo84

— The Rebellion (@UNLVRebellion) January 22, 2015
It says:
Mr. Greenwood, We wanted to extend our condolences and offer our support as you and your family deal with your mother's diagnosis.

As a group, The Rebellion considered options on fundraising for your cause. Due to budget restrictions, marketing/fundraising compliance, and other time-consuming responsibilities, we were unable to organize any kind of respectable fundraising effort. Despite our inability to contribute financially, we wish your mother a successful recovery.

For years, we have watched from The Rebellion as you have played with passion, poise and sportsmanship. If your efforts consist of the same traits, we believe you will be successful in whatever goals you set for your organization's fundraising.

We wish you, and your family, the best moving forward.

Sincerely, The Rebellion

PS: We are NOT Lobos.
If you want to donate to Greenwood's cause, known as the Pink Pack, you can do so right here.