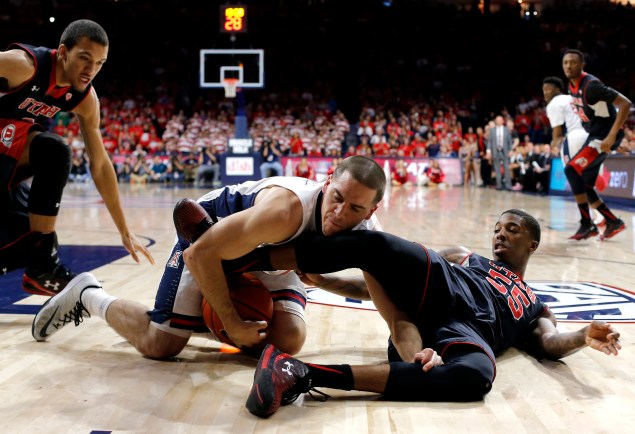 TUCSON, Arizona — After dispatching of Arizona State Thursday night, then-No. 8 Utah's attention moved to their game at Arizona two days later, the first matchup of Pac-12 teams ranked in the AP Top 10 since March 2008, back when it was still the Pac-10.
Armed with an offense led by one of the nation's best players in Delon Wright and a defense that's gotten even better thanks in part to the addition of freshman 7-footer Jakob Poeltl, the Runnin' Utes arrived at McKale Center intent on making a statement that would resonate nationally.
Not only were they capable of competing with the reigning kings of the conference, but they were also capable of dethroning them. And early on Utah looked the part, scoring ten of the game's first 12 points with Wright scoring seven himself and assisting on a Brandon Taylor three-pointer. But as the game wore on the Wildcats played at a level expected of them before the season began, with T.J. McConnell punishing Utah in pick and roll situations and their big men dominating the glass on both ends of the floor.
Add in Stanley Johnson, who sat out most of the first half with two fouls, going off for 18 second half points and what had the looks of a tightly contested game turned into a 69-51 Arizona rout. Those looks Utah had little trouble finding in the game's first ten minutes weren't as plentiful as the game progressed, as they made just two field goals over the final 5:49 of the first half and shot 7-for-21 in the second.
But even with their offensive issues being what they were, with Utah also failing to cash in some of the open looks they did find, it was the fact that the Utes struggled mightily on the glass that had the greatest impact.
"Early on in the game things were rolling right along," Utah head coach Larry Krystkowiak said after the defeat. "It's an interesting situation, because I thought defensively we got stops but couldn't we get rebounds. They were getting second shots, and I thought this was a case of our inability to get a rebound carrying over to the offensive end of the floor to where it was too much to overcome."
Arizona rebounded more than 53 percent of its missed shots, a season high for a team that hasn't been as good on the offensive glass as they were a season ago. That percentage is also a season-worst for Utah, which prior to Saturday hadn't surrendered an offensive rebounding percentage above 40 percent the entire season. Utah's first-shot defense was solid on Saturday, as it has been all season long, but it was their inability to complete those possessions with a rebound that did them in.
So often it's discussed that when a team is struggling offensively they can save themselves either in a single game or throughout the course of a season on the other end, buckling down to get stops that can lead to better scoring opportunities. But there's also something to be said for the impact that defensive issues can have on the offense, which is what happened to Utah Saturday.
While their performance in non-conference play has resulted in Utah putting together solid numbers on both the offensive (33.3% OR rate) and defensive (73.2% DR rate) boards, the Utes are ranked tenth in the Pac-12 in defensive rebounding percentage in conference games (67.2%). That may have been lost in the fact that Utah won its first four conference games, including blowout wins over UCLA (who they'd yet to beat as a member of the Pac-12) and Colorado.
While neither the Bruins nor the Buffaloes hurt Utah on the glass, grabbing a combined 16 offensive rebounds, USC (14 offensive rebounds) and Arizona State (13) did. The only difference is that Arizona had the talent to make Utah pay for those mistake, giving the Utes a valuable lesson that if used properly will only help them down the road.
"We've been talking about rebounding. Arizona State had 13 offensive rebounds against us, so that was a point of emphasis," Krystkowiak noted. "We couldn't, on Friday, all of a sudden do a bunch of rebound/block out drills but that's what you need to do, get back to the drawing board with some physicality. We've got too much finesse going on right now with our guys, and it's got to improve."
As a member of the Pac-12, Saturday night was unchartered territory for a program with a history that includes a national title in 1944 and a national runner-up trophy in 1998. Even with prior games against San Diego State, Wichita State and Kansas, which helped prepare Utah for conference play, that isn't the same as looking to knock a reigning champion off of its throne. But even with Utah receiving that bitter reminder, how far they've come since entering the conference cannot be forgotten.
From six wins in their inaugural season to last year's NIT berth, slowly but surely Utah has grown into a program that can not only enjoy more success this season but use that as a springboard into the future. To take that next step something more is needed, and the areas that can be overlooked by the casual observer become even more important when that's the case. Utah will get another shot at Arizona in late February when the Wildcats visit Salt Lake City, and maybe in the Pac-12 tournament as well.
Utah knows what needs fixing, and better attention to detail on the defensive glass is something that will help them against the rest of the Pac-12 as well. How far they go this season will depend upon whether or not the Utes take that step.