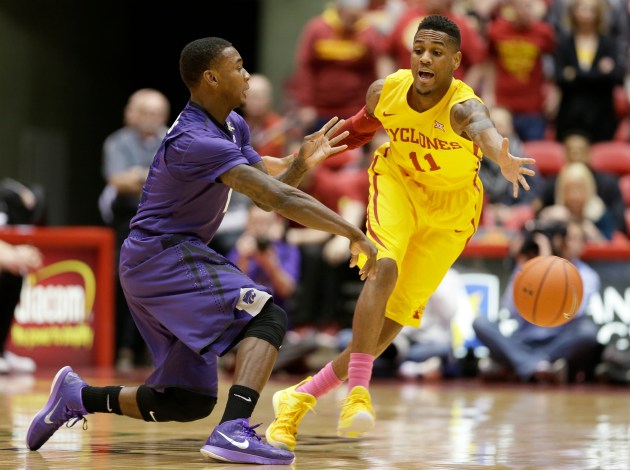 GAME OF THE NIGHT: No. 9 Iowa State 77, Kansas State 71
The Wildcats might have entered this Big 12 contest unranked, but this is a completely different Kansas State team than we saw a few weeks ago. Kansas State gave Iowa State everything they could in the Hilton Coliseum, but the Cyclones rallied for a solid home win. In a back-and-forth contest, Jameel McKay had 15 points and seven rebounds to lead Iowa State while Georges Niang added 14 points, six rebounds and four assists. Nino Williams had a really solid outing for Kansas State with 22 points while Marcus Foster added 16 points.
IMPORTANT OUTCOMES
1. No. 6 Wisconsin 82, No. 25 Iowa 50
The Badgers thoroughly dismantled Iowa as the Hawkeyes didn't even show up on Tuesday night. Sam Dekker led Wisconsin with 17 points while Nigel Hayes added 16 points. Frank Kaminsky also added a double-double of 13 points and 11 rebounds to go along with six assists. The Badgers only had one turnover on Tuesday and it came on an airballed 3-pointer as the shot clock was winding down. For any college basketball game, that's ridiculous. For a Big Ten conference game, that's insane.
2. No. 1 Kentucky 65, Vanderbilt 57
Credit the Commodores for slowing down Kentucky's offense and staying in the game until the end, but the Wildcats were just too big and strong for Vanderbilt down the stretch. Aaron Harrison (14 points) and Dakari Johnson (10 points) were the only Kentucky players in double-figures but the Wildcats did far more damage at the foul line, as they went 21-for-32 from the line while the Commodores were only 6-for-12. Again, not a great effort from Kentucky, but enough to get it done and Vanderbilt showed that they could be really good in the SEC in another year.
3. Davidson 77, No. 22 Dayton 60
Playing without starting guard Jack Gibbs, Davidson still looked incredibly impressive in a big A-10 home win over No. 22 Dayton. Forward Peyton Aldridge stepped up with 22 points and six rebounds while Tyler Kalinoski had 21 points, six assists and four rebounds in the win for the Wildcats.
4. LSU 79, Florida 61
This afternoon I labeled Florida as this season's biggest disappointment in college basketball and they came out very flat at home in the second half of a big loss to LSU. This was a game that the Gators needed to build some momentum in SEC play and they were completely outplayed by the Tigers. Jarell Martin paced LSU with 22 points and eight rebounds while Jordan Mickey had 14 points and 14 rebounds and Tim Quarterman added 15 points, eight assists and five rebounds.
STARRED
1. Texas A&M-CC's John Jordan
Nice home win for the Islanders over Northwestern State as the guard had 22 points, 11 assists and five rebounds and outplayed talented Demon guard Jalan West.
STRUGGLED
1. Florida's perimeter shooting
The Gators couldn't find a go-to guy on offense against LSU as the team's leading scorers, Dorian Finney-Smith and Alex Murphy, both had 10 points while the team shot 3-for-16 (16 percent) from 3-point range.
2. Dayton's Dyshawn Pierre
Pierre had an off-night as he shot 2-for-10 from the field as he finished with five points and five turnovers in a Dayton loss to Davidson.
NOTABLES
Nebraska earned a much-needed home Big Ten win over Minnesota as Shavon Shields had 15 points and seven rebounds.
Tennessee moved to 4-1 in the SEC with a grind-it-out road win at South Carolina. Josh Richardson and Kevin Punter had 13 points each in the win.
San Diego State actually scored 41 points in a half tonight (seriously, it happened, I didn't believe it either) to cruise past Air Force for a Mountain West road win. Aqeel Quinn led the way for the Aztecs with 17 points.
A depleted Georgia team went 4-for-18 from 3-point range but outlasted Ole Miss for a SEC home win as Marcus Thornton had 16 points.
Syracuse dealt with foul trouble to Rakeem Christmas (12 points, seven rebounds), but the starters stepped up as all five finished in double figures in scoring in an easy Orange win over Boston College. Michael Gbinije paced Syracuse with 17 points.
Steve Moundou-Missi had 15 points to lead Harvard over Bryant in its final non-conference game of the regular season.
Playing in its first game without junior wing Caris LeVert, Michigan outlasted Rutgers for a road win as Derrick Walton had 12 points and seven rebounds and freshman Aubrey Dawkins added 11 points.
Valparaiso had 18 points from sophomore forward Alec Peters in a road win at Youngstown State. The Crusaders are now 18-3 and 5-1 in the Horizon League and look like a serious NCAA Tournament threat.
Speaking of NCAA Tournament threats, the Southland is quickly becoming a one-bid league with two teams (Stephen F. Austin and Sam Houston State) that you want no part of in March. Sam Houston won its ninth straight game with a win on the road over Nicholls State.
Milwaukee had 17 points from guard Justin Jordan in a big home win over Wright State.
Illinois was missing a few players but earned a home win over Drake as guard Daishon Knight had 20 points and five rebounds.
Finally earning a win in the Southland, McNeese State had 18 points, eight rebounds and four assists from guard Kevin Hardy in a win over Abilene Christian.
Green Bay cruised to a win over UIC as forward Greg Mays had 20 points and guard Keifer Sykes had 19 points, nine assists, five rebounds and three steals.