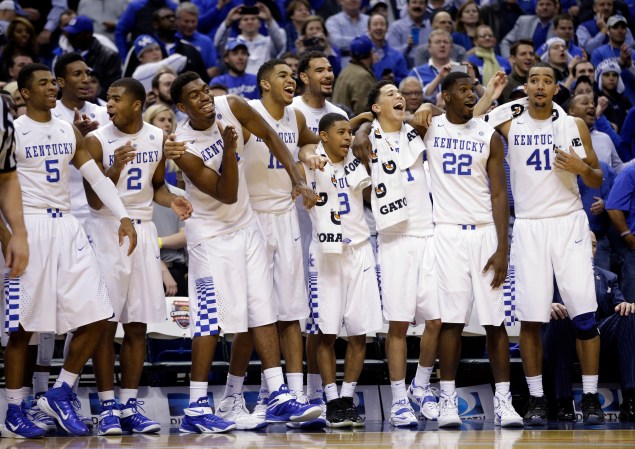 With there being just one more football game of high importance left on the schedule (sorry, Pro Bowl fans), casual observers are beginning to pay a little more attention to college basketball. With that in mind, the College Basketball Talk staff has decided to answer a few burning questions beginning with what they view as the most intriguing storyline in college basketball to this point in the season.
1. What has been the most intriguing storyline to date in college basketball?
Rob Dauster: Just how good is Duke this season? They have the best player in the country and they're supposed to be the only team that is actually good enough to knock off Kentucky — winning at Louisville and Wisconsin in the same season just doesn't happen — but they also have such massive defensive issues they've had to make the switch to a zone defense.
Raphielle Johnson: I'd have to say Kentucky's rotation. Even with the loss of Alex Poythress, John Calipari still has nine players who many project to get drafted at some point in their respective careers. I'm not going to write the word that was overused like a pop music hit (you know, the "P-word"), but having the number of options that Kentucky has helps them adjust to whatever opponents throw at them. But will there be any changes moving forward, especially in the backcourt? Will there need to be any changes? Right now, they look fine.
Scott Phillips: The number of All-American candidates and teams in and out of the top 25 from week-to-week has been really interesting to keep track of. So many for both. I feel like with so many quality players and teams having similar resumes, it's going to be a really difficult NCAA Tournament to predict.
Terrence Payne: Kentucky's pursuit of perfection. No team has gone undefeated since the 1975-76 Indiana Hoosiers. The Wildcats are one of two remaining teams without a loss, and kenpom.com gives Kentucky a 36.6 percent chance to run the table heading into postseason play. The SEC is still a weak conference, but just like Ole Miss and Texas A&M, the Wildcats are going to get everyone's best shot as they continue to rack up the wins.
2. Which conference will have the best race heading into March? 
RD: The Big 12, and it's not going to be all that close. That league could end up sending eight of the ten teams to the NCAA tournament, and while Kansas is always going to be the favorite to win the conference until they leave the conference, this is the year to pick them off. A lack of true rim protecter and the issues that Self has had with Kelly Oubre and Cliff Alexander has made this group vulnerable. Iowa State, Oklahoma and Texas will all make a run at the title.
RJ: The answer here has to be the Big 12, for historical reasons. Kansas has won at least a share of the last ten regular season titles, which is an incredibly impressive run put together by Bill Self's program. I wouldn't say that the Jayhawks are "vulnerable" this season, so much as it would be a case of their challengers having both the talent and belief needed to break through. As Rob noted Iowa State, Oklahoma and Texas will all have their say, and I would include West Virginia in that mix as well. Can K-State, Baylor and/or Oklahoma State get involved too? It wouldn't shock me if those teams did just that.
SP: The Big 12 is just so good and so deep. With the true home-and-home conference schedule it means that nobody is hiding from anyone. Kansas having won the league for a decade straight makes for an enticing storyline as so many try to unseat the Jayhawks.
TP: The Big East. In the fall, we were wondering if Villanova could go unbeaten, now look at mess. DePaul in the top half of the conference, St. John's in ninth place. Who would have predicted that? At the moment, 70 percent of the league is separated by less than two games, and that's not including a talented St. John's team.
3. Who is Kentucky's biggest challenger nationally?
RD: I thought it was Duke, but then Duke decided they weren't going to be able to get stops while playing man-to-man. I think that at this point, the team that matchups up with Kentucky the best is Virginia. They won't get rattled by UK's defensive pressure, they won't get overwhelmed on the glass and they'll make Kentucky beat them with threes over the top of the pack-line.
RJ: While the names have changed to a certain extent (first Arizona, then Duke) the Wildcats have remained in their perch. I think there will be multiple teams capable of beating them in the NCAA tournament, but I'll take Virginia. This is one of the most efficient teams in the country on both ends of the floor, and they've got one of the most improved players in America in Justin Anderson. With options such as Anderson, Malcolm Brodgon and Anthony Gill, the Cavaliers have the pieces needed to win a national title.
SP: Besides themselves, Kentucky's biggest outside challenger is Duke. Recent poor play aside, the Blue Devils have the size to match up with Kentucky on the interior and Jahlil Okafor is the rare inside presence who could give the Wildcats problems. With nine McDonald's All-Americans on each roster, this would be a heck of a title game or Final Four matchup.
TP: Despite its recent slump, I'll still say it'll be Duke come March. They'll have the national player of the year inside to battle Kentucky's deep frontline and are equipped with shooters