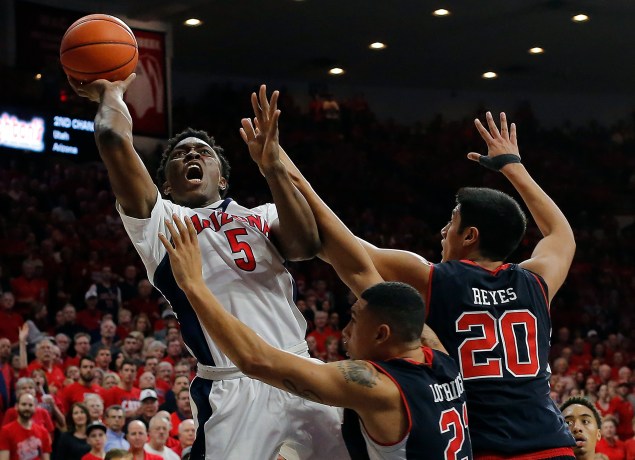 PLAYER OF THE WEEK: Stanley Johnson, Arizona
In the biggest game of the Pac-12 season to date, Stanley Johnson scored all 18 of his points in the second half to help the Wildcats pull away from Utah and take home an impressive, statement win against the league's second-best team. That came just two days after Johnson was in takeover mode against Colorado, finishing with 22 points on the night. For the week, he averaged 8.5 points, 2.0 assists and 2.0 steals as well.
Johnson has not exactly had the overpowering kind of season we expected from him when we all put him on preseason all-american teams, but for the first time as a collegian, Johnson truly looked dominant this week. I'm not sure that it's a coincidence that he played this way after the Wildcats lost to Oregon State last Sunday.
THE 'ALL THEY WERE GOOD, TOO' TEAM
Derrick Marks, Boise State: The Broncos picked up a pair of massive wins over UNLV and at New Mexico this week, and Marks was the catalyst, averaging 29.5 points.
Pee Wee Gardner, American: Gardner hit a pair of game-winners this week, beating Lehigh with a three with 0.8 seconds left and Lafayette with a runner with 1.0 seconds left.
Melo Trimble, Maryland: Trimble had 21 of his 24 points in the first half against Michigan State as the Terps blew out the Spartans. He also added 11 points, five boards, four assists and three steals in a win over Rutgers.
Chasson Randle, Stanford: Randle averaged 24.0 points, 3.0 assists and 3.5 steals as the Cardinal knocked off both Cal and UConn at home.
Marcus Paige, North Carolina: Paige played his best game of the season in a win at N.C. State, finishing with 23 points and nine assists.
Notables: Dallas Moore (North Florida), Darius Carter (Wichita State), Alex Hamilton (Louisiana Tech)
TEAM OF THE WEEK: Memphis Tigers
Maybe we wrote Memphis off too soon? The Tigers moved to 11-6 overall and 4-2 in the American with their third straight win on Saturday, a beat down of Central Florida in which Memphis scored 99 points. That came just two days after the Tigers knocked off Cincinnati in a game where Kedren Johnson, for the first time all season, looked like the guy that played for Vanderbilt two seasons ago.
Ever since the news became public that Johnson was going to be eligible to play this season, it was clear that he was the x-factor on a team with absolutely no experience in their back court. And he still is. But with how well some of the Memphis role players have performed in recent weeks, the Tigers don't appear to be the pushovers that we all thought they would be this season. The American may only end up with one or two teams in the NCAA tournament, and while the Tigers likely did too much damage during non-conference play to recover and get an at-large bid, winning the automatic bid isn't out of the question.
THEY WERE GOOD, TOO
Notre Dame: The Fighting Irish survived at Georgia Tech without Zach Auguste and then came from 12 down in the second half to beat Miami on a night where Auguste played just nine minutes.
Dayton: The Flyers continue to win, extending their winning streak to eight games since the only two players on their roster over 6-foot-6 were kicked off the team.
VCU: The Rams won a pair of A-10 road games last week, including picking off Rhode Island in a game where Treveon Graham had 26 points and eight boards after spraining his ankle. They then beat Duquesne without Graham available.
San Diego State: The Aztecs made it known that the MWC title still runs through Viejas Arenas. They handed Wyoming their first loss in league play — in Laramie — and then landed a come-from-behind win over UNLV.
Texas: The Longhorns badly needed a win and they got one in resounding fashion: by 27 points over West Virginia.
Notables: Kentucky, Iowa, Georgia, Tennessee, SMU
SET YOUR DVR
No. 18 Oklahoma at No. 9 Kansas, Mon. 9:00 p.m.
Iowa at No. 7 Wisconsin, Tue. 7:00 p.m.
Saint Mary's at No. 3 Gonzaga, Thu. 11:00 p.m.
No. 9 Kansas at No. 20 Texas, Sat. 2:00 p.m.
No. 18 Oklahoma at No. 22 Baylor, Sat. 6:00 p.m.