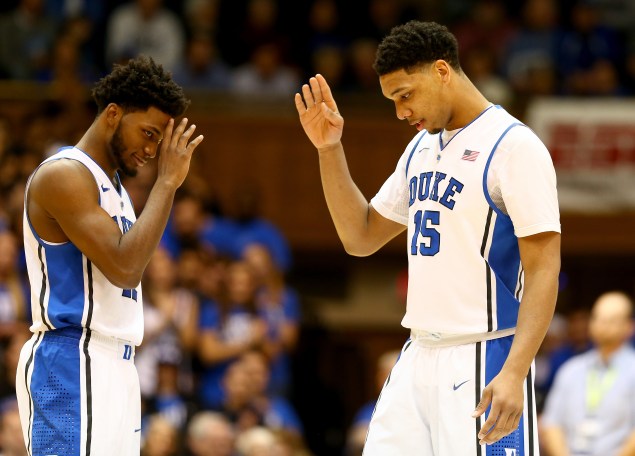 Duke won its second straight game and head coach Mike Krzyzewski earned career win No. 999 as the Blue Devils took down Pitt with a 79-65 home ACC win. The Blue Devils led comfortably for much of the game and had improved perimeter shooting in the first half before a balanced effort led to an easy win.
Once again showing zone looks on defense, the Blue Devils (16-2, 4-2) had balanced scoring and made a lot of shots off of great ball movement and ball reversal. Freshman center Jahlil Okafor had 14 points on 5-for-9 shooting but had five assists to get the ball moving to perimeter shooters and others in the offense benefited greatly.
After making seven or less 3-pointers in each of the last three games, Duke had seven triples in the first half against Pitt as junior guard Rasheed Sulaimon (13 points) gave a big boost off the bench by making his first four 3-pointers.
Freshman point guard Tyus Jones also played his best game in recent memory with a team-high 22 points to go along with four assists and a rebound. Senior guard Quinn Cook added 11 points and 10 rebounds and contributed on an off-shooting night where he was 1-for-8 from 3-point range.
Pitt shot 45 percent from the field (27-for-60), but couldn't match Duke's firepower as they only were 3-for-10 from 3-point range. Jamel Artis had 21 points on 7-for-10 shooting to lead the Panthers (13-6, 3-3) while Chris Jones had 13 points and Michael Young chipped in 11.
As long as the Blue Devils can get consistent scoring from three players and hit some perimeter shots to give Okafor space to operate and they'll be okay during most games. The zone defense experiment for Coack K has been interesting, but it might be a necessity when poor-shooting perimeter teams like Pitt play Duke. It ended up working tonight and the Panthers didn't attempt very many threes until the end in desperation. We'll have to see if Duke gets hurt by better perimeter shooting teams with a zone after facing Louisville and Pitt, who can't get consistent perimeter pop.