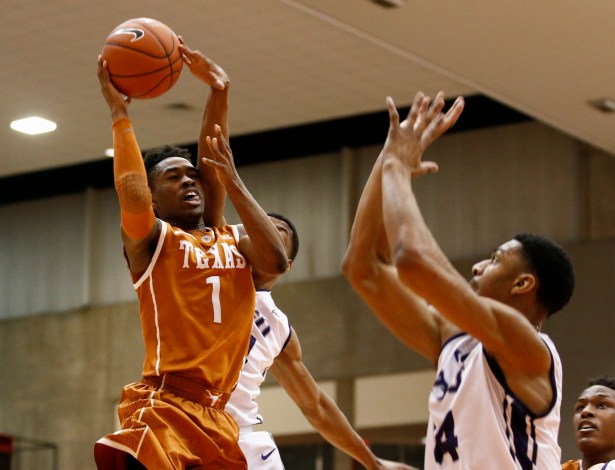 IMPORTANT OUTCOMES
Coach K earned career win No. 999 as the Blue Devils hit outside shots and were able to outlast the Panthers. Tyus Jones had 22 points and Jahlil Okafor added 14 points and five assists.  Duke has now won two straight games after its brief stretch of poor play.
2. No. 17 Texas 66, TCU 48
The Longhorns earned a second straight win after its two-game skid as they never trailed against TCU. Javan Felix had 15 points and Isaiah Taylor added 13 points, seven rebounds and six assists.
3. No. 11 Kansas 85, No. 17 Oklahoma 78
After leading by 19 at the half, the Jayhawks blew its lead in less than 10 minutes and had to fight until the final minute of the game. Kelly Oubre had 19 points and nine rebounds and Cliff Alexander had 13 points and 13 rebounds as the freshmen came through in a big way for Kansas. Perry Ellis also added 16 minutes.
4. Georgetown 78, No. 4 Villanova 58
The Hoyas blitzed the Wildcats in the first half and had a 22-point halftime lead. D'Vauntes Smith-Rivera and Isaac Copeland each had 17 points in this one. Villanova shot 33 percent (14-for-42) for the game and had 17 turnovers in the game. Huge Big East win for Georgetown, who goes 5-2 in league play.
STARRED
1. Charleston Southern's Saah Nimley
Huge stretch for the senior guard as he had his third consecutive 30-plus point outing with 31 points in a win over UNC Asheville. The 5-foot-8 Nimley was 10-for-19 from the field and 4-for-11 from 3-point range.
2. South Carolina State's Edward Stephens
The Bulldogs earned a road win as the freshman had 26 points, including seven in overtime, and the game-winning three in overtime for a one-point win. Stephens was 9-for-19 from the field in the win over Maryland-Eastern Shore.
3. NJIT's Damon Lynn
The sophomore guard had 27 points, five assists and three rebounds while playing all 40 minutes in a road win over Maine.
STRUGGLED
1. TCU's Kyan Anderson
The Horned Frogs needed their senior point guard to come through and Anderson was limited to 1-for-5 shooting and two points and three assists in a loss to Texas.
2. Pitt's James Robinson
While other guards have put up numbers on Duke's shaky perimeter defense, Robinson struggled to a 1-for-8 shooting night and finished with two points, three assists and three turnovers in a loss to the Blue Devils.
3. Oklahoma's TaShawn Thomas
The senior had a mediocre outing on the road in a loss to Kansas as he was 1-for-7 from the field for four points and four rebounds. Not only that, but Perry Ellis and Cliff Alexander both had nice front-court efforts and soundly outplayed Thomas.
NOTABLES
Florida State picked up a nice road win over Clemson as Xavier Rathan-Mayes had 17 points, nine assists, five rebounds and four assists.
Really nice road win for Albany in the America East as they knocked off Stony Brook in a rematch of last season's conference tournament title game. The Great Danes won 64-47 to go 5-0 in the league this season as Evan Singletary had 21 points.
In a big game in the MEAC, North Carolina Central earned a road win over Hampton to remain unbeaten in the league at 6-0 as Anthony McDonald had 17 points.
Georgia State won on the road at Arkansas State as R.J. Hunter had 23 points and eight rebounds.
Two teams that were winless in Division I locked horns and Coppin State came away with a win over Florida A&M.
Speaking of winless teams, Central Arkansas fell to 0-16 with a loss to Houston Baptist.
UL Monroe improved to 6-1 in the Sun Belt with a 57-55 road win over Lafayette as Tylor Ongwae led the way with 13 points.
Nice night for Jacob Parker with 19 points in a Stephen F. Austin win over New Orleans. The Lumberjacks are 5-0 in the Southland.
Hartford had 21 points from Corban Wroe in a win over UMBC.
Detroit was able to outlast Northeastern in overtime as Paris Bass scored the Titans' first nine points in overtime to finish with 19 points for the game. The freshman forward also had the game-tying dunk with 28 seconds left in regulation.
Delaware State senior center Kendall Gray put together another big rebounding effort with eight rebounds and 17 boards in a win over Savannah State. The 17 rebounds was Gray's lowest total the last four games as he has recent games of 22, 18 and 23 rebounds.