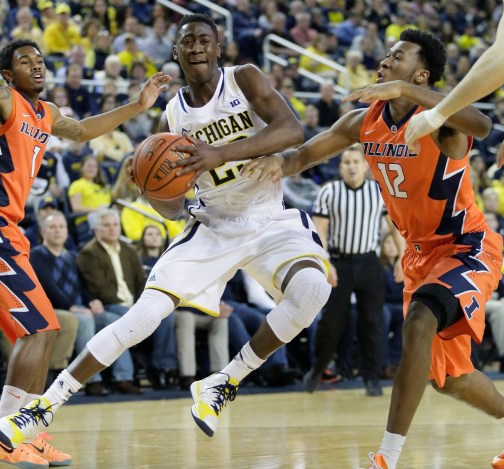 Injury and illness concerns are beginning to pile up at Michigan as the Wolverines used a depleted lineup on Saturday to get past Northwestern in a two-point win.
Michigan was already playing without point guard Spike Albrecht (upper respiratory infection) — who didn't practice for much of the week due to illness — and starting center Ricky Doyle only played in the first half as he was feeling sick and was too winded to play in the second half.
Towards the end of the game, the Wolverines had another concerning dilemma when junior guard Caris LeVert went down to the floor and slowly got up before limping off of the court.
According to Brendan F. Quinn of MLive.com, LeVert was seen leaving Crisler Arena on crutches after the game and Michigan head coach John Beilein commented on the matter.
"He may have done something, sprained his ankle or something — we don't know," Beilein said of LeVert after the game. "We're having him looked at right now."
Albrecht and Doyle (and to a smaller extent Zak Irvin, who was battling a cold) should recover from illness soon enough, but a potential ankle injury could be tough to deal with in regards to LeVert. Hopefully it's just twisted or a minor sprain, but Michigan really needs its star to come through and be healthy for the Big Ten portion of the season or the Wolverines could be in serious trouble.
The Wolverines have their next game on Tuesday at Rutgers before hosting Wisconsin next Saturday.