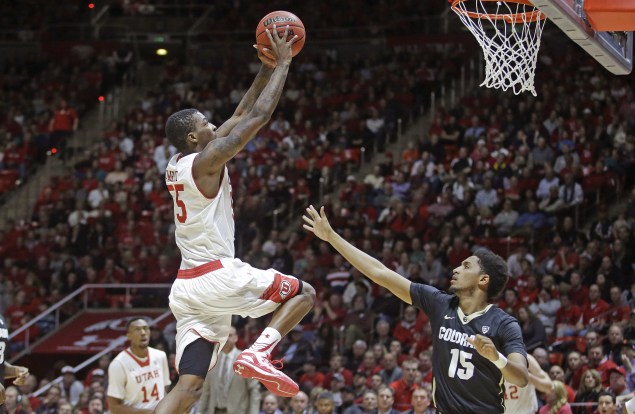 GAME OF THE WEEKEND: No. 8 Utah at No. 10 Arizona, Sat. 7:00 p.m.
The title of Pac-12 favorite will be on the line on Saturday evening in Tucson as the upstart Utes make their trip to the McKale Center to take on Arizona. Utah has been one of the most pleasantly surprising teams in the country this season, having steamrolled through the first three games in league play after putting together an impressive showing in the non-conference. And Arizona? They're coming off of a loss at Oregon State on Sunday, putting a seed of doubt in the minds of people trying to figure out just how the power structure of the Pac-12 shakes out.
Everything about this matchup is tantalizing, from watching all-american candidate Delon Wright square off with the more highly-touted Rondae Hollis-Jefferson and Stanley Johnson to the battle between the two big, physical front lines. Winning in Arizona is not an easy thing to do, which is why it will be quite a statement by the Utes if they're able to pull it off.
THE OTHER GAME OF THE WEEKEND: No. 4 Duke at No. 6 Louisville, Sat. 12:00 p.m.
Duke is reeling right now. The Blue Devils are coming off of back-to-back poor performances on the defensive end in losses to N.C. State and Miami, and the way that Louisville plays — pick-and-roll heavy offensive schemes — matches up perfectly with the weaknesses in the Blue Devil defense. That said, Duke still has nine McDonald's All-Americans on their roster and one of the best coaches in the history of the game, not to mention Jahlil Okafor, which means that a third straight Duke loss here is anything but a given.
FIVE MORE GAMES TO WATCH
No. 9 Kansas at No. 11 Iowa State, Sat. 9:00 p.m.: Our first Gameday of the season. Kansas once again looks like the class of the Big 12, but there's a reason that Iowa State's home court has a reputation for creating Hilton Magic. Expect a raucous atmosphere in Ames on Saturday night.
No. 16 West Virginia at No. 20 Texas, Sat. 6:15 p.m.: Texas has had a rough start to their Big 12 season and, if they're going to have a chance at winning the league this year, they'll need to defend their home court. It won't be easy, however, as Bob Huggins has a feisty group that presses as hard as anyone in the country.
No. 24 Oklahoma State at No. 18 Oklahoma, Sat. 7:00 p.m.: Bedlam! As you can see, based on the first three games listed here, the Big 12 is going to be nuts this year.
Michigan State at No. 14 Maryland, Sat. 4:00 p.m.: Maryland's first Big Ten game ever was a double-overtime win in East Lansing. The Spartans get their shot at revenge on Saturday.
No. 1 Kentucky at Alabama, Sat. 4:00 p.m.: Another road trip for the Wildcats, this time to an Alabama team that has proven to be tougher than advertised this season.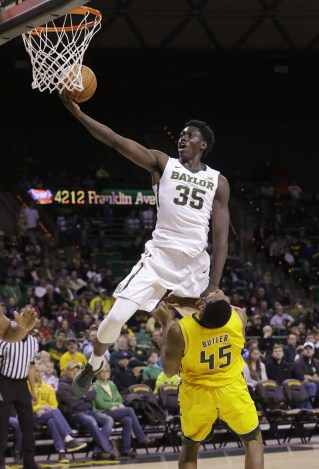 WHO'S GETTING UPSET?: No. 22 Baylor at Kansas State, Sat. 3:00 p.m.
This is how competitive the Big 12 is this season: One of these two teams is the eighth-best team in the conference. Baylor took a major step in the right direction on Wednesday night when they knocked off Iowa State in Waco, while Kansas State has won three in a row after an ugly Big 12 opener left them at 7-7 on the season. If the Wildcats are going to make the tournament this season, they absolutely cannot afford to lose to anyone at home.
UPSET WATCH
Miami at No. 12 Notre Dame, Sat. 2:00 p.m.: Miami is coming off of an upset win at Duke on Tuesday night. Notre Dame beat Georgia Tech on Wednesday, but they barely hung on while playing undermanned and undersized; Zach Auguste is not expected to be available for the Irish. Jerian Grant and Demetrius Jackson vs. Angel Rodriguez and Manu Lecomte will be fun.
No. 13 Wichita State at Evansville, Sat. 2:00 p.m.: The Shockers still appear to be the class of the Missouri Valley, but Evansville has already beaten Northern Iowa at home this season and as one of the nation's best mid-major scorers in D.J. Balentine.
No. 25 Wyoming at Fresno State, Sat. 7:00 p.m.: Fresno State is 4-1 in the Mountain West. So is Wyoming, although the Pokes just lost to San Diego State at home on Wednesday night.
UNLV at San Diego State, Sat. 6:00 p.m.: UNLV currently has more potential first round picks on their roster than they do wins in the Mountain West. They're talented, but winning at SDSU is not an easy thing to do.
Ohio State at Iowa, Sat. 2:00 p.m.: Ohio State is probably the better of these two teams, but Iowa is 3-1 in the Big Ten.
FIVE STORY LINES
1. There will be five games on NBCSN this weekend:
Saint Louis at Dayton, Sat. 12:30 p.m.
Rhode Island at UMass, Sat. 2:30 p.m.
George Mason at George Washington, Sat. 4:30 p.m.
St. Joseph's at St. Bonaventure, Sun. 2:30 p.m.
2. UConn at Stanford, Sat. 9:00 p.m.: UConn desperately needs a non-conference win for their tournament resume, while Stanford is in a position where they really can't afford a loss to a bubble team.
3. Butler at Georgetown, Sat. 5:00 p.m.: Two potential tournament teams from the Big East square off in the battle of the adorable mascots.
4. BYU at Saint Mary's, Sat. 11:00 p.m.: Gonzaga is the best team in the WCC, but if the conference has any chance of getting a second at-large bid, they'll likely need St. Mary's to win all their non-Gonzaga games.
5. Florida at Georgia, Sat. 2:00 p.m.: Georgia is a tougher team than they have gotten credit for this season, especially at home. Florida has struggled all year long, but it looks like Billy Donovan's crew is finally putting things together.