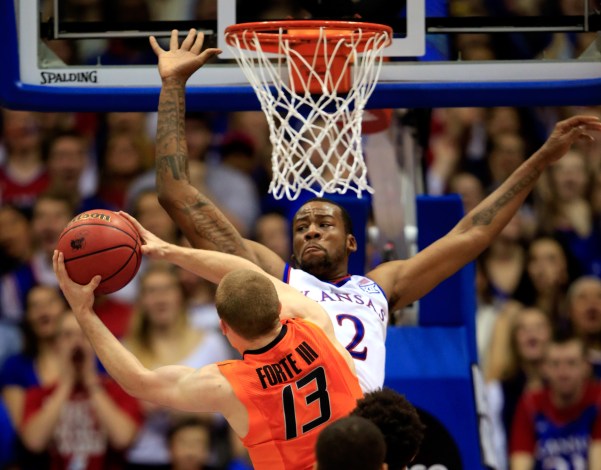 It wasn't always pretty for No. 9 Kansas, but the Jayhawks were the better and deeper team on Tuesday night in a 67-57 win over No. 24 Oklahoma State. Kansas only shot 37 percent (16-for-43) from the field but outrebounded Oklahoma State 43-26 and held the Cowboys to 31 percent shooting (16-for-51).
The Jayhawks never found a go-to scorer on Tuesday, but they had more depth than Oklahoma State as the Cowboys only had five consistent guys perform on the night. Frank Mason III had 16 points and Kelly Oubre Jr., had 14 points to lead the Jayhawks.
Kansas is now 14-2 on the season and 3-0 in the Big 12.
Oklahoma State had 21 points from LeBryan Nash, but the senior forward was only 5-for-14 from the field. Phil Forte chipped in 18 points but no other player on the Cowboys finished in double-figures.
This is a solid home win for Kansas, who was head-and-shoulders better than Oklahoma State on both ends of the floor despite not playing their best game.
The loss drops Oklahoma State to 12-4 and 2-2 in the Big 12.