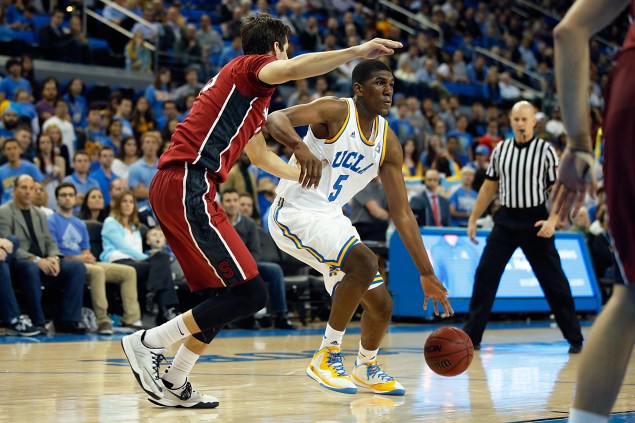 PLAYER OF THE WEEK: Kevon Looney, UCLA
UCLA's season was over. They had lost five straight games, had kicked off Pac-12 play by losing at Colorado and getting embarrassed at Utah, and had managed to make the term 'Daddy Ball' popular among the Bryce Alford haters. But that all changed this past week, as the Bruins beat both Stanford — in double-overtime — and Cal at Pauley Pavilion. And suddenly, things don't look so bad. That five-game losing streak consisted of two top ten teams and three road games, and with games against USC, Oregon and Oregon State coming up, a 5-2 mark in league play heading into Super Bowl weekend is feasible.
The catalyst for that resurgence? Kevon Looney. The 6-foot-8 former McDonald's All-American had 27 points and 19 boards against Stanford, following that up with 15 points and seven boards against Cal. He was 14-for-24 from the floor and has now hit four of his last six from three. UCLA may not be a different team than they were a week ago, but the doom and gloom surrounding the program has certainly changed. That's a big step.
THE 'ALL THEY WERE GOOD, TOO' TEAM
Kris Dunn, Providence: Dunn led the Friars to wins over Providence and Georgetown, averaging 20.5 points, 7.5 assists and 5.5 boards to go along with three steals and three blocks.
Darrun Hilliard, Villanova: The Wildcats reaffirmed their place at the favorite in the Big East by winning at St. John's and smacking around previously 3-0 DePaul. Hilliard averaged 21.0 points in the two wins.
George Fant, Western Kentucky: WKU moved to 3-0 in Conference USA with wins over Charlotte and No. 25 Old Dominion with Fant averaging 21.0 points and 12.0 boards.
Marcus Foster, Kansas State: Foster scored 23 points in a win at TCU on Wednesday and followed that up with 14 points, including the game-tying and game-winning shots, as the Wildcats won at Oklahoma. Foster was benched last week.
Bobby Portis, Arkansas: Portis went for 21 points as the Razorbacks kicked off SEC play with a win at Georgia, following that up by putting 32 points and 11 boards — nine offensive — on Vanderbilt star Damian Jones.
Notables: Ameen Tanksley (Hofstra), Raheem Appleby (Louisiana Tech)
TEAM OF THE WEEK: Virginia Cavaliers
Kentucky will remain the No. 1 team in the country after this week despite the fact that they were twice taken to overtime by overmatched SEC opponents. Duke lost to an overmatched N.C. State team on the road. Wisconsin lost at Rutgers. Arizona was pushed to the brink at Oregon State. Louisville lost at North Carolina. Texas lost twice. Elite teams have not handled the start of league play all that well, yet here we are, approaching the midway point of the season, and Virginia is not only undefeated, but they've now beaten three top 20 teams on the road.
The Cavs knocked off Maryland during the ACC/Big Ten Challenge and beat VCU in Richmond back in December. But their most impressive win came this week, as they went into South Bend and knocked off No. 13 Notre Dame three days after outlasting a hot-shooting N.C. State team in Charlottesville. I still have my doubts about Virginia, but the Cavs are every bit deserving of that No. 2 ranking they'll have on Monday.
THEY WERE GOOD, TOO
Iowa State Cyclones: The Cyclones bounced back from a loss to South Carolina with a pair of impressive wins to kick off Big 12 play, knocking off Oklahoma State in Ames and West Virginia on the road.
Dayton: Playing with just six scholarship players, Dayton has now won six straight games and is now tied for first place in the Atlantic 10.
Michigan State: The Spartans won three games in Big Ten play this week after losing to Maryland in double-overtime to kick off the conference season.
UNC Wilmington: The Seahawks moved into first place in the CAA by picking up three league wins this week. Kevin Keatts has won eight games this season; UNCW won nine all of last year.
Wyoming: The Cowboys continue to look like the best team in the Mountain West, following up a win at Colorado State by smacking around Boise State. Larry Nance Jr. is the favorite for MWC Player of the Year at this point.
Notables: Vermont, Utah
SET YOUR DVR
No. 16 Oklahoma at No. 14 West Virginia, Tue. 7:00 p.m.
No. 2 Duke at No. 5 Louisville, Sat. 12:00 p.m.
No. 14 West Virginia at No. 10 Texas, Sat. 6:15 p.m.
No. 9 Utah at No. 7 Arizona, Sat. 7:00 p.m.
No. 12 Kansas at No. 17 Iowa State, Sat. 9:00 p.m.