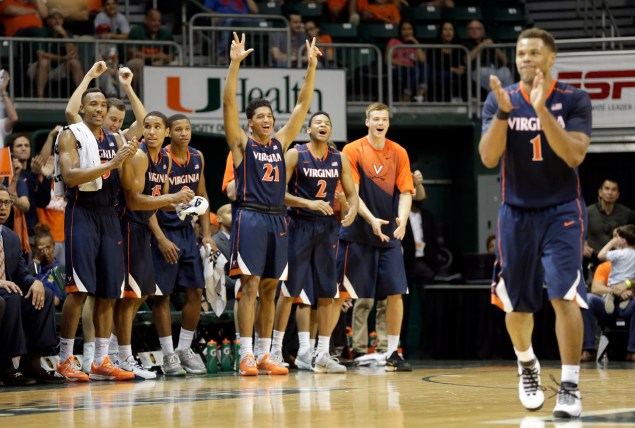 If this week has proven anything to us, it's that the road is not a fun place to be during conference play. Kentucky was taken to double-overtime by Texas A&M. Duke lost at N.C. State. Wisconsin lost at Rutgers. Arizona lost at Oregon State. Louisville lost at North Carolina. Texas lost at Oklahoma State.
There is a lot that we need to figure out this season, but jumping to too many conclusions because someone lost away from the friendly confines of their own arena to a league foe, no matter how bad, is silly.
Anyway, on to the top 25 …
1. Kentucky (15-0, LW: No. 1): Kentucky's last two wins, against Ole Miss and Texas A&M, have included three overtimes and quite a bit of shoddy late-game execution. I'm not quite sure what the answer is for Kentucky right now — they were dominant right up until they had to start playing league games — but how long will it take for Coach Cal to start talking about The Tweak Part 2?
2. Virginia (15-0, LW: No. 3): Virginia now owns road wins against No. 12 Notre Dame, No. 15 Maryland and No. 17 VCU. I still think that Duke is the second best team in the country, but the Cavs have earned that No. 2 ranking this week. We'll see how long it lasts.
3. Duke (14-1, LW: No. 2): The Blue Devils lost at N.C. State on Sunday afternoon for a couple of reasons. The biggest one? Their perimeter defense; relying on two smaller guards that aren't great defenders with their defense is not going to be easy.
4. Gonzaga (16-1, LW: No. 6): The Zags still have the powerful front line and are going to win a lot of games in WCC play. It will be interesting to see what happens when they square off with suddenly-resurgent St. Mary's.
5. Wisconsin (15-2, LW: No. 4): I know the Badgers lost at Rutgers. But they did it without Frank Kaminsky and with Trae Jackson going down with a foot injury in the second half. It's hard to penalize a team too much for that, even if it was Rutgers.
6. Villanova (15-1, LW: No. 8): The Wildcats have seemingly taken back control of the Big East race. They won at St. John's and beat then-3-0 DePaul by a combined 35 points. The Wildcats look like they're headed to another season of being one of the nation's most under-appreciated top ten teams.
7. Louisville (14-2, LW: No. 7): The Cardinals were one North Carolina rally away from making quite a statement on Saturday in the Dean Dome. They may have lost, but the play of Terry Rozier and Chris Jones in a game where Montrezl Harrell was a no-show is a good sign moving forward.
8. Arizona (14-2, LW: No. 5): Arizona lost at Oregon State late on Sunday night, if you missed it. They drop the most of any team in this ranking that lost because their issues on the offensive end of the floor don't seem to be working themselves out.
9. Utah (13-2, LW: No. 10): Utah and Arizona will square off this week with Pac-12 bragging rights on the line.
10. Kansas (13-2, LW: No. 11): Devonte' Graham is back, meaning that the Kansas team we expected to see this season is finally taking the floor. Jamari Traylor was terrific this week as the Jayhawks won at Baylor and knocked off Texas Tech.
11. Iowa State (12-2, LW: No. 15)
12. Notre Dame (15-2, LW: No. 14)
13. Oklahoma (11-4, LW: No. 12)
14. North Carolina (12-4, LW: No. 16)
15. Maryland (15-2, LW: No. 13)
16. Wichita State (14-2, LW: No. 17)
17. VCU (13-3, LW: No. 19)
18. Seton Hall (13-3, LW: No. 18)
19. Texas (12-4, LW: No. 9)
20. West Virginia (14-2, LW: No. 20)
21. Wyoming (14-2, LW: No. 25)
22. Arkansas (13-2, LW: UR)
23. Oklahoma State (12-3, LW: UR)
24. Michigan State (12-5, LW: UR)
25. Northern Iowa (14-2, LW: UR)
Dropped Out: No. 21 Georgetown, No. 22 Indiana, No. 23 Ohio State, No. 24 Baylor