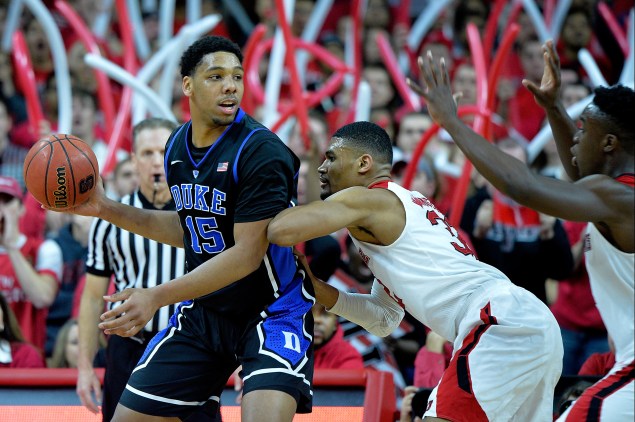 The PNC Arena hasn't been a great venue for the Duke Blue Devils.
Erratic offense from the Blue Devils and a hot-shooting afternoon from the Wolfpack gave N.C. State an 87-75 upset win over No. 2 Duke on Sunday afternoon. The ACC loss on the road is Duke's first loss of the 2014-15 season and first in 10 months overall since the Blue Devils also lost in PNC Arena to Mercer in the 2014 NCAA Tournament.
The Wolfpack (12-5, 3-1) shot 10-for-16 from 3-point range on Sunday afternoon as guards Trevor Lacey (21 points) and Ralston Turner (16 points) combined for nine of those triples. The N.C. State defense did a great job of playing physical ball on a young Duke team that couldn't get into an offensive rhythm.
The Wolfpack big man trio of Beejay Anya, Kyle Washington and Abdul-Malik Abu all had solid outings. Anya, with 14 points, four blocks and a huge putback dunk in the game's closing minutes, did a nice job of going head-to-head against Player of the Year candidate Jahlil Okafor.
The Blue Devil offense went on prolonged stretches of field-goal droughts and although Okafor had a double-double of 23 points and 12 rebounds, he only took 11 field-goal attempts and was forced out of his spot on post-ups numerous times.
It didn't help that Duke (14-1, 2-1) went away from Okafor during a furious second-half rally and the Blue Devils were cold from the outside. Duke shot 25 percent (7-for-27) from the 3-point line as Justise Winslow and Tyus Jones both had off-days. The freshmen duo combined to shoot 4-for-19 from the field. Rasheed Sulaimon (11 points) should not be shooting so many shots in late-game situations, but he seemed happy to hoist threes coming off of the bench instead of working the ball to Okafor. Senior guard Quinn Cook was an effective second option for Okafor with 18 points but Matt Jones also struggled to a 1-for-8 shooting night.
More than anything, this is a huge win for N.C. State.
Lacey and Turner were exceptional shooting the ball from the perimeter as both were in a rhythm all game long and stepped up and continued to bury shots. Cody Martin gave some decent bench minutes as he finished with six points and five assists. N.C. State had 18 assists on the afternoon and moved the ball really well as a team.
The Wolfpack had a bad home loss to a solid Wofford team and were coming off of a 10-point loss to Virginia, but the team rebounded nicely and had a really balanced effort. Even with sophomore point guard Cat Barber playing poorly, the team soundly outplayed the unbeaten, No. 2 team in the country.