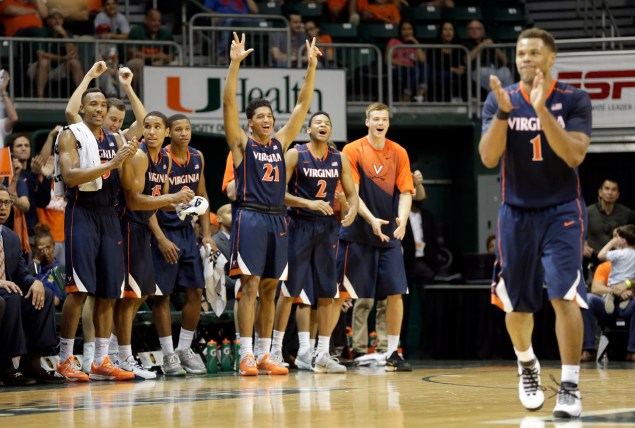 GAME OF THE DAY: No. 3 Virginia at No. 13 Notre Dame, Sat. 6:00 p.m.
From Rob Dauster's weekend preview:
There may not be a more intriguing matchup all season long than this one. As I diagrammed earlier this week, Virginia runs a defense known as the Pack-Line, and they are the best in the country at doing it. The way to beat the Pack-Line is by spreading the floor with shooters and letting playmakers penetrate and get those shooters open looks. That's precisely what Notre Dame does. So what we get on Saturday is strength on strength, one of the nation's best defenses squaring off against a team with as potent of an offense as you're going to find in the college ranks.
This game won't bring with it the kind of hype that Louisville-Kentucky or Duke-Wisconsin did. Hell, Virginia plays Duke in two week and Louisville the week after that. This will be a blip on the radar compared to those to games. But when you combine the Pack-Line vs. Notre Dame's shooters with the fact that both teams have an all-american on their roster — Jerian Grant and Justin Anderson — and this is the kind of game that you, at the very least, throw on the iPad while you watch the NFL playoffs.
THE OTHER GAME OF THE DAY: No. 5 Louisville at No. 18 North Carolina, Sat. 2:00 p.m.
Once again, I'll let Rob take it away:
Does anyone know what to make of North Carolina yet? I don't. I thought they were a top ten team entering the season and then they went and lost to Butler and Iowa. I thought they were back on the upswing in the last three weeks, and then they went and lost to Notre Dame at home. A visit from the Cardinals will be a chance for the Tar Heels to make a statement, but Louisville will be looking to prove a point of their own. They've been up and down this season as well, with their success hitched to the Chris Jones wagon. Which Chris Jones shows up on Saturday? The one that played like an all-ACC point guard against Wake Forest or the one that looked like bad Russ Smith reincarnated against Kentucky?
MID-MAJOR GAME OF THE DAY: No. 25 Old Dominion at Western Kentucky, 5:30 p.m.
The Monarchs have reached the top 25 and after wins over LSU and VCU we know they're legitimate. But they still have to navigate a difficult C-USA road game at Western Kentucky on Saturday. This is the third game of a three-game road trip to open conference play for Old Dominion and it would be huge for them to get out of this unscathed. Hilltopper senior guard T.J. Price is one of the best mid-major guards you've never heard of and this could be a good one in the early evening.
UPSET WATCH: No. 10 Texas at Oklahoma State, Sat. 5:00 p.m.
We all saw what Oklahoma did to Texas on Monday night. That was in Austin. On Saturday afternoon, the Longhorns will be headed to Stillwater to take on an Oklahoma State team that has been one of the bigger surprises in the country this season. The Pokes have yet to put together a win that can be considered a statement win, but knocking off the Longhorns at home would definitely fall into that category. It will be interesting to see how Travis Ford decides to deal with the massive Texas front line.
FIVE THINGS TO WATCH FOR: 
Another great Big 12 matchup is on tap for Saturday night as No. 17 Iowa State travels to No. 14 West Virginia. Both of these teams are unbeaten early in conference play and this one could come down to a matchup at point guard between Monte Morris and Juwan Staten. It will also be intriguing to see if West Virginia's defense can slow down Iowa State's high-octane offense.
No. 8 Villanova has a chance to make a move in the Big East standings against conference leader DePaul. Wait, DePaul? Yes, DePaul. The Blue Demons are 3-0 and in sole possession of the Big East lead and they can see if they're for real against the battle-tested Wildcats.
Purdue has a chance for a nice Big Ten home win when they host No. 11 Maryland. The Terps lost a tough road game at Illinois earlier this week and the Boilermakers are 2-0 at home in conference play. I'm interested to see how Maryland defends Purdue's two massive centers in A.J. Hammons and Isaac Haas.
After starting the season 13-0, TCU has dropped two straight in the Big 12. The Horned Frogs have a chance to knock off No. 21 Baylor at home and correct that losing streak. But the Bears have also started Big 12 play at 0-2 and need a road win here, so this one could decide a lot in terms of how these teams look for the rest of conference play.
It'll be a lot of fun to watch the battle of freshman guards James Blackmon Jr., and D'Angelo Russell as Indiana hosts No. 22 Ohio State. These two are the front-runners for the conference's best freshman and both Blackmon and Russell could be all-conference players this year with consistent conference seasons.
THE TOP 25
No. 1 Kentucky at Texas A&M, 1:00 p.m.
Santa Clara at No. 6 Gonzaga, 8:00 p.m.
Texas Tech at No. 12 Kansas, 3:00 p.m.
Kansas State at No. 16 Oklahoma State, 7:00 p.m.
No. 19 Seton Hall at Creighton, 2:15 p.m.
Saint Joseph's at No. 20 VCU, 2:00 p.m.
Vanderbilt at No. 23 Arkansas, 4:30 p.m.
OTHER GAMES TO WATCH
Cincinnati at Connecticut, 11:00 a.m.
Georgia Tech at Wake Forest, 12:00 p.m.
Clemson at Pitt, 12:00 p.m.
Georgetown at Providence, 12:00 p.m.
Minnesota at Michigan, 1:00 p.m.
Alabama at Tennessee, 2:00 p.m.
Tulsa at Temple, 3:00 p.m.
Washington State at Washington, 3:00 p.m.
Boston College at Miami (FL), 4:00 p.m.
Xavier at Butler, 4:30 p.m.
Arizona State at Oregon, 5:00 p.m.
South Carolina at Ole Miss, 5:00 p.m.
Missouri at Auburn, 7:00 p.m.
Mississippi State at Florida, 7:00 p.m.
Georgia at LSU, 9:00 p.m.