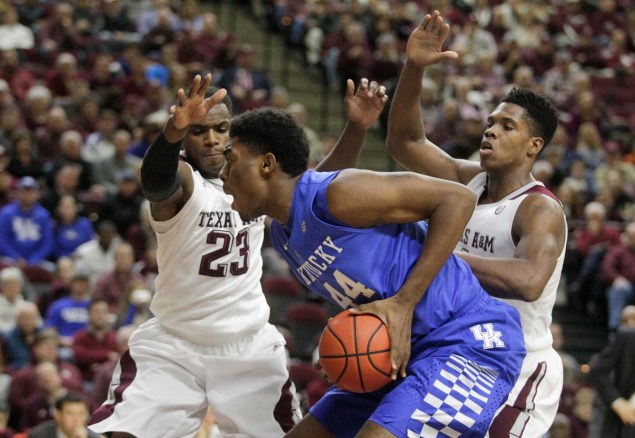 Earlier in the week Kentucky was able to get past Ole Miss with a decent effort in a close 89-86 overtime home win. The Wildcats once again played to the level of its competition on Saturday as No. 1 Kentucky had its true SEC road game at Texas A&M.
This time it nearly came back to bite them as Kentucky avoided an upset with a 70-64 double-overtime win over the Aggies. Freshman Tyler Ulis hit a huge 3-pointer with a little over a minute left that proved to be the game winner and Dakari Johnson hit two clutch free throws with 14.7 seconds left to put the game away.
Aaron Harrison missed a game-winning 3-pointer to end regulation and it led to an overtime that saw Kentucky lose control in the final minutes. With the Wildcats trailing by two on a final possession out of a timeout in overtime, Trey Lyles was fouled and made two free throws to put the game into double overtime. Texas A&M's Alex Robinson missed a long 3-pointer on the ensuing possession.
In the second overtime, Lyles gave a big lift with Karl-Anthony Towns and Willie Cauley-Stein fouled out as he helped give Kentucky new life. After Ulis' shot, the Wildcats calmed down enough to get stops and win.
Struggling to get consistent offense going and only shooting 28 percent (18-for-64) from the field, Kentucky had to rotate different lineups and work on the defensive end. Wildcat freshman guard Devin Booker emerged as the team's most consistent offensive threat as he went 4-for-6 from 3-point range to finish with a team-high 18 points. Aaron Harrison again hit a key 3-pointer in the closing minutes to score 12 points while grabbing seven rebounds. But the Harrison twins struggled overall and combined to shoot 6-for-30 from the field as Andrew finished with nine points.
Kentucky (15-0, 2-0) didn't make plays when they needed to and they couldn't get away from a team with inferior talent. With a deep rotation, they still couldn't find the right pieces to make the right plays. Texas A&M (9-5, 0-2) had multiple looks in the final minutes and couldn't knock them down but extended possessions with offensive rebounds in late-game situations. Andrew Harrison made a questionable decision and missed a contested layup with Kentucky up two and running clock late in regulation. That led to Danuel House being fouled on the other end and tying the game, sending it to overtime.
House had a huge game with 25 points and nine rebounds as he shot 8-for-18 from the field and was nearly unstoppable driving to the rim. He just didn't have enough help to ultimately topple Kentucky.
Texas A&M went on a 12-5 run the last six minutes of the game to stay within striking distance. Kentucky just couldn't find a go-to scorer down the stretch with the team struggling to hit shots. Booker looked like he would emerge after a 3-point play to start overtime but he was quiet for the rest of the first overtime.
We knew that Kentucky would likely lose eventually because young players have inconsistent games. The problem is, the loss nearly came to a team that hasn't been considered a major NCAA Tournament threat all year. Texas A&M lost by 21 points at Alabama four days ago and nearly beat Kentucky. The Wildcats won a tough road game here but ultimately need to be more consistent overall to go unscathed in the SEC but they still got it done with young players stepping up.