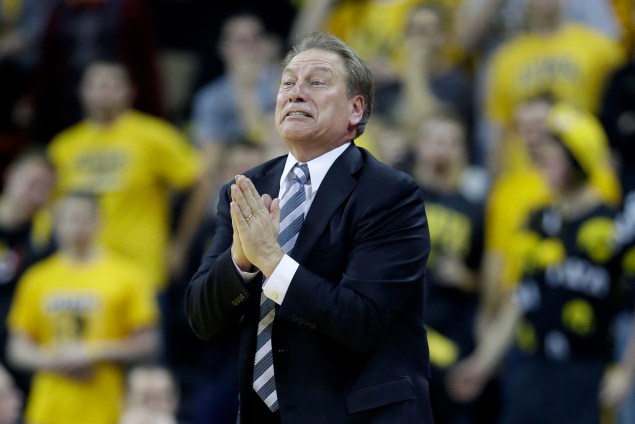 (This will be updated throughout the evening.)
GAME OF THE NIGHT: UCLA 86, Stanford 81 (2OT)
From an execution standpoint this wasn't the smoothest of games, but it didn't lack for entertainment. The Bruins ended their five-game losing streak despite trailing by as much as 14 in the second half, and front court players Kevon Looney and Tony Parker led the way. Looney amassed 27 points and 19 rebounds, with Parker adding 22 points and 12 boards. Chasson Randle scored 32 points for Stanford, which shot 15-for-31 from three, but their issues converting inside of the arc (11-for-40 on twos) kept the Cardinal from putting away a game they should have won.
IMPORTANT OUTCOMES
1. Michigan State 75, Iowa 61: After trailing 44-33 at the half the Spartans caught fire in the second stanza, shooting 66.7% from the field and making eight of their nine three-point attempts. Add in the fact that they took away much of what made the Hawkeyes successful in the first half, including limiting Gabriel Olaseni to five points after he scored 13 in the first, and the Spartans were able to outscore Iowa by 25 points in the second half. Travis Trice, who hit seven three-pointers, finished with a game-high 25 points and Denzel Valentine added 18.
2. No. 7 Arizona 80, Oregon 62: Point guard T.J. McConnell has done a good job of leading Arizona, but he's tended to be a reluctant shooter for the Wildcats. That wasn't the case Thursday night, as the senior scored 21 points to go along with five rebounds and three assists in Arizona's first win at Matthew Knight Arena. All five starters scored in double figures for the Wildcats, who shot 24-for-30 from the foul line and limited Oregon's Joseph Young to 12 points on 4-for-15 shooting. As a team the Ducks shot 4-for-20 from three, and their cold shooting cost them dearly against the 14-1 Wildcats.
3. Pepperdine 67, BYU 61: With Gonzaga and Saint Mary's both undefeated in WCC play, BYU couldn't afford to drop this one in Provo but they did. Stacy Davis scored 23 points and grabbed eight rebounds off the bench for the Waves, who are now 3-1 in conference play and sit a game behind the Bulldogs and Gaels in the loss column. As for BYU, Tyler Haws scored 26 and Anson Winder added 16, but it wasn't enough to make up for the fact that Kyle Collinsworth (1-for-8 FG, four points, three rebounds and two assists) was under the weather and ineffective as a result.
STARRED
1. Jerome Hill and Tyrell Nelson, Gardner-Webb: Both players posted double-doubles in the Runnin' Bulldogs' 88-85 double overtime win over Radford, with Hill tallying 26 points and 11 rebounds and Nelson adding 22 and ten. Also, teammate Tyler Strange accounted for 16 points and 13 assists.
2. Kevon Looney and Tony Parker, UCLA: Looney (27 points, 19 rebounds) and Parker (22 and 12) led the way for the Bruins in their 86-81 double overtime win over Stanford. If the Bruins want to build on this win, they'll look to spend even more time establishing these two offensively.
3. Travis Trice, Michigan State: Trice made seven of his eight three-point attempts, scoring 25 points in the Spartans' 75-61 win at Iowa.
4. Mike Caffey, Long Beach State: 27 points on 9-for-12 shooting in the 49ers' 88-82 win at UC Irvine.
STRUGGLED
1. Cheikh Sane and Aleksa Nikolic, Marshall: Starters Sane and Nikolic combined to shoot 0-for-9 from the field, going scoreless in the Thundering Herd's 72-51 loss to No. 25 Old Dominion. Also of note: Marshall finished with more turnovers (22) than made field goals (17).
2. UTEP starters not named Vince Hunter: While Hunter scored 16 points (7-for-14 FG) and grabbed 11 rebounds, the other four starters shot a combined 8-for-29 from the field in their 58-45 loss to Louisiana Tech.
3. Aaron White, Iowa: The senior, who entered Thursday as Iowa's leading scorer, accounted for eight points on 2-for-4 shooting in the Hawkeyes' 75-61 loss to Michigan State.
THE REST OF THE TOP 25
Jonathan Arledge led three players in double figures with 13 points as No. 25 Old Dominion beat Marshall 72-51 to move to 13-1 on the season (2-0 Conference USA).
No. 6 Gonzaga rebounded from a slow start to take care of San Francisco, 88-57. Kevin Pangos accounted for 17 points and five assists, and freshman Silas Melson scored ten off the bench.
NOTABLES
Dayton simply keeps rolling along, beating St. Bonaventure 78-61 to move to 2-0 in Atlantic 10 play. Jordan Sibert led the way with 22 points, and 20 of the Flyers' 29 field goals were assisted.
East Tennessee State moved to 4-1 in SoCon play with a 71-70 win over Mercer (3-1). Jalen Riley scored 22 off the bench for the Bucs.
Wofford remained in first place in the SoCon (3-0) with a 75-70 win over VMI, as Karl Cochran led four Terriers in double figures with 19 points.
St. Francis-Brooklyn moved to 3-0 in NEC play with a 78-69 win at Fairleigh Dickinson.
For an LSU team looking to reach the NCAA tournament for the first time since 2009, their 74-67 overtime loss at Missouri won't help matters. Johnathan Williams III led Mizzou with 21 points and ten rebounds.
Cleveland State moved to 3-0 in Horizon League play with a 65-61 win over Oakland, with Andre Yates scoring 14 points and Charlie Lee adding 13 for the Vikings.
Louisiana Tech won 58-45 at UTEP, limiting the Miners to 37.3% shooting on the night.
Mikh McKinney's basket with two seconds remaining gave Sacramento State a 63-61 win at North Dakota, and the Hornets are now 3-0 in Big Sky play.
Long Beach State scored 50 second-half points as they beat UC Irvine 88-82 on the road. These are two of the teams expected to contend in the Big West.
Leslee Smith (torn ACL) saw his first action of the season in Nebraska's 65-49 win over Rutgers. Smith accounted for two rebounds, two assists and a blocked shot in 13 minutes of action.