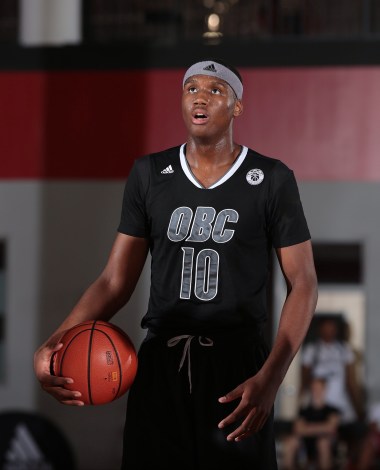 Each week, College Basketball Talk's Scott Phillips goes over some important news and notes in the world of college basketball recruiting. This week, five-star 2015 forward Carlton Bragg commits to Kansas, Kobie Eubanks  and Brandon Sampson cut their lists.
Carlton Bragg pledges to Kansas
By becoming the first player to pledge to Kansas in the 2015 class, five-star forward Carlton Bragg is blazing an important trail and he gives the Jayhawks insurance if Perry Ellis or Cliff Alexander leave early. Bragg is a talented inside-outside threat with a lot of natural ability and his commitment is important for Bill Self. Now Self can focus more time and energy on the wing and perimeter and also hone on in adding a big man to add alongside Bragg.
As the No. 14 overall prospect in the 2015 class, according to Rivals, Bragg is an All-American talent coming on board, but I'm not sure how he'll immediately translate to college level. Production can go up-and-down for Bragg, especially if he misses his first few shots. He's been prone to taking too many perimeter jumpers at times and settling for easy looks. Self has gotten a lot of power forwards to the NBA though and Bragg has pro ability if he can focus his efforts to producing each game.
Kansas needs someone who can come in — or currently develop — into a go-to scorer. A tough and focused guy who can get things done when the game is on the line. Bragg probably isn't that guy. But if Kansas adds someone like Jaylen Brown or Brandon Ingram it means that Bragg is the perfect complimentary piece for the 2015 class.
Kobie Eubanks cuts his list and sets a visit
After decommitting from Baylor this winter and opting to go to Elev-8 Prep Academy and reclassify, shooting guard Kobie Eubanks has drawn a lot of interest as a high-scoring guard. The 6-foot-5 wing is considered a three-star prospect according to Rivals and he's confirmed that he's cut his list and set a visit with NBCSports.com.
Eubanks is still considering Georgia, Kansas, Louisville, Maryland, Missouri, Oregon, Providence, South Florida, UConn, and Virginia Tech. The guard is also taking an official visit to Oregon this weekend as the Ducks are set to host Arizona State for a Pac-12 conference game.
Eventually the guard plans to thin out his list later in the high school season and also take some more visits. This will be a recruitment worth monitoring because Eubanks is a legitimate high-major scorer and one of the best available options left on the board.
Brandon Sampson eliminates in-state school
LSU has been on a recruiting roll with the 2015 commitments of Ben Simmons and Antonio Blakeney. But the recent commitment of Blakeney, a five-star shooting guard, it appears that Louisiana native Brandon Sampson is focusing on three schools, according to Ben Love of Tiger Sports Digest.
The 6-foot-4 Sampson is a smooth scorer on the perimeter and he's particularly looking at Cal, St. John's and USC. The No. 40 overall player in the 2015 class, according to Rivals can add a lot of instant scoring pop from the perimeter and would be a really nice spring signing as a four-star player.
With LSU landing Antonio Blakeney and Arizona transfer Craig Victor this week, the Tigers aren't hurting for incoming talent while Sampson could really see a lot of playing time at each of the three schools recruiting him.
Cal is still looking for an influx of talent under new coach Cuonzo Martin and Sampson would be a nice player besides Tyrone Wallace in the Cal backcourt. St. John's is losing a lot of senior firepower and could use a good guard next to Rysheed Jordan. And USC as a team is only shooting 29 percent from 3-point range this season, they could use Sampson's shooting ability.
This should be an interesting recruitment to follow because it's schools on both coasts with playing time to offer competing for a high-scoring player from nowhere near any of the schools involved.