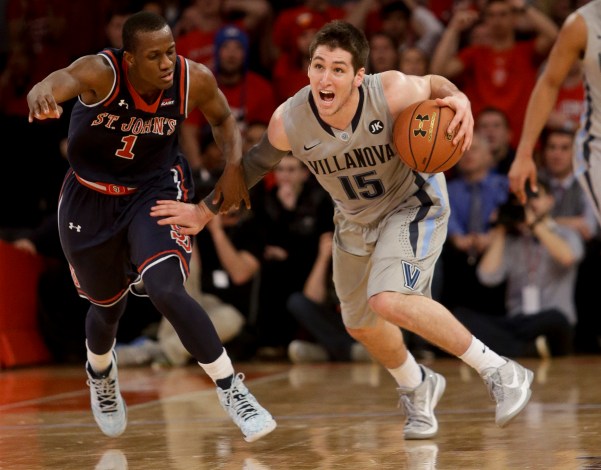 If you can believe it based on the final score, No. 8 Villanova actually trailed No. 24 St. John's at the half. Red Storm senior D'Angelo Harrison had 16 points and Phil Greene had 11 points at the half, but a steal and breakaway play at the end the of the first half by Villanova guard Ryan Arcidiacono seemed to change the momentum of the game.
On the play, Arcidiacono was fouled and Harrison went down grabbing his knee and limping off to the locker room a second early. Harrison returned with a right knee contusion and had nine in the second half to finish with 25, but the Red Storm never recovered as Villanova ran away with a 90-72 Big East road win.
The Wildcats played phenomenal basketball in the second half and completely dismantled a tired and hurting St. John's team. Even at home, the Red Storm wore down with their limited rotation and foul trouble. Sir'Dominic Pointer fouled out with over seven minutes left and Chris Obekpa found himself hurting after a second-half play.
As for Villanova, they only got stronger.
Senior Darrun Hillard II scored 17 of his 21 points in the second half and junior center Daniel Ochefu had another tremendous outing with another double-double. Ochefu finished with 13 points, 12 rebounds, four assists and two blocked shots and dominated the second frame on the interior with plays all over the paint. His activity coupled with the heated-up shooting of Hillard gave Villanova (14-1, 2-1) all they needed.
This game and the monstrous 19-point, 24-rebound effort against Seton Hall show how much Ochefu has improved during the course of the season. He has five career double-doubles and three of those have come in the last four games. When Ochefu missed a double-double against Butler in that stretch, he was one rebound short of having four straight double-double.
Ochefu has improved significantly during this stretch of play and he should probably be getting more post touches because he's also shown that he's a capable passer.
This is a great comeback victory for Villanova after the road loss at Seton Hall on Saturday and they haven't lost back-to-back games since the 2012-13 season. They came out strong in the second half after a so-so opener and finished off St. John's quickly.
Hilliard and Ochefu played well against Seton Hall, as well, but on Tuesday Dylan Ennis was able to step in and provide 15 points to be a third scorer. Arcidiacono also had nine points, eight assists and no turnovers and he and Ennis played significantly better after a collectively poor game against the Pirates.
St. John's falls to 0-3 in the Big East and 11-4 overall. The Red Storm started 0-5 in the conference last season and need to find some more reliable bench options if at all possible while getting more consistency from Rysheed Jordan. Jordan returned on Tuesday to go 0-for-6 from the field and played erratically.
As injuries piled up and foul problems occurred, the Red Storm were cooked and couldn't keep up in the second half. Steve Lavin's team is still talented through its first six, but those guys all need to play well and stay on the floor for St. John's to win Big East games. The physicality and toughness of the Big East is hard to get through with an undermanned team.