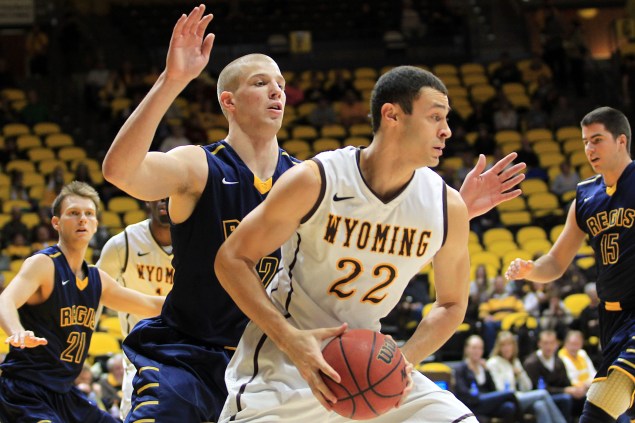 PLAYER OF THE WEEK: Larry Nance Jr., Wyoming
Nance was terrific in the first week of Mountain West play, leading the Cowboys to a 2-0 start and putting them in a position where they look like the favorite to win the league. On New Year's Eve, Nance out-dueled UNLV's Christian Wood, finishing with 29 points, five boards, three blocks and two steals in an impressive 76-71 win. He followed that up with 18 points, 13 boards and two assists as the Pokes came from behind to knock off San Jose State on the road. In the two games, Nance shot 17-for-27 from the floor.
As good as Wyoming has been in stretches this season, if they are going to be a Mountain West contender, they're going to have a chance to prove it this week. They'll be paying a visit to Colorado State on Wednesday night.
THE 'ALL THEY WERE GOOD, TOO' TEAM
Jahlil Okafor, Duke: In wins over Elon, Wofford and Boston College, Okafor averaged 26.3 points, 8.0 boards, 2.3 blocks and shot 30-for-39 from the floor.
Kyle Collinsworth, BYU: Collinsworth notched his third triple-double of the season in a win at San Francisco and averaged 13.7 points, 11.7 boards and 6.7 assists in three WCC wins.
London Perrantes, Virginia: Perrantes has been in a shooting slump this season but busted out of it in a big way on Saturday, finishing with 26 points and eight assists, hitting five threes, in a double-overtime win at Miami.
Shannon Evans, Buffalo: There have been six triple-doubles on the season, Evans has one of them, going for 14 points, 10 boards and 10 assists in a win at Binghamton. He followed that up with 33 points, five boards and four assists against Cornell.
Phil Forte, Oklahoma State: Forte led the Pokes to a pair of wins over Kansas State and Missouri last week, averaging 20.5 points and shooting 14.for-22 from the floor and 6-for-12 from three.
TEAM OF THE WEEK: Seton Hall Pirates
Things didn't look bright for Seton Hall entering this week, as the Pirates kicked off Big East play with home games against No. 15 St. John's and No. 6 Villanova without their star guard, Isaiah Whitehead. That didn't matter, however, as Kevin Willard's club landed the two upset wins, which included a thrilling overtime win against the Wildcats.
The star of the week for the Pirates was Sterling Gibbs, who averaged 22.5 points and 6.0 assists in the two games. There is not a player in the conference who has been in better form than Gibbs, and his play — along with that of Jaren Sina and Khadeen Carrington — made the fans in Newark forget about Whitehead's absence really quickly. Here's the question: what happens when Whitehead, a high-volume and low-efficiency scorer, returns to the mix?
THEY WERE GOOD, TOO
South Carolina: The Gamecocks made a statement on Saturday as they knocked off No. 9 Iowa State at the Barclays Center.
Maryland: The Terps moved to 2-0 in their first season in the Big Ten, picking up a win at Michigan State and knocking off Minnesota in College Park.
New Mexico: The Lobos lost Cullen Neal for the season, but they won their first two Mountain West games, including a blowout win over previously undefeated Colorado State.
Dayton: The Flyers put together a 2-0 week, including a win over Ole Miss, despite playing shot-handed.
Cincinnati: Mick Cronin won't be coaching for the rest of the season, but the Bearcats played well without him. They blew out N.C. State in Raleigh and followed that up by beating SMU at home.
DePaul: The Blue Demons are 2-0 in the Big East. Seriously.
SET YOUR DVR
No. 14 Notre Dame at No. 19 North Carolina, Mon. 7:00 p.m.
No. 18 Oklahoma at No. 11 Texas, Mon. 9:00 p.m.
Wyoming at No. 24 Colorado State, Wed. 9:00 p.m.
No. 13 Kansas at No. 22 Baylor, Wed. 9:00 p.m.
No. 5 Louisville at No. 19 North Carolina, Sat. 2:00 p.m.
No. 3 Virginia at No. 14 Notre Dame, Sat. 6:00 p.m.
No. 9 Iowa State at No. 17 West Virginia, Sat. 8:00 p.m.