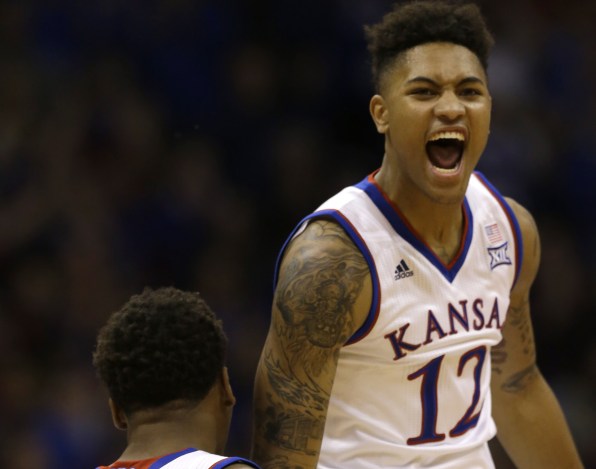 GAME OF THE DAY: Indiana State 79, Evansville 75, OT
Evansville looked like a legitimate threat in the Valley after knocking off Northern Iowa earlier in the week, but they went on the road and dropped a tough one to Indiana State. The Sycamores got a monster outing from senior big man Jake Kitchell, as he went for 21 points and 11 rebounds. Kitchell had only scored in double figures twice before Sunday and only had one game with double-digit rebounds. The Purple Aces struggled to convert from the free-throw line in overtime as and Jaylon Moore missed four free throws with under two minutes left for Evansville. Indiana State winning as an under .500 team proves that winning on the road in the Valley is never easy.
IMPORTANT OUTCOMES
1. No. 13 Kansas 76, UNLV 61
The Jayhawks erased a four-point halftime deficit, playing better on both ends of the floor in taking care of a young UNLV team at Allen Fieldhouse. Frank Mason III led five Jayhawks in double figures with 18 points to go along with seven assists (two turnovers) and four rebounds. Kansas shot 60 percent from the field in the second half, scoring nearly 1.4 points per possession, and they also limited UNLV to 34.5% shooting from the field in the game's final 20 minutes. Cody Doolin and Christian Wood scored 12 apiece to lead the way for the Runnin' Rebels.
2. No. 8 Arizona 73, Arizona State 49: Sean Miller changed up his starting lineup on Sunday night, moving Rondae Hollis-Jefferson and Elliot Pitts into a starting role over Stanley Johnson and Gabe York. The result? A blowout win over the Sun Devils, with Johnson, Hollis-Jefferson and Brandon Ashley leading the way with 13 points apiece.
3. Old Dominion 61, Charlotte 54
The Monarchs moved to 12-1 as they won their Conference USA opener on the road. Despite an off-day from Trey Freeman (5-for-14 shooting, 14 points), Old Dominion had a balanced effort on the offensive end and held the 49ers to 6-for-17 shooting from the 3-point line.
4. Colorado 86, USC 65
Colorado has been a bit of an early-season disappointment but they shot 55 percent from the field to pick up an easy home Pac-12 win over USC. The Buffaloes are now 2-0 in league play and have some momentum going into a huge stretch which features back-to-back-to-back road games at Utah, Arizona and Arizona State. Askia Booker paced Colorado with 18 points while Dustin Thomas and Xavier Johnson each had 17 points.
THE REST OF THE TOP 25
No. 4 Wisconsin his 12 threes in a 23-point win at Northwestern.
No. 10 Utah rolled to a 71-39 win over UCLA, with their defense limiting the Bruins to 28.8% shooting from the field. One UCLA player who can't wait to get home: Bryce Alford, who shot 2-for-26 from the field in losses at Colorado and Utah.
No. 16 Wichita State put four players in double-figures, led by 15 from Ron Baker, as the Shockers knocked off Illinois State, 70-62.
No. 23 Northern Iowa rebounded from its loss at Evansville, beating Loyola (IL) 67-58 in Cedar Falls. Jeremy Morgan led the way for the Panthers with 18 points.
Stanford completed a home sweep of the Washington school late Sunday with a 68-60 overtime win over No. 21 Washington. Chasson Randle, whose layup in the final seconds of regulation forced overtime, led all scorers with 24 points and Anthony Brown added 16 for the Cardinal. Washington has now lost three in a row and is off to an 0-2 start to conference play.
STARRED
1. Chris Jones, Louisville: 22 points, 10 assists and three steals in a win at Wake Forest. It mattered so much I wrote about it here.
2. Juwan Howard Jr., Detroit
The senior had 26 points, six assists and five rebounds in a Horizon League win over Milwaukee. The remarkably consistent forward has scored in double figures in 15 of 16 games this season for the Titans.
3. Jaylen Bond and Will Cummings, Temple
In an afternoon in which Quenten DeCosey and Jesse Morgan combined to shoot 6-for-23, Bond and Cummings remained productive and efficient as they each went for 21 points in a win over UCF. Bond also added 14 rebounds in the AAC win and the Owls appear to have many different scoring options that can step up when others are having an off night.
4. Adrian Diaz, Florida International
The Golden Panthers earned a win over Florida Atlantic in their C-USA opener as the senior big man had 27 points, 11 rebounds and five blocks.
STRUGGLED
1. Bryce Alford, UCLA
Alford once again struggled from the field in UCLA's 71-39 loss at Utah, shooting 0-for-10 from the field and going scoreless. Alford, UCLA's leading scorer, shot 2-for-26 in losses to Colorado and Utah.
2. David Kravish, Cal: After scoring a career-high 21 points against No. 21 Washington, Kravish had six points and was 2-for-9 from the floor in a home loss to Washington State. Cal lost to Bakersfield on Dec. 28th as well, two results that will be much-discussed on Selection Sunday.
NOTABLES
After taking a leave of absence in late November, Fordham sophomore Jon Severe returned against VCU and scored nine points off the bench. VCU won the game 75-58, with Treveon Graham and Briante Weber scoring 14 points apiece.
Tulsa earned an AAC win over Houston as James Woodard and Shaquille Harrison each scored 18 points.
A double-double of 18 points and 10 rebounds from forward Shane Richards helped Manhattan top Canisius.
David Laury had 24 points and 10 rebounds to lead Iona past Siena.
After missing out on a win at Stanford, Washington State managed to split the Bay Area road trip with a 69-66 win at Cal. The Cougars snapped an 18-game conference road losing streak with the win, and sophomore Josh Hawkinson tallied another double-double with 18 points and 13 rebounds.