Much has been made before the Big 12 conference schedule begins about how Kansas might finally see its streak of 10 consecutive conference titles come to an end. The Jayhawks have had two blowout losses this season to Kentucky and Temple — the two worst losses of Bill Self's tenure — and the conference from top-to-bottom is likely the toughest in America.
But now we have a prominent simulation model that predicts that not only will Kansas not win the Big 12, but they'll finish in fourth place. If you're a college hoops fanatic, you're probably well aware of Ken Pomeroy of Kenpom.com and his advanced statistics-based computer simulations of future outcomes.
Jesse Newell of the Topeka Capital-Journal had Pomeroy run 10,000 simulations of the Big 12 season and the Jayhawks finished in fourth place behind Oklahoma, West Virginia and Texas.
Here's the chart from Newell's story of Pomeroy's findings: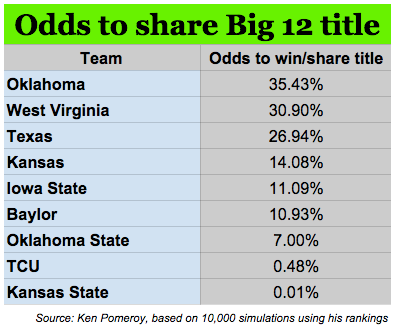 It isn't any kind of earth-shattering news that Kansas might not be the favorite in the Big 12 this year, but fourth place in this simulation is a little startling. After the games of Jan. 4, the Jayhawks rank 15th overall in the latest Kenpom national rankings, so obviously his model respects the Jayhawks in the larger scheme of college basketball. It just appears that the Big 12 is particularly ferocious this season.
In fact, Pomeroy's numbers dictate that the 2015 Big 12 is the fourth toughest conference of the last 14 years, trailing only the 2004 ACC, the 2011 Big Ten and the 2010 Big 12. That chart can also be viewed in Newell's article.
Computer simulations clearly won't dictate how the actual Big 12 plays out this season — and Self has a history of getting his teams to peak during conference season — but this is an interesting model to look at as we enter the conference portion of the season.