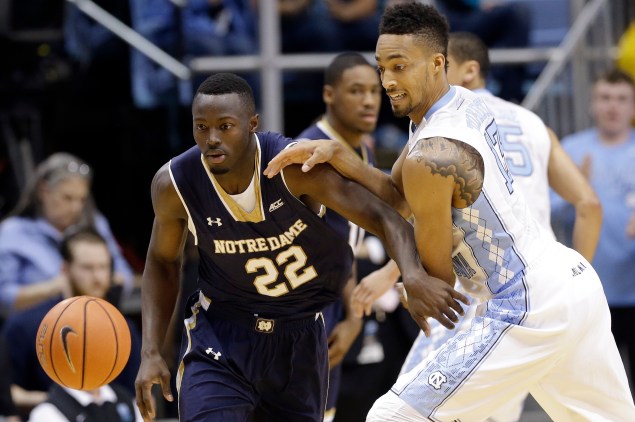 Notre Dame nearly collapsed and blew a big second half lead before rallying and coming away with a really good 71-70 ACC road win at North Carolina on Monday night.
The No. 13 Fighting Irish led for much of the game but gave up a 9-0 run to the No. 18 Tar Heels in the game's final minutes and trailed 70-69 with just over a minute left. But junior big man Zach Auguste stopped the bleeding and cleaned up a Pat Connaughton miss and had the go-ahead putback with 1:08 left to put the Fighting Irish ahead.
On the ensuing North Carolina possession, point guard Marcus Paige missed two 3-pointers and J.P. Tokoto had two offensive rebounds before head coach Roy Williams called a timeout to draw up another look. Out of the timeout, Paige missed a contested look near the rim and Notre Dame's Steve Vasturia grabbed a defensive rebound and was fouled. Vasturia missed both free throws and North Carolina had a final shot with 1.4 seconds left. Paige missed a heavily-contested look from the left corner as time expired.
Auguste had a monster second half as he scored 14 of his team-high 18 points in the final 20 minutes. The junior also added six rebounds and two blocks and at one point had eight consecutive points for the Irish in the second frame. Senior guard and All-American candidate Jerian Grant struggled shooting the ball for much of the night, going 1-for-8 from the field, but he eight points, eight assists and four rebounds before fouling out towards the end of the game.
Others picked up the slack for Notre Dame's offense with Grant struggling to find his shot. When North Carolina went with a big lineup to start the game, Irish forward Pat Connaughton (16 points) hurt them from the perimeter, knocking down four 3-pointers and giving Brice Johnson a tough time on the offensive end. Demetrius Jackson also added 15 points and four assists.
The Tar Heels finally made a second-half run when they went small and put Justin Jackson at the four. North Carolina continued to pound the offensive glass, out-rebounding Notre Dame, 43-26, with 18 offensive rebounds, and wore down the limited Irish rotation. Marcus Paige led the Tar Heels with 15 points, but cooled down significantly in the second half. After starting the game 4-for-6, Paige finished just 6-for-17 from the field.
But Kennedy Meeks and Tokoto provided a second-half lift on the offensive boards for North Carolina as they combined for nine offensive rebounds and 24 points in the game. Freshman wing Theo Pinson also played some of his best ball of the season with seven points and some hustle plays off the bench to help keep the Tar Heels in the game.
North Carolina's big issue, though, continues to be getting enough perimeter shooting. The Tar Heels were 4-for-16 from distance in this one and if it weren't for their success on the offensive glass, this game wouldn't have been so close. Paige's struggles continued in the second half after a strong first half and that certainly didn't help. And why did it take Williams so long to find the proper line-up and defense to slow down Notre Dame's offense? North Carolina was very sloppy defending high ball screens in the first half, as they differed in their approach nearly every time the Irish set a pick.
As for Notre Dame, their limited rotation almost came back to bite them on Monday night. The Fighting Irish looked completely gassed by the end of the game and weren't even pursuing rebounds or closing out on shooters during that stretch of two Paige missed 3-pointers in the game's final minute. Notre Dame was able to hold on and get it done and they deserve a lot of credit for spacing the floor well and moving the ball as North Carolina tried to change defensive looks.
The Irish need more consistency from their bench if they want to be legitimate ACC contenders, but this win on the road is a huge confidence booster at the beginning of conference play.