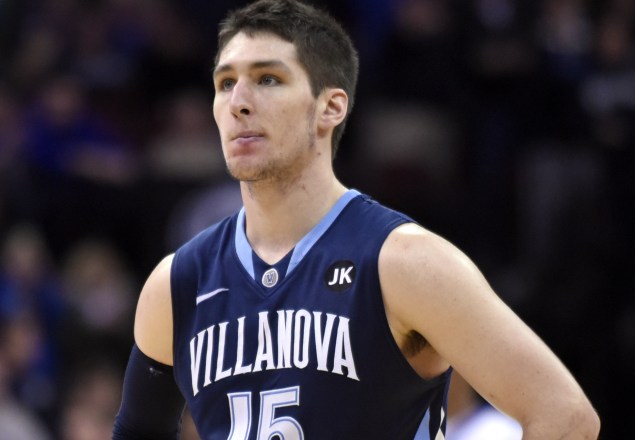 (This post will be updated throughout the afternoon and evening.)
GAME OF THE DAY: Seton Hall 66, No. 6 Villanova 61 OT
Seton Hall landed their second huge win this week as they handed Villanova their first loss of the season on Saturday. Sterling Gibbs was, again, terrific, finishing with 20 points and four assists, while Khadeen Carrington came off the bench to score 17 important points. Earlier this week, the Pirates beat No. 15 St. John's in their Big East opener.
Villanova shot 31.0 percent from the floor, 20.8 percent from three and 20-for-35 from the foul line on Saturday. Ryan Arcidiacono and Jayvaughn Pinkston combined to shoot 2-for-16 from the floor. Josh Hart wasn't much better, finishing just 3-for-13. As much credit as Seton Hall deserves, Villanova's inability to get anything out of anyone not named Daniel Ochefu — he had 19 points, 24 boards and altered about a dozen shots in the lane — cost them this game.
THE OTHER GAME OF THE DAY: Notre Dame 83, Georgia Tech 76 2OT
Jerian Grant scored 22 points and added six assists as the Fighting Irish rallied from a second half deficit to force overtime against Georgia Tech. Grant made a number of big plays down the stretch, but Notre Dame struggled from the free throw line in crucial moments, which is part of the reason that the Yellow Jackets were able to force the extra periods. Other than free throws, where Notre Dame really had issues was on the defensive glass (they gave up 18 offensive rebounds) and shooting from the perimeter (the Irish were 4-for-19 from three).
Oh, and Jerian Grant threw down the dunk of the year.
BUZZER BEATER OF THE DAY: Utah State hit a game-winning three to beat Boise State.
IMPORTANT OUTCOMES
No. 20 Ohio State 77, Illinois 61: D'angelo Russell finished with 22 points and four assists, shaking off some early turnover issues as he sparked a huge second half run for the Buckeyes. Russell entered the day shooting just 11-for-47 from the floor against high major competition, but he finished the afternoon 7-for-13 from the floor on Saturday. It was a much-needed win for the Buckeyes, who lost on their home floor to Iowa to open up the Big Ten portion of their schedule.
The Buckeyes got out and pressured man-to-man, creating turnovers and flustering Illinois during their game-changing second half run. It will be interesting to see if Thad Matta goes to that defense more often, as it seemed to infuse some life into OSU.
UConn 63, Florida 59: Ryan Boatright was just 2-for-11 from the floor, but he hit a number of critical free throws down the stretch and finished with six assists as the Huskies erased a 13-point second half deficit to beat Florida on the road. It was a huge win for UConn, who has really struggled throughout much of the non-conference portion of their schedule and who got solid showings from Omar Calhoun and Rodney Purvis, two guys that have not played well this season. But the bigger story may be Florida, who look more and more like an NIT team with each passing loss. The Gators lose to Florida State and UConn but they're going to be the team to beat Kentucky this year?
No. 18 Oklahoma 73, No. 22 Baylor 63: TaShawn Thomas continues to get more comfortable in the Oklahoma offense, and his teammates are becoming more comfortable with him as well. The Houston transfer scored 24 points and grabbed eight rebounds on the afternoon as the Sooners beat Baylor in Norman, with Buddy Hield (20 points, ten rebounds) and Isaiah Cousins (19 points, eight rebounds) also being key contributors. Three players accounted for 50 of Baylor's 63 points, with Johnathan Motley scoring 24 and Taurean Walker-Prince 17, with Kenny Chery and Royce O'Neale combining to score eight points on 2-for-14 shooting.
No. 3 Virginia 89, Miami 80 (2OT): The Cavaliers won one of five games to go at least two overtimes on Saturday, and at the half it didn't look as if extra time would be needed to determine the outcome. The reigning ACC champions, who prior to Saturday were 0-6 at Miami, led 38-20 at the intermission and looked to be firmly in control. But Angel Rodriguez (25 points, seven assists) began making plays for the Hurricanes and stretch four Omar Sherman (13 points, six rebounds) hurt Virginia in multiple "pick and pop" situations to turn things around. Three Rodriguez free throws after being fouled by Justin Anderson with nine tenths of a second remaining forced overtime, with Anderson redeeming himself by knocking down a three to force a second overtime. London Perrantes was excellent for Virginia, scoring a career-high 26 points with Malcolm Brodgon limited to just eight.
STARRED
1. Farad Cobb, Cincinnati: Cobb game the Bearcats a scoring spark off the bench, finishing with 18 points as Cincinnati knocked off SMU in their American opener. It was the first game Cincinnati has played since finding out that Mick Cronin will be out for the year.
2. Billy Garrett Jr., DePaul: Garrett finished with 15 points, 10 assists and five boards as the Blue Demons moved to 2-0 in the Big East with a 71-68 win over Xavier.
STRUGGLED
1. Isaiah Taylor, Texas: Taylor finished with just eight points and five turnovers while shooting 2-for-10 from the floor as No. 11 Texas beat Texas Tech in their Big 12 opener. It was Taylor's first game back from a wrist injury, and while he was rusty offensively, he did play very well defensively.
2. Marcus Foster, Kansas State: Kansas State has really struggled this season, losing again on Saturday, 61-47 at Oklahoma State. Foster went scoreless, taking just four shots after coming off the bench as head coach Bruce Weber tried to make a point to his star. He spent much of the game sulking on the bench, even when the Wildcats were up early.
3. Michigan's guards: Caris LeVert, Derrick Walton and Zak Irvin combined to shoot 6-for-29 from the floor as the Wolverines blew an eight-point halftime lead in a 74-61 loss at Purdue.
THE REST OF THE TOP 25
Melo Trimble had 20 points and Dez Wells and Jake Layman combined for 24 as No. 12 Maryland got passed a scrappy Minnesota team in College Park, 70-58.
Despite 31 points from D'Angelo Harrison No. 15 St. John's dropped its second straight, 73-69 to Butler. Kellen Dunham led the Bulldogs with 28.
Jahlil Okafor led four Blue Devils in double figures with 28 points and eight rebounds as No. 2 Duke took care of Boston College, 85-62.
Despite not having point guard Juwan Staten, who was sick, No. 17 West Virginia handed TCU its first loss of the season. Gary Browne led a balanced effort for the Mountaineers in their 78-67 win, scoring 16 points.
Five players scored in double figures, led by Joshua Smith (15 points), as No. 25 Georgetown beat Creighton 76-61 in Washington, D.C.
Duane Notice scored 15 points and Ty Johnson and Sindarius Thornwell added 13 apiece as South Carolina beat No. 9 Iowa State 64-60 in Brooklyn. The Cyclones shot 1-for-18 from three on the night.
No. 24 Colorado State became the third team to fall from the ranks of the unbeaten, with New Mexico beating the Rams 66-53. Craig Neal's Lobos scored 42 of their 66 points in the paint.
Kevin Pangos and Przemek Karnowski scored 21 points apiece as No. 7 Gonzaga won 87-75 at Portland. The Bulldogs are now 3-0 in the WCC, with all three wins coming on the road.
Justin Jackson scored 13 points and Kennedy Meeks added 12 to go along with 12 rebounds as No. 19 North Carolina won 74-50 at Clemson.
NOTABLES
Justin Bibbs has 22 points and 11 boards to help Virginia Tech erase a 19-point halftime deficit, but a three at the buzzer fell short and the Hokies lost to Syracuse, 68-66. Trevor Cooney had 18 to lead the Orange.
Trevor Lacey bounced back from a rough night in an ugly loss against Cincinnati with 19 points as N.C. State smacked around Pitt.
Juan Anderson led four players in double-figures with 18 points as Marquette knocked off Providence in Milwaukee.
Kevin Larsen continued his excellent run of play, going for 15 points, nine boards and five assists in a 64-60 win over St. Joseph's in their Atlantic 10 opener.
Arkansas blew out Utah Valley State, which wasn't notable for anything other than this dunk.
Hassan Martin had 15 points to lead four players in double-figures as Rhode Island went into Saint Louis and knocked off the Billikens 65-53.
Vanderbilt survived Yale in a thriller in double-overtime, 79-74.
Rutgers picked up its first conference win as a member of the Big Ten, beating Penn State 50-46.
Joseph Young scored 27 points to lead Oregon to a 71-59 home win over rival Oregon State in the Pac-12 opener for both.
Davidson beat Richmond 81-67 in its first conference game as a member of the Atlantic 10, with Jack Gibbs scoring 32 points to lead the way.
Marvelle Harris scored 25 points to lead Fresno State to a 59-57 win over San Diego State. The Bulldogs led by as much as 18, but managed to get the win despite the Aztecs going on a 17-0 second half run. The loss ends San Diego State's 47-game win streak against teams from the State of California.
The nation's leader in triple-doubles this season: BYU's Kyle Collinsworth. Collinsworth accounted for 12 points, 12 rebounds and ten assists in the Cougars' blowout win at San Francisco.