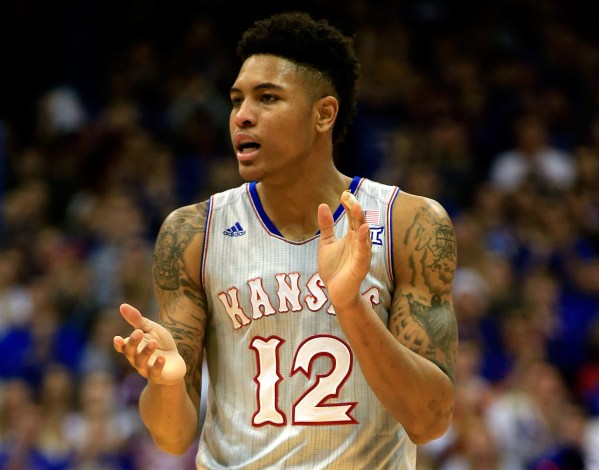 GAME OF THE DAY: UNLV at No. 13 Kansas, Sun. 4:30 p.m.
From Rob Dauster's weekend preview:
Two weeks ago, this game would not have made this list as the Rebels were one of the more disappointing teams in the country. But they've bounced back with a win over Arizona in Vegas and a five point loss to Wyoming on the road. Christian Wood suddenly looks like he'll be the best big man on the floor, and Kansas has been struggling enough that the Rebels just may be able to pull off the upset in Lawrence.
MID-MAJOR GAME OF THE DAY: Loyola (IL) at No. 23 Northern Iowa, 3:30 p.m.
The Missouri Valley Conference has four teams with 11 wins for the first time ever at this point in the calendar year and two of those teams face off in a nice Sunday afternoon tilt. Loyola has been a pleasant surprise early this season as Christian Thomas and Milton Doyle have been a potent one-two punch while Northern Iowa will look to avenge a loss at Evansville earlier in the week.
UPSET WATCH: No. 21 Washington at Stanford, 10:00 p.m.
After starting 2014-15 with an 11-0 record, the Huskies have lost two straight games heading into a Sunday night clash at Stanford. Washington just hasn't looked in sync these last few outings and they'll need to pick up their play to knock off the Cardinal. Stanford, meanwhile, will still be adjusting to playing without freshman forward Reid Travis, the team's leading rebounder. Travis has a stress fracture, so the Cardinal could shift their lineup in a number of unique ways. The Chasson Randle and Nigel Williams-Goss battle will be one of the best guard matchups in the Pac-12.
FIVE THINGS TO WATCH FOR: 
There's been some drama in Louisville this season and the No. 5 Cardinals will try to figure themselves out at Wake Forest in the team's ACC opener. Let's see how Chris Jones responds to being benched and if Louisville looks good in only its second true road game of the year.
Rivalry game in the Pac-12 as No. 8 Arizona hosts Arizona State. There aren't many juicy storylines for this season's game, but the Sun Devils are still figuring themselves out after re-stocking their roster and this will be a good indicator of where they stand in the league.
Another intriguing Valley game as Illinois State travels to No. 16 Wichita State. The Redbirds are not an easy team to face, and if they're fully healthy (a big if in this one), they could make this a game. Illinois State gave Old Dominion its only loss of the year and only fell to VCU by four points.
Speaking of Old Dominion, they have a tough Conference USA road test coming at Charlotte. The Monarchs have looked like a potential favorite in the league to this point, but they've only played one true road game all season.
A Pac-12 battle of two teams heading in opposite directions as UCLA goes on the road to face No. 10 Utah. The Bruins have lost four straight games while Utah has won four straight.
TOP 25 GAMES:
No. 4 Wisconsin at Northwestern, 8:30 p.m.
OTHER NOTABLE GAMES:
UCF at Temple, 12:00 p.m.
Houston at Tulsa, 2:00 p.m.
USC at Colorado, 2:00 p.m.
Washington State at Cal, 6:00 p.m.