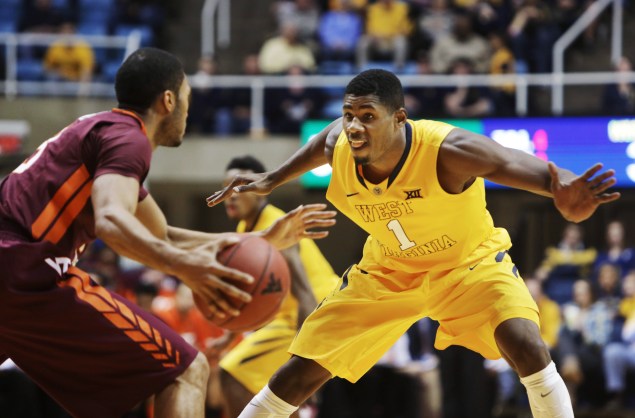 GAME OF THE DAY: No. 22 Baylor at No. 18 Oklahoma, 4:00 p.m.
From Rob Dauster's weekend preview:
There is only one game this weekend that features two teams that are both ranked, and that pits the Bears against the Sooners. We think we know what Oklahoma is this year, a top 20 team with the ceiling of being a Final Four-caliber program. The question mark is Baylor, who entered the season without much in the way of expectations thanks to the graduation of Isaiah Austin and Cory Jefferson.
But the Bears have been one of the nation's surprises. They have just one loss on the season and look like they could end up being a tournament team, a fact that would (gasp!) get Scott Drew some coach of the year consideration. And here's the scary part: Kenny Chery is just now getting back into the rotation.
THE OTHER GAME OF THE DAY: No. 17 West Virginia at TCU, 4:00 p.m.
Two of the bigger unknowns in the Big 12 collide as a defensive-minded West Virginia ballclub travels to face unbeaten TCU. The Horned Frogs have played one of the easiest non-conference schedules in the nation and they'll finally receive a real test. It's hard to say how good TCU is since they haven't played a top-50 team, but West Virginia is going to get out and pressure the ball as much as possible. The point guard matchup between the Mountaineers' Juwan Staten and TCU's Kyan Anderson will be the battle to watch in this one.
UPSET WATCH: No. 6 Villanova at Seton Hall, 12:00 p.m.
From Rob's weekend preview:
Seton Hall already has an upset win at home under their belt this week, as they knocked off No. 15 St. John's at the Prudential Center on Wednesday afternoon. The most impressive part is that the Pirates were able to do it without Isaiah Whitehead healthy. Villanova is a much different team from Seton Hall: more talented, more disciplined, better defensively. The Pirates are going to need another terrific performance from Sterling Gibbs and Jaren Sina, but those two have been good this year.
FIVE THINGS TO WATCH FOR: 
Four of the best teams in the American matchup on Saturday as SMU travels to Cincinnati and Tulane heads to Memphis. There is a lot of uncertainty about this league right now, but all four of these teams are unblemished in league play and have shown some signs of life as we enter 2015.
Another unbeaten, No. 24 Colorado State, faces a real test when they travel to New Mexico for a Mountain West clash. While the Lobos have been depleted this season it's never easy to win in The Pit and this will be a real challenge for Larry Eustachy's team.
How will No. 15 St. John's look after losing Rysheed Jordan indefinitely? The Red Storm host Butler and both teams are itching for a Big East win after both teams lost their conference openers on New Year's Eve.
Michigan and Purdue lock horns on Saturday afternoon. Both teams won their Big Ten openers after up-and-down non-conference seasons, but how will Michigan deal with Derrick Walton's injury? The sophomore has a toe injury that is bothering him and Spike Albrecht could get the start on Saturday.
Miami hosting No. 3 Virginia has the makings of a good ACC clash. The Hurricanes were a big surprise in the non-conference season and they'll get a chance to climb back in the top 25 with a home win over the unbeaten Cavaliers.
TOP 25 GAMES:
Boston College at No. 2 Duke, 4:00 p.m.
No. 7 Gonzaga at Portland, 9:30 p.m.
No. 9 Iowa State at South Carolina, 6:00 p.m.
No. 11 Texas at Texas Tech, 2:00 p.m.
Minnesota at No. 12 Maryland, 12:00 p.m.
Georgia Tech at No. 14 Notre Dame, 2:30 p.m.
No. 19 North Carolina at Clemson, 8:15 p.m.
Illinois at No. 20 Ohio State, 3:30 p.m.
Creighton at No. 25 Georgetown, 4:30 p.m.
OTHER NOTABLE GAMES:
Kansas State at Oklahoma State, 12:00 p.m.
Pittsburgh at N.C. State, 12:00 p.m.
Syracuse at Virginia Tech, 12:00 p.m.
Connecticut at Florida, 2:00 p.m.
Providence at Marquette, 2:00 p.m.
Xavier at DePaul, 2:00 p.m.
Yale at Vanderbilt, 2:00 p.m.
Penn State at Rutgers, 7:30 p.m.
Oregon State at Oregon, 8:00 p.m.