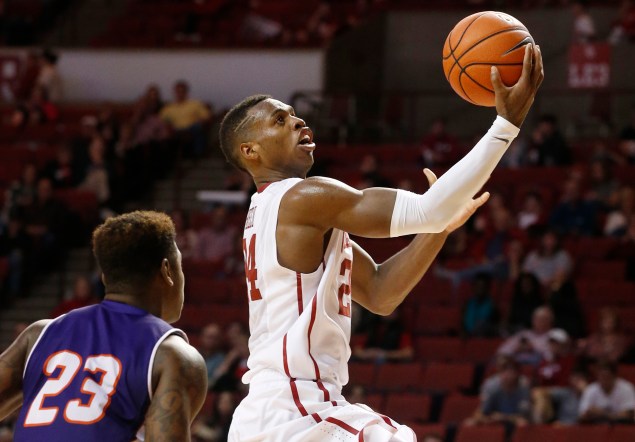 GAME OF THE WEEKEND: No. 22 Baylor at No. 18 Oklahoma, Sat. 4:00 p.m.
There is only one game this weekend that features two teams that are both ranked, and that pits the Bears against the Sooners. We think we know what Oklahoma is this year, a top 20 team with the ceiling of being a Final Four-caliber program. The question mark is Baylor, who entered the season without much in the way of expectations thanks to the graduation of Isaiah Austin and Cory Jefferson.
But the Bears have been one of the nation's surprises. They have just one loss on the season and look like they could end up being a tournament team, a fact that would (gasp!) get Scott Drew some coach of the year consideration. And here's the scary part: Kenny Chery is just now getting back into the rotation.
THE OTHER GAME OF THE WEEKEND: UNLV at No. 13 Kansas, Sun. 4:30 p.m.
Two weeks ago, this game would not have made this list as the Rebels were one of the more disappointing teams in the country. But they've bounced back with a win over Arizona in Vegas and a five point loss to Wyoming on the road. Christian Wood suddenly looks like he'll be the best big man on the floor, and Kansas has been struggling enough that the Rebels just may be able to pull off the upset in Lawrence.
FIVE GAMES TO WATCH
No. 21 Washington at Stanford, Sun. 10:00 p.m.: Washington has a tough road trip this week, but they match up better with Stanford than they do Cal. Chasson Randle vs. Nigel Williams-Goss will be fun.
No. 17 West Virginia at TCU, Sat. 4:00 p.m.: If there are two teams that are expected to come back to earth during Big 12 play, it's these two. The Mountaineers, who have just one loss, look like they're for real. TCU? Well, let's just say this will be an interesting gauge game.
Minnesota at No. 12 Maryland, Sat. 12:00 p.m.: Maryland hosts their first game as a Big Ten member, and they get a Minnesota team that is coming off of a loss after looking like one of the hottest teams in the league.
Butler at No. 15 St. John's, Sat. 4:00 p.m.: St. John's lost their Big East opener at Seton Hall on Wednesday. Can they bounce back with a win on Saturday?
UCLA at No. 10 Utah, Sun. 4:00 p.m.: UCLA has not played like it yet this year, but the Bruins are one of the more talented teams in the conference.
WHO'S GETTING UPSET?: No. 6 Villanova at Seton Hall, Sat. 12:00 p.m.
Seton Hall already has an upset win at home under their belt this week, as they knocked off No. 15 St. John's at the Prudential Center on Wednesday afternoon. The most impressive part is that the Pirates were able to do it without Isaiah Whitehead healthy. Villanova is a much different team from Seton Hall: more talented, more disciplined, better defensively. The Pirates are going to need another terrific performance from Sterling Gibbs and Jaren Sina, but those two have been good this year.
UPSET WATCH
No. 24 Colorado State at New Mexico, Sat. 8:00 p.m.: Colorado State has not lost yet this season, but playing at New Mexico is never an easy thing to do.
No. 21 Washington at Cal, Fri. 10:00 p.m.: Cal actually matches up with the Huskies pretty well. David Kravish can pull Robert Upshaw away from the rim and the Bears have plenty of guards.
Creighton at No. 25 Georgetown, Sat. 4:30 p.m.: Creighton is coming off of a loss in their Big East opener, but Georgetown is as well.
No. 3 Virginia at Miami, Sat. 5:30 p.m.: Miami has struggled a bit of late, but the Hurricanes do have some talent on their roster.
No. 19 North Carolina at Clemson, Sat. 8:00 p.m.: Clemson likes to take the air out of the ball offensively, and that could slow down North Carolina enough to get them into a half court game.
FIVE MORE STORY LINES
1. UConn at Florida, Sat. 2:00 p.m.: A rematch from last year's Final Four features two teams in desperate need of quality wins for their NCAA tournament resume.
2. No. 5 Louisville at Wake Forest, Sun. 8:00 p.m.:
3. Illinois at No. 20 Ohio State, Sat. 3:30 p.m.: This is one of the games that I will be watching closely on Saturday, as the Buckeyes have not looked like a team that can compete at the top of the Big Ten.
4. There will be four games on NBCSN and streaming on the NBCSports Live Extra app this weekend:
– Duquesne at Dayton, Sat. 3:00 p.m.
– Rhode Island at Saint Louis, Sat. 5:00 p.m.
– Richmond at Davidson, Sat. 7:00 p.m.
– Saint Louis at George Mason (women), Sun. 2:00 p.m.
5. Kansas State at Oklahoma State, Sat. 12:00 p.m.: There haven't been many more disappointing teams in the country than Kansas State this season.