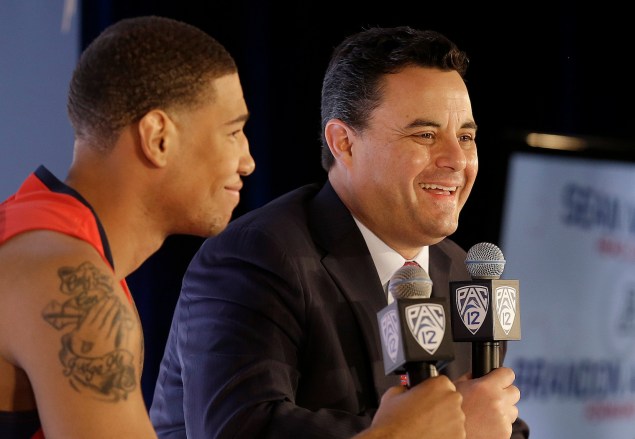 College basketball's non-conference season is coming to a close, and to help you shake off post-holiday haze and the hangover of losing in your fantasy football playoffs, we'll be providing you with some midseason primers to get you caught up on all the nation's most important conferences.
MORE: All of CBT's Conference Catchups
Today, we'll be taking a look at the Pac-12.
MIDSEASON PAC-12 PLAYER OF THE YEAR: Tyrone Wallace, California
Wallace has been outstanding at the point for the Golden Bears, averaging 19.2 points, 8.8 rebounds and 4.1 assists per game. One of the most improved players in America Wallace has been asked to do a lot for Cuonzo Martin's team, especially with Jabari Bird out of the lineup to to injury. And the junior from Bakersfield has delivered, resulting in the Golden Bears entering conference play with a 10-3 record.
THE ALL-PAC-12 FIRST TEAM
Wallace
Delon Wright, Utah: Wright's averaging 15.6 points, 5.3 rebounds and 5.0 assists per game for the tenth-ranked Utes.
Chasson Randle, Stanford: The senior guard is averaging 18.5 points and 2.6 assists per game for the Cardinal.
Joseph Young, Oregon: The Pac-12's leading scorer, Young is ranked in the top ten in the conference in scoring (19.6 ppg) and assists (4.3 apg; 7th in the conference).
Stanley Johnson, Arizona: We'll give this last spot to the most productive player (14.5 ppg, 6.8 rpg; leads team in both) on the league's best team. But keep an eye on Washington State's Josh Hawkinson (15.7 ppg, 10.5 rpg), as the conference names ten players to its season-ending team.
THREE THINGS WE'VE LEARNED
1. There's still plenty of room for growth in Tucson. No. 8 Arizona was seen as the class of the Pac-12 entering the season, and they retain that status as conference play begins. However with that being said, there are strides that need to be made both offensively and defensively if they're to reach the Final Four for the first time under Sean Miller. The Wildcats could stand to become a more consistent perimeter shooting team, with Gabe York, Stanley Johnson and Elliott Pitts factoring into the equation for a team that ranks fourth in the conference in three-point shooting (37.4%).
Also, while good this group isn't as stout defensively as they were last season with Nick Johnson and Aaron Gordon in the fold. In their lone defeat Arizona was attacked relentlessly by UNLV in isolation sets that got Rashad Vaughn and Christian Wood opportunities in one-on-one situations, and the Runnin' Rebels were successful. That area needs to be tightened up moving forward.
2. Washington's Robert Upshaw is one of the most impactful transfers in the country. What a difference a change of scenery has made for Upshaw, who has been the interior presence the 21st-ranked Huskies lacked a season ago. The former Fresno State big man is averaging 10.8 points, 7.4 rebounds and a Pac-12 best 4.6 blocks per game, and his presence allows Lorenzo Romar's guards apply more pressure on the perimeter. Of course, Washington's improved depth in the paint has been a factor in their 11-1 start, with Shawn Kemp Jr. playing better basketball and Jernard Jarreau back from a torn ACL. But the addition of Upshaw has had the greatest impact on Washington thus far.
3. Utah is every bit the contender they were expected to be entering the season. Larry Krystkowiak's tenth-ranked Utes are off to an 10-2 start, and that's with Jordan Loveridge playing in just five of those games due to a knee injury. Senior point guard Delon Wright has impacted games in a variety of ways this season, and a crop of newcomers led by freshman 7-footer Jakob Poeltl has contributed as well. Now that Loveridge is healthy Utah is at full strength heading into Pac-12 play, and they're the greatest threat to Arizona when it comes to winning the conference title.
THREE STORY LINES TO FOLLOW
1. UCLA's attempt to overcome a serious lack of depth. Losing Jonah Bolden before the season began really hurt the Bruins, who don't have a great amount of depth as a result. Seldom-used Wanaah Bail is academically ineligible for the remainder of the season, but the fact that freshmen Thomas Welsh and Gyorgy Goloman need a lot of time to develop puts even more on the shoulders of Kevon Looney and Tony Parker inside. UCLA has more options on the perimeter, but they have to figure out a way in which Bryce Alford, Norman Powell and Isaac Hamilton enjoy a more even distribution of the shot attempts.
2. Whether or not anyone join Arizona/Utah/Washington in the Pac-12 race. There's certainly room for another team or two to join the mix, but the question is which team(s) is best equipped to do so. Stanford relies on the experienced perimeter tandem of Chasson Randle and Anthony Brown, and Stefan Nastic has been improved in the middle. But how will they account for the loss of freshman Reid Travis? Like UCLA, California has depth issues especially as long as Jabari Bird remains sidelined. And Oregon's been the best offensive team in the Pac-12 thus far, but the development of 6-foot-10 forward Michael Chandler is something to keep track of due to their lack of interior depth.
3. Colorado looking to rebound from what's been a disappointing start. The Buffaloes were expected to be one of those teams in the "who can best challenge Arizona" discussion, but things haven't worked out that way thus far. The main players in the rotation, led by guard Askia Booker and forwards Xavier Johnson and Josh Scott, have plenty of experience playing but for some reason things haven't clicked in Boulder. Can Colorado find the level of consistency needed to make another trip to the NCAA tournament?
THREE PREDICTIONS
1. Five Pac-12 teams get into the NCAA tournament. Right now four teams (Arizona, Utah, Washington and Stanford) would be considered locks for the 68-team field, but who joins them? UCLA, Oregon, California and even Colorado have the talent needed to make a run in conference play and earn a bid. According to RPI Forecast, Cal currently has three Top 50 wins, with the other three teams having two apiece.
2. The Freshman of the Year race is more entertaining than many expected it to be. We've already seen some of this in non-conference play, with Utah's Jakob Poeltl emerging as one of the league's top freshmen. He'll be part of a race that many conceded to Stanley Johnson before the season began, with Oregon's Dillon Brooks, UCLA's Kevon Looney and USC's Jordan McLaughlin all players who should find themselves on the league's all-freshman team come March.
3. Arizona wins the Pac-12, with Utah coming in second and Stanford third. Not making any waves with that prediction, as the Wildcats were picked to win the league back in late October. And while Washington's off to an excellent start, look for the Cardinal to slip past them by the end of the season.
POSTSEASON PREDICTIONS
NCAA: Arizona, Utah, Stanford, Washington, Oregon
NIT: UCLA, California, Colorado, Arizona State
OTHER/NO POSTSEASON: Oregon State, USC, Washington State