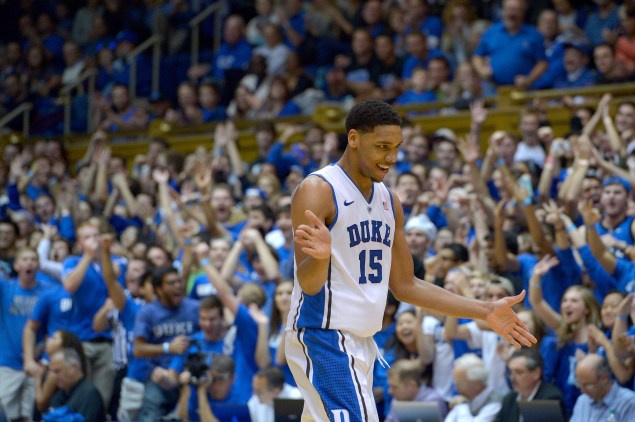 College basketball's non-conference season is coming to a close, and to help you shake off post-holiday haze and the hangover of losing in your fantasy football playoffs, we'll be providing you with some midseason primers to get you caught up on all the nation's most important conferences.
MORE: All of CBT's Conference Catchups
Today, we'll be taking a look at the ACC.
MIDSEASON ACC PLAYER OF THE YEAR: Jahlil Okafor, Duke
Okafor has been the best player in the country this season, so naming him the Player of the Year in the ACC shouldn't come as any surprise. What Okafor does for Duke is hard to limit to just one paragraph. He's a lethal scorer on the block if you try to guard him one-on-one but he's also a talented enough passer that Duke can run their offense through him.
THE ALL-ACC FIRST TEAM
Jahlil Okafor, Duke
Jerian Grant, Notre Dame: Grant is second in the league in scoring (18.4 points) and leads the conference averaging 6.2 assists. His return is the biggest reason the Irish look like a top 25 team.
Montrezl Harrell, Louisville: Harrell is not only averaging 16.0 points and 9.3 boards for the Cardinals, but he's also their emotional leader and defensive sparkplug.
Justin Anderson, Virginia: Anderson is the leading scorer for a top five team and an ACC contender, shooting 60.9 percent from three on the season while playing his typical brand of defense.
Rakeem Christmas, Syracuse: The fact that Christmas is one this list is the most surprising part of the ACC season. The senior center is averaging 17.3 points and 8.8 boards.
THREE THINGS WE'VE LEARNED
1. Duke is the ACC's best, but Virginia's not far behind: The Blue Devils are clearly the best team in the league — they're the closest thing to Kentucky outside of Lexington — but the Cavaliers are going to give Duke a run for their money for the league title. Virginia doesn't have the same kind of talent that the other ACC contenders have, but they are the most disciplined and detail-oriented defense in the country. There offense isn't high-powered, but it is efficient and balanced. All Tony Bennett does is win.
2. North Carolina is a step below the top three: Entering the season, the ACC looked like it had a pretty clear-cut top four, but through the first month and a half of the year, it's become pretty clear that the Tar Heels are a step below Duke, Virginia and Louisville. Part of the issue is that Marcus Paige hasn't quite found a groove this season — he will eventually — but the other part is that North Carolina just doesn't have the ideal personnel for Roy Williams' system. They're still good, but they're closer to being a top 20 team than they are a real ACC title contender.
3. There's a major drop off after the top five: Add Notre Dame into the mix with Duke, UVA, Louisville and UNC and the top five in the ACC are better than the top five in any league in the country. After that? It gets ugly, as there isn't a single program that looks like a lock to make the NCAA tournament. The best of the bunch is probably Syracuse, and they are in a bit of a rebuilding year this season. Florida State and Pitt lost key players, N.C. State has underperformed, Miami has fallen off a cliff since they're hot start.
THREE STORY LINES TO FOLLOW
1. Will Louisville find a third-scorer, and what happens with Chris Jones?: Terry Rozier and Montrezl Harrell is the best one-two punch in the conference, but the Cardinals have yet to find a consistent third-option offensively. Chris Jones wants to be that guy, but he hasn't grasped the concept that he's not Russ Smith yet. There's an argument to be made that Jones has been to worst offensive player on any top 25 team this season. He was benched in Louisville's last win and has caused chemistry issues all season long.
2. When will the real Marcus Paige show up?: Marcus Paige is currently averaging 13.6 points and 3.8 assists while shooting 34.4 percent from three. That's not exactly bad, but when you consider that Paige was showing up on most preseason first-team all-american lists, those numbers are a bit underwhelming. Some of it is that he's been playing out of position as a pure point guard, but some of it is that Paige is just missing shots he usually makes. The ceiling for this Carolina team changes if he plays like an all-american.
3. Can Syracuse play their way into the Big Dance?: There are all kinds of issues with this Orange team. For starters, they have just one point guard on the roster — freshman Kaleb Joseph — and he's been up and down in that roll. Rakeem Christmas and Chris McCullough have been really good up front, but there is no depth behind them. Michael Gbinije has played great of late, but he and Trevor Cooney have had consistency issues throughout their careers. They've played much better in recent games, but the lack of a marquee non-conference win could end up being a killer.
THREE PREDICTIONS
1. Duke takes home the league title: They're the best team in the conference, they have the best player in the country and they're the most difficult team in the league to matchup with. The two keys for Duke: Quinn Cook continuing to embrace his role as the off-guard and Justise Winslow's ability to matchup with power forwards on the defensive end of the floor.
2. Notre Dame's defensive issues catchup with them: The Irish are one jumper from LaDontae Henton from being undefeated entering ACC play, and they've done it while posting the nation's second-most efficient offense, according to Kenpom. But they are also atrocious on the defensive end of the floor, finding themselves ranked between Akron and New Hampshire at No. 147 nationally. Notre Dame will win their share of games this season, but they need to find a way to tighten things up on that end.
3. The ACC sends two teams to the Final Four: I'm sure I'm not the only one that's hoping Duke makes it to the Final Four and gets a chance to square off against Kentucky, but if any conference is going to send two teams to the Final Four, the ACC is the safe bet.
HOW THEY FINISH
NCAA: Duke, Louisville, Virginia, North Carolina, Notre Dame, Syracuse
NIT/CBI: Pitt, N.C. State, Miami, Florida State, Boston College
NO POSTSEASON: Clemson, Virginia Tech, Wake Forest, Georgia Tech