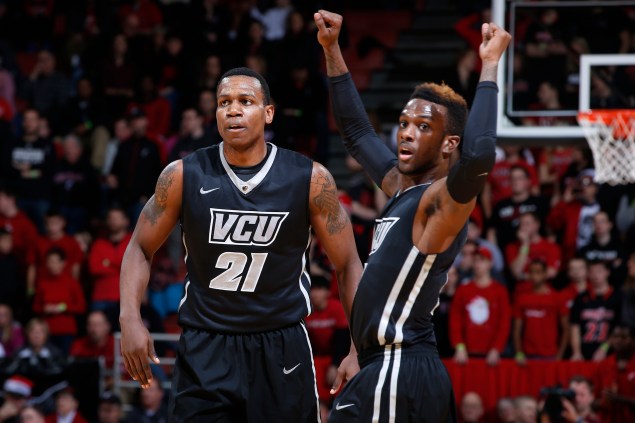 College basketball's non-conference season is coming to a close, and to help you shake off post-holiday haze and the hangover of losing in your fantasy football playoffs, we'll be providing you with some midseason primers to get you caught up on all the nation's most important conferences.
MORE: All of CBT's Conference Catchups
Today, we'll be taking a look at the Atlantic 10.
MIDSEASON ATLANTIC 10 PLAYER OF THE YEAR: Treveon Graham, VCU
VCU has seen some inconsistent play from Melvin Johnson and Briante Weber in certain situations this season, but Graham has stepped up his play with consistent all-around offense and good play on both ends of the floor. The senior is averaging 16.6 points, 6.5 rebounds and 1.8 assists per game and he's also shooting the best three-point percentage of his career at 44 percent. Considering Graham never shot above 36 percent from three before this season, that's a remarkable difference and it makes him that much tougher to defend.
THE ALL-ATLANTIC 10 FIRST TEAM
Treveon Graham, VCU
E.C. Matthews, Rhode Island – The sophomore received a lot of buzz over the summer and has put up nearly identical numbers to his freshman campaign. Matthews is averaging 17.2 points, 4.2 rebounds and 2.3 assists per game on higher shooting splits (45% FG, 38% 3PT, 73% FT) for a NCAA Tournament contender.
Jack Gibbs, Davidson – Just an insane start to the year for the sophomore point guard. Gibbs is sixth in the A-10 in scoring (16.1 ppg), sixth in field goal percentage (57 percent), first in assists per game (4.9), first in free-throw percentage (91 percent), fifth in steals (1.9 per game) and fifth in three-point percentage (46 percent).
Tyler Kalinoski, Davidson – With the one-two punch of Kalinoski and Gibbs, Davidson is looking good entering Atlantic 10 play. A senior, Kalinoski is averaging 16.5 points, 5.8 rebounds and 3.6 assists per game while shooting really good splits (45% FG, 44% 3PT, 84% FT).
Jordan Price, La Salle – The Auburn transfer leads the Atlantic 10 in scoring at 18.7 points per game and had a big month of December. On an Explorer team that desperately needs perimeter scoring, Price gets a lot of tough baskets and is also averaging 3 assists and 2.8 rebounds per game.
THREE THINGS WE'VE LEARNED
1. The nation whiffed on Davidson. Badly: Did Bob McKillop do something mean to deserve Davidson's preseason standing within the Atlantic 10? It's Davidson's first season in the league after jumping from the Southern Conference but CBT predicted the Wildcats would finish 13th in our preseason A-10 preview. The Athlon preview also put them at 13th while The Sporting News put Davidson last at 14th. It's not as if this were some media-only phenomenon. The Atlantic 10 coaches picked them to finish 12th. While we still aren't sure how the Wildcats will adjust to the new league, they certainly look like they deserve to be in the top half after a 9-2 start. Davidson has one of the nation's best offenses and shooters galore. They've only lost to North Carolina and Virginia. They look pretty legitimate now.
2. VCU is not the unanimous choice to win anymore: Besides the oversight of Davidson's preseason ranking, VCU is certainly no shoe-in to win the Atlantic 10 this season after being the unanimous choice by the coaches of the league in the preseason. The Rams losing to undefeated teams like Villanova and Virginia isn't a concern. But the way they played against Old Dominion, a very good C-USA team, shows that teams with less talent can get to the Rams on an off-night. With the Atlantic 10 again having a lot of tough teams, VCU running away with the conference doesn't seem very likely.
3. There are plenty of feisty, NCAA Tournament-caliber teams: The A-10 had five NCAA Tournament teams in 2013 and six more in 2014. Six might seem a bit ambitious going into conference play in 2014-15, but VCU is once again strong, Davidson has looked legitimate and George Washington won the Diamond Head Classic over Wichita State. Rhode Island has been unbeatable at home — with a nice win over Nebraska — and Archie Miller's Dayton Flyers are again looking solid at 10-2. That's a stable of five strong teams entering conference play and teams like St. Bonaventure, La Salle and Saint Louis (and plenty of others) have all shown signs of life as well.
THREE STORY LINES TO FOLLOW
1. Will Dayton's lack of size hurt them in conference play? Dayton is coming off of an Elite Eight appearance in 2014 and the Flyers are once again loaded with talented guards. But size is going to be a huge question mark for Dayton after the team dismissed its two tallest players in Devon Scott and Jalen Robinson in December. That means the Flyers' tallest active player is now 6-foot-6. So far, it hasn't hurt the team very much, but this could come back to be an issue during conference play. How will Dayton defend bigger interiors or keep opponents off the glass?
2. Can Davidson take its non-conference momentum into A-10 play? Davidson has been one of the biggest surprises in the conference and the Wildcats now enter into an Atlantic 10 conference schedule for the first time. After dominating the Southern Conference for so many years, how will Bob McKillop's group adjust to going up a level of play? So far, it looks like Davidson will at least be able to score with any team in the country. The Wildcats are second in the nation in points per game and just scored 72 points on a very good defensive team in Virginia. The key could be getting timely stops and if Davidson can continue its hot perimeter shooting — 41 percent in non-conference play.
3. Where does UMass fit into the scheme of things? UMass is currently sitting at 7-6, but they've played a very difficult schedule and they're still 5-0 at home. The Minutemen tested themselves extensively in non-conference play as their losses came against Notre Dame, Harvard, LSU, Florida Gulf Coast, Providence and BYU. None of those losses look awful at this point in the season (FGCU is the Atlantic Sun favorite) and UMass certainly has talent in Maxie Esho, Cady Lalanne, Derrick Gordon and Trey Davis. Can the Minutemen turn it around during conference play and make a run in the Atlantic 10? It doesn't seem out of the realm of possibility.
THREE PREDICTIONS
1. VCU takes the Atlantic 10 (but it won't be easy): Much was made of other programs potentially figuring out "Havoc" — and they may be better adjusted to it — but the Rams still have the most talent in the conference and the league's best player in Treveon Graham. They're used to having a target on their back by this point and should feel no additional pressure to be a favorite once again.
2. Five NCAA Tournament bids for the Atlantic 10: I've already gone over the five teams that are in great standing entering conference play (VCU, Davidson, George Washington, Dayton and Rhode Island) and it feels like the conference will once again see five teams dancing on Selection Sunday. Even if one of those five falters, another team like UMass could emerge and have a great push during conference play to earn a tourney bid. Five sounds about right with this league given the struggles of some of the power conferences like the SEC and AAC.
3. America will meet Davidson sophomore Jack Gibbs: I hate to use hyperbole but Gibbs might be the most underrated player in the country. And he's getting no attention despite his ridiculous efficiency and only being a sophomore. While the hot shooting numbers — and school — will make some believe Gibbs is the new version of Steph Curry, Gibbs is probably more similar to current Wichita State point guard Fred Van Vleet. Gibbs won't blow you away with athleticism or quickness, but he's very savvy and a winning player.
HOW THEY FINISH
NCAA: VCU, George Washington, Rhode Island, Dayton, Davidson
NIT/CBI: UMass, St. Bonaventure, La Salle, Saint Louis, Saint Joseph's, Richmond
NO POSTSEASON: Duquesne, Fordham, George Mason