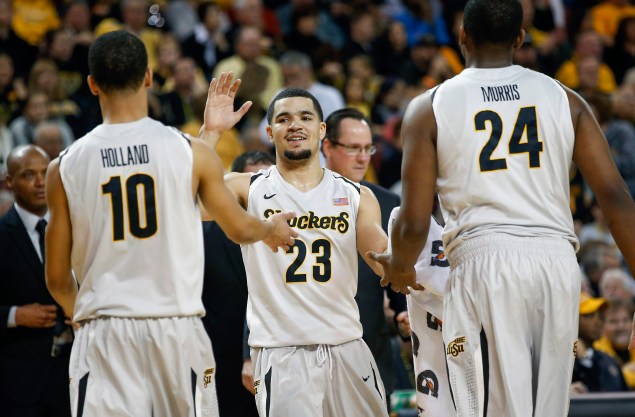 Conference play is right around the corner, so over the course of the next two weeks, College Basketball Talk will be detailing what some of the country's best, most intriguing, and thoroughly enigmatic teams should resolve to do with the New Year right around the corner. What can we say, we're in a giving mood. Thank Jessica Simpson.
MORE: The rest of our New Year's Resolutions | Midseason catchups
WICHITA STATE PROMISES TO: Get Fred Van Vleet and Tekele Cotton going on offense
It will happen because: Van Vleet, in particular, is not shooting very efficiently this season while Cotton, a senior guard, is shooting below last season's marks as well. Based on their career averages, both guards will improve as the season rolls along. In his junior season, Van Vleet has really struggled, as he's shot 37 percent from the field, 30 percent from three-point range and 75 percent from the free-throw line after much better splits as a sophomore (48% FG, 41% 3PT, 83% FT). Those numbers should go up after a few particularly bad games made those splits look worse. As Wichita State also gets senior forward Darius Carter more involved in the offense, it should put less pressure on Van Vleet and Cotton to create shots for themselves, which isn't a strength.
But it might not because: Without Cleanthony Early, Wichita State has had to move Van Vleet and Cotton up the scoring ladder as the No. 2 and No. 3 options behind Ron Baker and it hasn't gone well for either player. Van Vleet is a steady floor leader and intelligent big-game player, but he can't create his own shot very easily and Cotton is best served turning defense into offense and not being relied on for shots in half-court sets. Darius Carter has looked like a potential No. 2 option to alleviate those concerns, but as one of the Shockers' only productive forwards, he's susceptible to occasional foul problems. It just might be that Wichita State is asking too much offensively of Van Vleet and Cotton and they're not capable of putting up efficient shooting numbers when defenses focus more time trying to stop them.
WICHITA STATE ALSO SWEARS THEY WON'T: Forget about the free-throw line
It will happen because: This isn't the same Wichita State offense we saw last season, especially without Early. In 2013-14, the Shockers were getting to the free-throw line an average of 25.8 times per game in the regular season (43rd nationally) and made 73 percent (61st nationally). This season has seen fewer trips to the line and a far worse percentage. Wichita State is only getting to the free-throw line 21.7 times per game (131st nationally) and struggling to 65.8 percent shooting (252nd nationally). That means the Shockers are losing 4.5 points per game at the free-throw line per game compared to last season. Without Cleanthony Early to consistently get to the free-throw line, the Shockers just can't get it done. They only attempted two free throws in the loss to George Washington and settled for a lot of jumpers.
But it might not because: Wichita State still needs time to gel and figure out its rotation and players on the floor at the end of games who can make free throws. It doesn't help that Baker, Cotton and Van Vleet are all shooting uncharacteristically low percentages compared to last season and those numbers should ideally improve as the season continues. Also, Wichita State has a lot of young players coming off of the bench this season. Those players could find a better understanding of attacking defenses, drawing fouls and making free throws and the Shockers could really use a slasher who can consistently get to the basket.