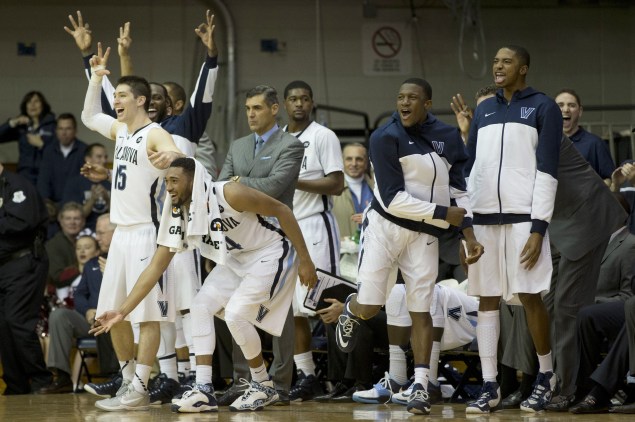 College basketball's non-conference season is coming to a close, and to help you shake off post-holiday haze and the hangover of losing in your fantasy football playoffs, we'll be providing you with some midseason primers to get you caught up on all the nation's most important conferences.
MORE: All of CBT's Conference Catchups
Today, we'll be taking a look at the Big East.
MIDSEASON BIG EAST PLAYER OF THE YEAR: D'Angelo Harrison, St. John's
St. John's finds themselves in the top 25 and at 11-1 on the season and Harrison, a senior guard, is a huge reason why. The Red Storm will start up to four seniors, but Harrison is the heart-and-soul of the team. The 6-foot-4 Texas native is second in the Big East in scoring (19 points per game), 10th in rebounding (6.5 per game) and sixth in free-throw percentage (83 percent) while shooting respectable percentages from the field (44 percent) and 3-point range (35 percent). Harrison has also been very consistent as a scorer. He's been held to single digits just once this season and it was nine points in a blowout win over Long Beach State.
THE ALL-BIG EAST FIRST TEAM
D'Angelo Harrison, St. John's
Kris Dunn, Providence: Great comeback season for the oft-injured sophomore as he's averaging 13.3 points, a Big East-leading 7 assists, and 5.2 rebounds per game. Dunn also leads the conference in steals and is shooting 48 percent from the field. If Dunn limits turnovers in conference play, he'll be even better.
Kellen Dunham, Butler: Butler is off to a surprising 10-3 start and the junior is averaging 16.6 points per game on tremendous shooting splits (45% FG, 45% 3PT, 88% FT). On a team desperately lacking floor spacers, Dunham has upped his efficiency numbers and scoring average despite playing four fewer minutes this season.
D'Vauntes Smith-Rivera, Georgetown: Field goal percentages have been underwhelming for the junior, but he's averaging 14.7 points, 4.3 rebounds and 3.8 assists per game and carrying the Hoyas in big games. The Indiana native had 29 points against both Wisconsin and Indiana.
LaDontae Henton, Providence: The senior forward came close to winning early Player of the Year honors from D'Angelo Harrison, but Henton hasn't rebounded as effectively and the Red Storm have been a better overall team. Still, Henton is leading the Big East in scoring at 20 points per game to go along with 5.3 rebounds on 48 percent shooting. He's been one of the best go-to scorers in the country.
THREE THINGS WE'VE LEARNED
1. Villanova, once again, is legitimate: People forget that the Wildcats were 29-4 and a No. 2 seed entering the NCAA Tournament's Round of 32 last season, when they ran into the buzz saw known as UConn. Villanova is once again off to a great start and 12-0 this season and they return everyone from last season except for James Bell. Dylan Ennis, Josh Hart, Kris Jenkins are all playing much better this season and this is an unselfish team that shoots 48 percent as a team and better from the perimeter this season. It's hard to say if they're Final Four good since they haven't faced a superpower yet, but they've earned some good wins over VCU, Illinois, Syracuse, Temple and Michigan.
2. The Big East, top-to-bottom, is better than preseason expectations indicated: One of the early-season stories we've heard around college basketball is how the Big East is back this season. Besides DePaul and Marquette, eight of the teams in the league appear to be at least postseason teams in 2014-15 while the league looks like they'll surpass last season's four NCAA Tournament bids. While Villanova is strong once again, St. John's is a legit top-25 team and teams 3-through-8 in the Big East is significantly improved. Seton Hall, Georgetown and Xavier have some talented freshmen who have played well this season, while Butler and Providence are relying on upperclassmen who have stepped up this season. Creighton was even a top-25 team at one point this season but has fallen back down to Earth at 9-4.
3. The Big East is still a power conference: Many wanted to dismiss the "new" Big East after one season and a mediocre showing, but the league has bounced back nicely this season with a lot of strong teams and higher expectations. The preseason talk that the Big East compared closer to the Atlantic 10 than the ACC, Big Ten and SEC was laughable. The Big East still maintains a national television contract, rising names in head coaching are still taking jobs for millions of dollars (Steve Wojciechowski to Marquette), and five-star recruits are still committing to the league for next season (Jalen Brunson to Villanova, Henry Ellenson to Marquette). The Big East might not be the new ACC — but what is? — and the AAC, Big Ten and SEC are all arguably having worse seasons in terms of top-to-bottom talent. The new Big East is going to be fine.
THREE STORY LINES TO FOLLOW
1. Does Villanova have what it takes to make a Final Four? The Big East didn't have any of its four NCAA Tournament teams make the second weekend in 2014, but that should change in 2015. Villanova is even stronger and the rest of the upgraded conference should help them prepare for the tournament even more this season. With tremendous scoring balance and a team full of unselfish players, the Wildcats don't need to rely on specific players to get by and earn wins. That makes them tough to gameplan for in a tournament setting. As long as they don't run into the future national champion on the first weekend.
2. After St. John's, which team emerges as the third threat in the Big East? Villanova and St. John's, the two top-25 teams in Big East, appear to be the clear-cut favorites in the conference to be No. 1 and 2, but after that, how will the order fall? Seton Hall, Butler, Providence, Xavier, Georgetown and Creighton have all shown positive signs of life this season and it's nearly impossible to say how those six teams will fair against each other during the Big East conference season. If those teams don't beat each other up too badly and take care of business against Marquette and DePaul, they should make the postseason.
3. Does Seton Hall make its first NCAA Tournament since 2006 despite the injury to Isaiah Whitehead? One team that the college basketball world will have its eye on these next few weeks is Seton Hall. The Pirates are off to a 10-2 start this season but freshman guard Isaiah Whitehead is out for the next few weeks with a stress fracture in his foot. Without Whitehead, who started all 11 games he played this season, Seton Hall has to open the Big East season with two home games against Villanova and St. John's. The Pirates really could have used Whitehead for an upset there to propel its early-season momentum, but now they'll like start the conference season 0-2. How does Seton Hall respond from there and how will Whitehead look when he comes back?
THREE PREDICTIONS
1. The Big East bounces back with five NCAA Tournament bids: In the preseason, three teams seemed like a safe number for Big East NCAA Tournament bids in 2015, but I'm going to be aggressive and go with five bids. This conference is off to a great start this season and the top eight look like they'll at least make the NIT. I expect a few of the young teams to falter, but Butler and Providence have enough veteran leadership and experience to keep them on-track and Georgetown has shown that they can play with good competition.
2. More experienced teams like St. John's, Butler and Providence will finish behind Villanova: Seton Hall is going to struggle a bit after losing Isaiah Whitehead and it's hard to say if Xavier can sustain its hot start with so many young pieces, but it's easier to imagine St. John's, Butler, Providence and Georgetown sustaining hot starts because of their veteran all-conference selections.
3. Seton Hall takes a hard fall down the standings
Without Isaiah Whitehead, the Pirates lose another shot creator and that could spell significant trouble for the Pirates. Seton Hall starts the conference season by hosting the two best teams in the league — Villanova and St. John's — and they only own one legitimate win over George Washington. Sterling Gibbs has that 40-point outing against Illinois State but hasn't scored above 19 the rest of the season and senior Brandon Mobley is also prone to inconsistent play. With a deeper Big East and an uncertain lineup without Whitehead, that could spell trouble.
HOW THEY FINISH
NCAA: Villanova, St. John's, Butler, Providence, Georgetown
NIT: Xavier, Seton Hall, Creighton
NO POSTSEASON: Marquette, DePaul