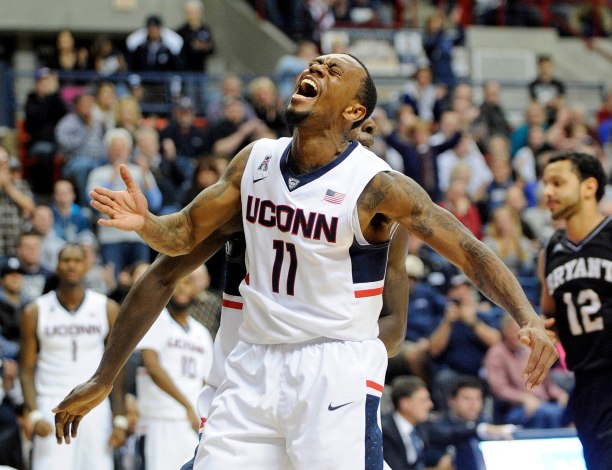 College basketball's non-conference season is coming to a close, and to help you shake off post-holiday haze and the hangover of losing in your fantasy football playoffs, we'll be providing you with some midseason primers to get you caught up on all the nation's most important conferences.
MORE: All of CBT's Conference Catchups
Today, we'll be taking a look at the American.
MIDSEASON AMERICAN PLAYER OF THE YEAR: Ryan Boatright, UConn
Pretty easy choice at this point in the season. Boatright's averaging 19.2 points, 5.3 rebounds and 4.4 assists per game, and he's also shooting nearly six percentage points better from the field than he did a season ago (44.9% compared to 39.1%).
THE ALL-AAC FIRST TEAM:
Boatright
Nic Moore, SMU: Averaging 15.4 points and 4.7 assists per game, the junior point guard is shooting nearly 51 percent from the field.
Will Cummings, Temple: Cummings (14.2 ppg, 5.3 rpg, 3.9 apg) isn't shooting the ball particularly well (32.9%), but he leads the Owls in scoring and assists, is second in rebounding and is the heart and soul of that team.
Jherrod Stiggers, Houston: Stiggers (17.4 ppg, 3.5 rpg, 2.6 apg) leads the American in scoring and made three-pointers (44).
Shaquille Harrison, Tulsa: While teammate James Woodard landed on the league's preseason all-conference list, Harrison (14.2 ppg, 3.2 rpg, 3.8 apg) is second on the team in scoring and first in assists.
THREE THINGS WE'VE LEARNED
1. UConn's non-conference games at Florida (January 3) and Stanford (January 17) are of even greater importance due to their lack of a signature win. The Huskies did what they had to do from a scheduling standpoint, putting together one of the tougher non-conference slates around to account for the strength of their league. The problem: they lost the biggest games on said schedule, losing to West Virginia, Texas and Duke (with a last-second loss to Ivy contender Yale to boot). Getting a win at either Florida or Stanford (or better yet, both) will be key for UConn from an NCAA tournament seeding standpoint. And finally being at full strength should help the Huskies as well.
2. Those transfers are paying off for Temple. Fran Dunphy added three quality transfers to the program, with forward Jaylen Bond (Texas) eligible at the start of the season and guards Devin Coleman (Clemson) and Jesse Morgan (UMass) taking the court for the first time in mid-December. They've given the Owls much-needed depth, with Bond being one of the best rebounders in the American. Coleman's been solid, and Morgan is averaging 16 points per game and became Temple's best three-point shooter the moment he stepped onto the floor. Those two will make life easier for Will Cummings and Quenton DeCosey moving forward.
3. As expected, the process of getting their backcourt in order has taken some time at Memphis. The Tigers lost four experienced guards from last season's NCAA tournament team, so their struggles early in the season weren't a surprise. But it doesn't help when a transfer expected to have an impact in Kedren Johnson was essentially playing his way into shape, especially when considering the fact that he had more Division I experience than any guard on Josh Pastner's roster. The Tigers have played better of late, winning four straight heading into the start of league play, but their best win in that stretch came against USC Upstate. JUCO transfer Trahson Burrell has improved throughout the season, but those guards will need to continue to make strides if Memphis is to contend in the American.
THREE STORY LINES TO FOLLOW
1. SMU's integration of Markus Kennedy into the rotation. Kennedy, who was academically ineligible for the fall semester, undoubtedly makes a difference in the paint for the Mustangs. And while his numbers haven't approached what they were last season, his return is something opponents have to account for. Yanick Moreira benefits from Kennedy's presence, as does the versatile Ben Moore. With Nic Moore and Keith Frazier among the contributors on the perimeter SMU has the talent needed to reach the NCAA tournament for the first time since 1993. How formidable they are once there will depend upon the play of Kennedy.
2. Amida Brimah's quest for consistency at UConn. One of the most stunning performances of the season was Brimah's 40-point, 12-rebound outing in a win over a bad Coppin State team. How did he build on that outing? Zero points, one rebound, two blocks and five fouls in UConn's loss to Duke in East Rutherford. Brimah's shooting 71 percent from the field but the 4.4 rebounds per game are a bit underwhelming for a player his size. Sure UConn's guards are going to handle the majority of their scoring, and Boatright and freshman Daniel Hamilton have been the team's best rebounders. But if UConn is to win the American and make some noise in the NCAA tournament, Brimah has to be a consistent presence in the middle.
3. Who steps forward offensively for Cincinnati. The Bearcats are without head coach Mick Cronin for health reasons, so that issue is the most important one they face entering conference play (and more important than basketball; get well soon, Coach). But on the floor this is a group that needs someone (or better yet, multiple people) to step forward offensively for a team that doesn't have a player averaging double figures. Guards Troy Caupain and Farad Cobb are the ones who have the ball in their hands in crunch time, and forward Octavius Ellis and Gary Clark Jr. are second and third on the team in scoring, respectively. Can any of those players emerge as a consistent double-digit scorer? The answer will be the difference between going back to the NCAA tournament and winding up in the NIT.
THREE PREDICTIONS
1. The regular season title – and conference player of the year- will be determined March 1 at the XL Center in Hartford. SMU, which swept the season series last season, visits UConn on that day. The point guards on display, SMU's Nic Moore and UConn's Ryan Boatright, are two of the best in the country and the two best players in the American as well. Look for the winner of this game to win the conference, with its best player taking the American's highest individual honor as well.
2. The American gets three NCAA tournament bids. While it can be argued that five teams enter conference play with a realistic shot of getting into the Big Dance, the underwhelming performance in non-conference play (things picked up late thanks to SMU's win at Michigan and Temple blowing out Kansas) will be what hurts come Selection Sunday. Add in the fact that the teams in the bottom half of the American have suffered some bad losses, and it becomes tougher for the conference to earn respect in the room when the bracket gets filled out.
3. Once again there will be clear separation between the top and bottom of the conference. What killed the American in regards to both seeding and selection last season was how weak the bottom of the conference was, and that will once again be the case in 2014-15. USF has a ways to go under first-year head coach Orlando Antigua, and UCF is just as bad as they were last season (and Isaiah Sykes and Tristan Spurlock are gone, too). East Carolina doesn't do much to move the needle, and the same can be said for a transfer-laden Houston squad that may be good for an upset or two in conference play. Can Tulsa and/or Tulane pick up the slack? If so, that would undoubtedly help the American as a whole, but Tulsa's been inconsistent and Tulane's best win to date came against Loyola (IL).
POSTSEASON
NCAA: UConn, SMU, Temple
NIT: Cincinnati, Memphis
OTHER/NO POSTSEASON: Tulsa, Tulane, Houston, East Carolina, UCF, USF